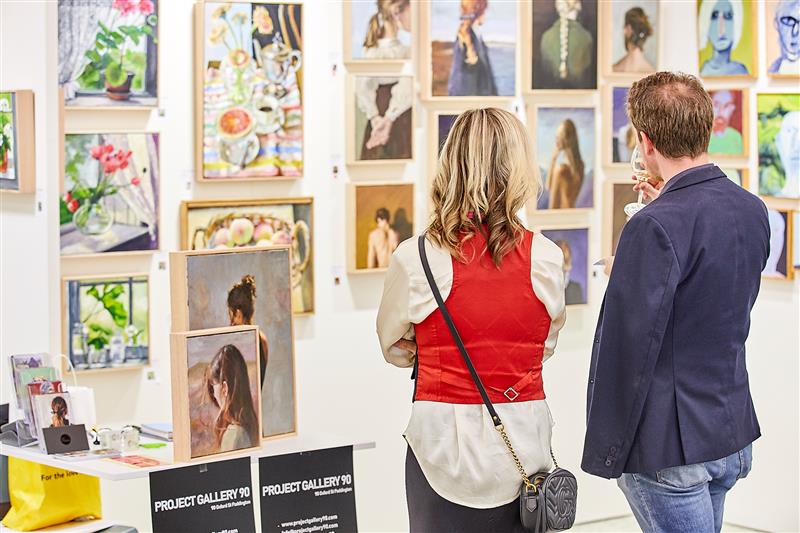 Following a successful Sydney debut last year, welcoming close to 10,000 visitors and generating millions of dollars' worth of art sales for galleries, Affordable Art Fair will make its much-anticipated return to the Winx Stand at Royal Randwick Racecourse from Thursday, 15 until Sunday, 18 June 2023.
Boasting the biggest gallery line-up in the event's Australian history, the Fair will see 56 of the nation's best boutique galleries – almost double the offering at its Sydney debut – converge in the state's east to showcase thousands of original works under $10,000, from established and emerging artists. Alongside a kaleidoscope of artworks, the Fair's extended program, now spanning two levels of the iconic venue, will provide new immersive experiences for visitors including live artist demonstrations, free interactive workshops, an outdoor sculpture park, and a scrumptious selection of culinary delights and tasty tipples.
"We are delighted to bring Affordable Art Fair back to Sydney this winter with our largest Australian program and gallery line-up to date. The reception following our Sydney launch last year has been overwhelming and we are really looking forward to delivering an extraordinary four-day festival of art this month. We are incredibly passionate about supporting the local art industry and providing a platform for Australian creatives to showcase their work and connect with new and engaged audiences. We can't wait to celebrate the best of the country's contemporary galleries and artists with new and returning visitors," said Fair Director, Stephanie Kelly Gordine.
This year's gallery line up has been carefully curated to bring the best artwork to Sydney with highlights including New Zealand gallery VANDAL, MG and Co showcasing the best of Latin American art, and a National Emerging Art Prize exhibition curated by Amber Creswell Bell. The Fair will also have a strong representation of Indigenous artists from around Australia with Aboriginal Contemporary collaborating with Yaama Ganu and C.A. Presents showing artists from Barkly Regional Arts and Warlukurlangu art centres. Local NSW galleries JUMBLED, Petite Collection, and Gallery Alchemy will make their Sydney Fair debut alongside Kerry Armstrong's acclaimed Studio Gallery and Sydney favourite Harvey Galleries. Interstate galleries include Mint Art House, Lethbridge and The G Contemporary travelling from Queensland; SOL Gallery, Antoinette Ferwerda and Salt Contemporary Art representing Victoria; Bluethumb flying the South Australian flag; and REDSEA Gallery making the journey from Margaret River in Western Australia. Official Access Partner, Studio A, will also present a beautiful curation of art from creatives with intellectual disabilities. The full list of exhibiting galleries can be viewed here.
Championing rising stars, the Discover: Young Talent program will return with five new emerging artists under the age of 35, showcasing and selling their latest artworks to new and excited audiences. Renowned illustration artist, Alice Oehr, will exhibit her works in Sydney for the very first time as part of the Fair's new Evolve program, offering Discover: Young Talent alumni the chance to showcase new works and mentor other up-and-coming creatives.
The perfect winter weekend event, Australian artists will invite visitors into their creative process as they craft bespoke artworks in real-time as part of an all-new Artist in Action program. Those inspired to put their creative capabilities to the test can get involved in a series of workshops at the NSW TAFE Art Lab, alongside a live mural painting by talented artist, Katrina Hill. Budding artists can let their imagination run wild at drop-in colour study sessions for kids.
Since its Australian debut in 2019, Affordable Art Fair has significantly contributed to the growth of the national art ecosystem by attracting a total of 37,500 visitors and generating more than $7 million in art sales for hundreds of living artists and galleries.
High-res imagery is here. Complimentary VIP tickets for media can be registered here.
About us:
ABOUT AFFORDABLE ART FAIR
Affordable Art Fair was founded 24 years ago and has revolutionised the art market with its fun and accessible approach to art appreciation. It is a global brand with 14 fairs operating in 10 cities around the world including London, Brussels, New York, Stockholm, Amsterdam, Hamburg, Singapore, Hong Kong and Melbourne. Demonstrating a growing demand for quality, affordable and contemporary art, over 3.1 million people have visited an Affordable Art Fair since its launch in London in 1999 with a staggering 568,000 artworks sold valued at more than AU$820m. Affordable Art Fair focuses on the fun side of viewing and buying art, and seeks to put art into every home, no matter the size or buyer's budget. Affordable Art Fair is owned by Ramsay Fairs UK under the direction of Founder, Will Ramsay.
Contact details:
For further media information and interview requests, please contact tide.pr:
Aislinn Powell, Account Manager, AislinnPowell@tidepr.co