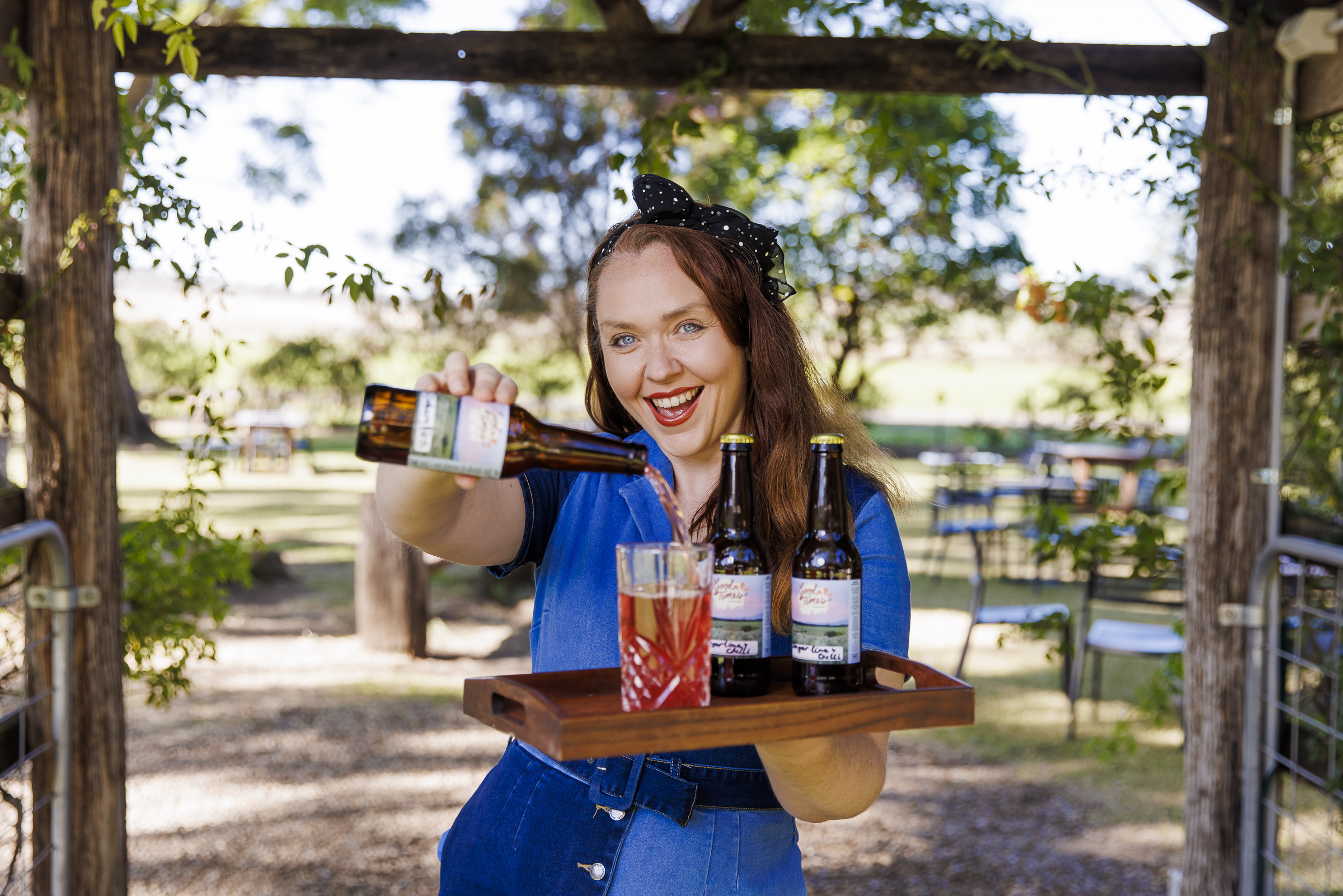 The world's best brandy, Floral Teas, Chilli and Finger Lime Kombucha, Popcorn Corn and Carrot Ice Cream –
Here's the new tipples and tastes in the Scenic Rim for Eat Local Month which starts TOMORROW!
The farmers and food makers of the Scenic Rim know a thing or 200 about tastes and tipples! There's flavour flowing from every tiny town, historic dairy, olive grove, flower patch, furrowed paddock and rustic shed from Boonah to Beaudesert to Beechmont!
Here's the new and newsy line-up of tastes and tipples ready for EAT LOCAL MONTH, which this year extends for ALL of June. There's 139 food events – the largest offering in the event's 12 years!
The Scenic Rim is now home to the world's best Brandy! Judged in April at the London Spirits Competition, the winner was Tamborine Mountain Distillery's Apricot Brandy, beating more than 4000 submissions from over 80 countries. The Apricot Brandy has consistently proven its pedigree over the last 18 years with wins in Chicago, San Francisco, Hong Kong, Vienna, and now London. The distillery is open ALL Eat Local Month with special tastings, tours and spirit making classes.
Carrot Ice Cream – the famous Moffatt Farm Carrot Ice Cream is only scooped at the Winter Harvest Festival for Eat Local Month! The secret recipe is closely guarded by Steve Moffatt, who said the ingredients are carrots and love! Next year Moffatt Farm celebrates 100 years. Quick fact: the Scenic Rim produces 600 million carrots a year and is the carrot capital of the country!
Meet Ripa Rita, the Scenic Rim Brewery's newest addition! She is a brand new beer starring local beetroots from Valley Pride and Rosellas from Vanbery Jam Co. While you're there, taste the Beauy & Blue, a spiced pumpkin ale made from famous Beaudesert Blue pumpkins (ah, the penny drops). Brewer Mike Webster is hosting Afternoon Brew Tale sessions, tastings and the pub is open and ready to pour!
Champion Cheese! Summer Land Camels recently won GOLD for their Camel Milk Marinated Persian Feta at the 2023 Sydney Royal Cheese & Dairy Show, and their milk is acclaimed across the country.
Va Va Vodka! And there's a BRAND NEW vodka from Summer Land! Introducing the Barrel-Aged Camel Milk Whey and Honey Vodka, aged on Oak for two years and characterised with floral notes of seasonal honey with a long, clean, warming finish.
Floral Teas? Yes Please! The stunning Elderflower Farm at Kalbar has unveiled their range of farm-grown floral and herb tea blends for Eat Local Month (and the great news, they are here to stay!). The range includes:
Rose & Applemint Tea - fragrant and refreshing with a beautiful rose pink colour. Delicious hot and iced.

Rosehip, Gingermint & Mandarin Balm Tea - uplifting and fortifying with a warming spicy flavour, perfect for a winter brew.

Chamomile & Lemon Balm Tea - calming and soothing, lovely warm with honey or iced.

Pansy, Peaflower & Peppermint - clarifying and refreshing with a beautiful aqua blue colour.

Peppermint Tea - 100% mentha x piperita leaves for the purest peppermint flavour ever.

Flower Field Tea - a traditional Qld-grown black tea, blended with Elderflower's dried tea florals including rose, hollyhock, pansy, pea flower and gomphrena. Slightly bitter with floral notes.

Gomphrena & Chamomile Tea - a hot pink tea blend containing calming Chamomile and super powered Gomphrena. A cold busting health bomb that's both pretty and delicious.
Flower Sugar. Also new at Elderflower Farm is their gorgeous Flower Sugar - a mix of beautiful dried edible flowers and cane sugar that's perfect for rimming cocktail glasses, making into a colourful cocktail syrup and decorating cakes and cookies.
Best 'Booch Ever! Olive View Farm has teamed up with the Scenic Rim Farm Shop & Café to create a Kombucha that's rave worthy – native Australian Finger Limes, with Olive View's fresh chillis with a citrus punch. It's a regular sell-out, and perfect for Winter immunity.
Olive View Dukkah. Olive farms around the world have their own special blend of dukkah, and Olive View (say this a few times quickly and you'll get it 😉) has just launched theirs – a blend of Aussie native foods, olive leaf, chilli and sea salt flakes. It's the perfect pairing with dipping breads and extra virgin olive oil.
NEW at Tommerup's Dairy Farm:
Harry's biodynamic organic produce

- preserves, pickles and Popcorn Corn.

Farmer Dave's Jersey Girl Cream Top Milk

-

rich and creamy, this milk travels just metres to the farm creamery where it's slowly and gently heated to the minimum allowable pasteurisation temperature, before being slowly cooled and bottled. The batch pasteurisation with low and slow temperatures retains a flavour and texture not seen in modern times. It's liquid gold and YES it has cream on the top – you can spoon it out or shake it up. Its milk should be.
New BREW at Witches Falls Winery! The winery has just unveiled their new beer venture 'Boxer Brewing Co', with beers featuring at Burgers & Beers on the Lawn this weekend and available ongoing.
Fermented Food Festival - the inaugural Fermented Food Festival will be held on Saturday 10 June during Eat Local Month, celebrating the taste-bud blowing world of food fermentation, and hosted by Summer Land Camels and the Pickling Project. Can we talk pickles for a moment? It's a major thing - it saves wastage, extends shelf life and is an age-old food craft, which means, it's cool!
******
FOR a taste of all new flavours, the Winter Harvest Festival on Saturday 1 July is the place to be. Over 40 market stalls will celebrate everything from local vegetables to eggs, cheese, olives, relishes, jams, honey, camel milk products, carrot ice-cream, beer and wine and will feature at the Aratula Community Sports Complex along with chef cooking demonstrations, live music, loads of kids rides and adventures, and the world famous Community Bank Kalbar & District Tractor Pulling competition!!
Eat Local Month is Australia's most authentic paddock-to-plate, food and farming experience, shining the light on the farmers, growers, producers, artisans, chefs and creators across the Scenic Rim.
SEE the full program here: www.eatlocalmonth.com.au
SCENIC RIM EAT LOCAL MONTH 2023
June 1 – July 2 www.eatlocalmonth.com.au
Tickets on sale NOW
Scenic Rim Eat Local Month is proudly presented by Scenic Rim Regional Council, with support from Major Partners Kalfresh Vegetables and Moffatt Fresh Produce, and Supporting Partners Urban Utilities, Community Bank Kalbar & District and Brisbane Economic Development Agency. The event is also supported by the Queensland Government through Tourism and Events Queensland and features on the It's Live! in Queensland events calendar.
For more information, imagery and interviews please contact Kath Rose on 0416 291 493 or email kath@kathrose.com