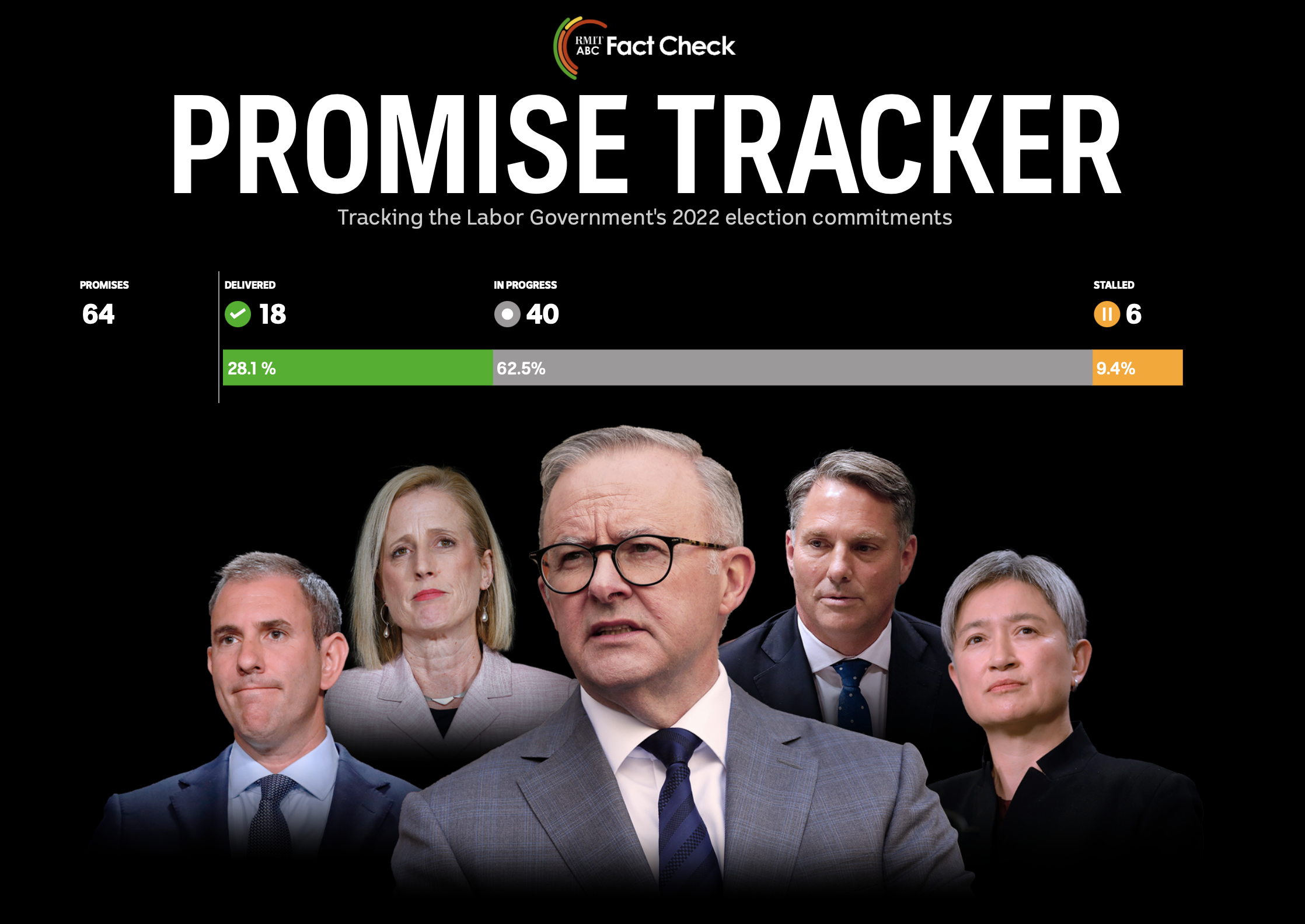 One year into the Albanese government, RMIT ABC Fact Check has relaunched the Election Promise Tracker to follow the progress of pledges made during the 2022 election campaign.
Over the next two years the fact check team will monitor the progress of 64 key commitments made by the Albanese government, with a final summary to be published when the next election is called.
The online tool shows the 'live' status of promises using five categories: delivered, in progress, stalled, thwarted or broken. Promises can be searched by status or policy area.
Currently the tracker shows that in the first year of government, 18 promises have been delivered while another 40 are in progress and six are stalled.
View tracker: https://www.abc.net.au/news/factcheck/promisetracker
Russell Skelton, Director of RMIT ABC Fact Check, said the promise tracker would not only hold the government to account but keep the public fully informed about its success in delivering what was promised.
"Holding governments to account for their election promises is a key aspect of the democratic process," he said.
"Informed voters are essential for the health of our democracy, especially when the public is constantly bombarded with misinformation and disinformation on social media."
The interactive promise tracker was first launched in 2014 and fast became a popular and much relied on source of information for politicians and their staff, students and the general public.
In response to the unprecedented impact of the pandemic on government decision-making, the tracker was shelved in 2020.
RMIT School of Media and Communication Dean, Professor Lisa French, welcomed the return of the tracker.
"This long-standing partnership between RMIT and the ABC is a reflection of the important role universities play in providing expertise and analysis to help inform the public and engage people in our political systems," she said.
"RMIT is very pleased to host the Fact Check unit on campus, providing our journalism students an opportunity to learn the increasingly critical skills of fact checking and verification as part of their study."
The ABC partnered with RMIT in 2017 to bring the unit to the City Campus, combining academic excellence and in-depth journalism to inform the public on key public policy debates.
An independent non-partisan voice, Fact Check determines the accuracy of claims made by politicians, public figures, advocacy groups and institutions engaged in public debate.
In 2020 RMIT also launched FactLab, a research hub dedicated to debunking misinformation and disinformation on social media and developing critical awareness about its origins and spread.
Data for the Election Promise Tracker was drawn from the findings of Australian Research Council Discovery Project, 'Promissory democratic representation: Campaign promises in Australia', awarded to RMIT University, Australian National University (ANU) and Monash University.
Ongoing delivery of the tracker is made possible with support from RMIT University, Monash University and public donations.
Media enquiries or to arrange an interview: Grace Taylor, RMIT Communications, 0439 704 077 or news@rmit.edu.au
Contact details:
Grace Taylor, 0439 704 077 or news@rmit.edu.au