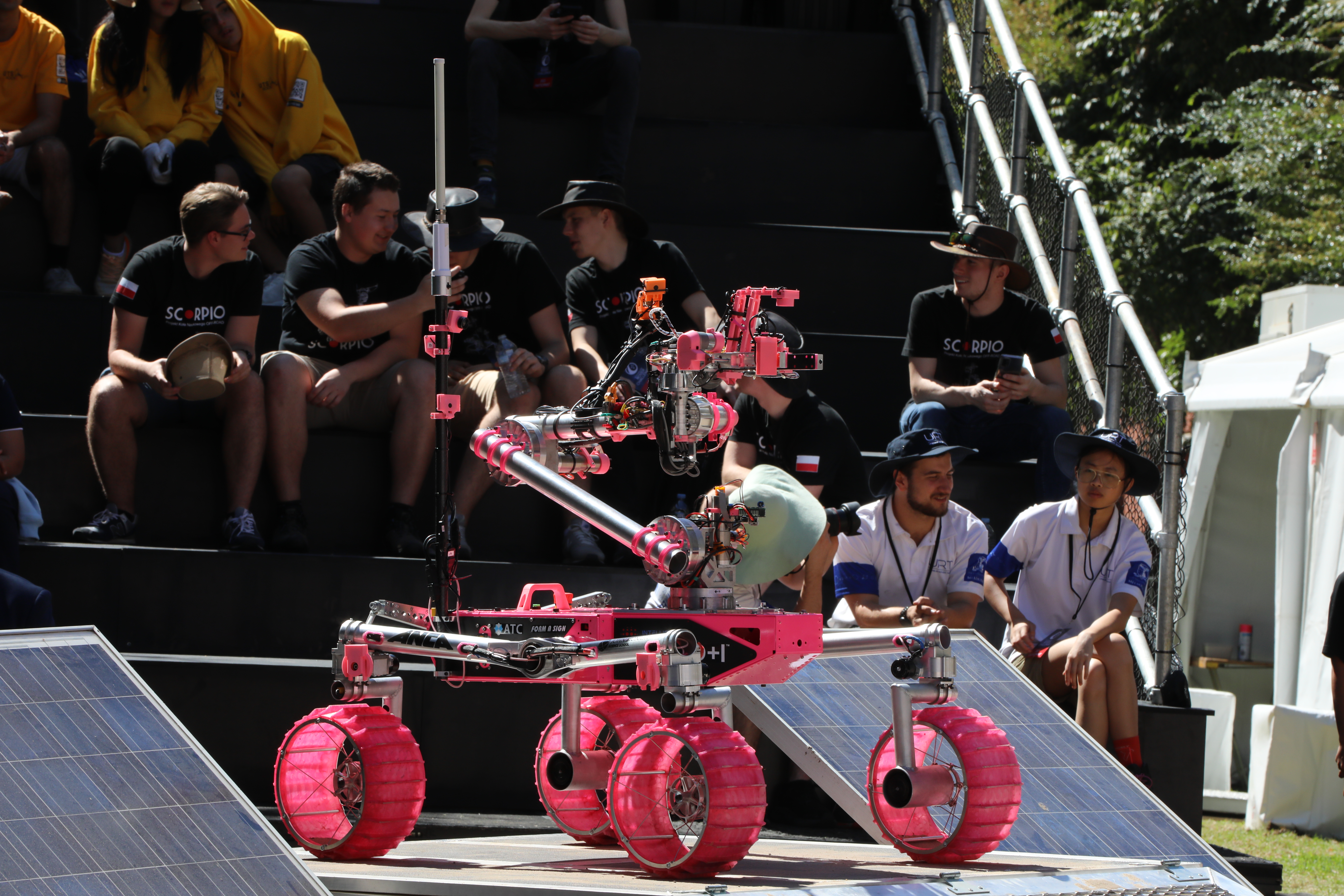 A Pink Rover is this year's Monash University Nova Rover team entry into the 2023 University Rover Challenge from 31 May - 3 June at the Mars Desert Research Station, Hanksville, Utah, USA.
Monash University's student Nova Rover team won the Australian National Championship earlier this year against some tough local competition. Now they are one of 37 teams from 10 countries to compete for the world title at the University Rover Challenge at the end of this month.
This year's rover is called Waratah, named after a native Australian flower. The name originates from the Eora Aboriginal word 'warada' meaning 'beautiful' or 'seen from afar'.
It is bold and bright pink to start conversations about Women in STEM - Science, Technology, Engineering and Mathematics.
Students from the Monash Nova Rover team have been designing robotic rovers since 2017.
This year, The Monash Nova Rover team includes Engineering, IT, Commerce and Science students. The team has overhauled the entire chassis design, implementing a rocker suspension with pivot steering, as well as brushless motors.
A/Prof Chao Chen, Course Director of Robotics and Mechatronics at Monash University and supervisor of the Monash Nova Rover team said the students have created innovative designs in the mobile system and robotic arm, and advanced remote control and autonomous navigation.
"Students from different faculties across Monash University come together to build this planetary rover, and develop specialised skills in many areas such as robotics, automation, AI, electronics, design, and also government and industry liaisons," said A/Prof Chen.
"This team program and activity gives our students the opportunity to apply theories learnt in the classroom to tangible and practical engineering challenges, access to world class facilities, and opportunities such as testing the rover in the Swamp Works Regolith Test Bed at NASA's Kennedy Space Center. That is the reason that many graduates from the team enter top robotics and space companies.
"It's exciting to think that the pink rover concepts and ideas created could be further developed for the real Lunar rover or Mars rover."
The teams will complete missions in extreme retrieval and delivery, equipment servicing, autonomous traversal and science – all tasks a real rover would undertake while remotely operated on Mars.
Monash University wishes them well in this competition. Supporters can follow the Pink Rover's journey on social media. Facebook Twitter Instagram TikTok LinkedIn YouTube
- END-
Media Enquiries
Loretta Wylde
Monash University Media and Communications
+61 (0) 432 123 106 loretta.wylde@monash.edu
Additional Media Enquiries
For any other topics on which you may be seeking expert comment, please contact the Monash University Media Unit on +613 9903 4840 or media@monash.edu
For more Monash media stories, visit our news and events site.