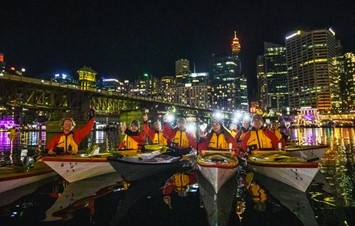 Think you've seen VIVID? Sydney's premier light and soundscape event is transformed in this thrilling on-water experience from Sydney Harbour Kayaks.
Sydney Harbour Kayaks presents a special 90-minute night-time sea kayaking tour especially for VIVID 2023. Cast off at dusk and watch the city come to life from your floating vantage point. Paddle your way by night under expert guidance, taking in the sights and sounds of Vivid Sydney 2023 from the water line.
Starting from the Maritime Museum, glide across the water on a moonlit adventure, far away from the crowds. The city skyline and lights of VIVID are reflected in every ripple and you have the best seat in the house to see Festival highlight - including the stunning Harbour Life projection, across the museum's iconic roofline and stellar Destroyer, the HMAS Vampire.
This 90-minute guided tour is a special VIVID 2023 event. Limited places. Family deals available. Bookings essential.


For more information or to book go to:
Sydney VIVID Festival Moonlight Sea Kayaking Experience with the Australian National Maritime Museum
Located onsite at the Maritime Museum, VIVID by Sea tours are suitable for kids aged ten and up, and adults, in double kayaks.
Follow the lights on Instagram: @seamuseum @sydneyharbourkayaks
ENDS
Contact details:
For further information please contact:
Kate O'Connell, Communications Manager
M: 0415521015, E: kate.oconnell@sea.museum