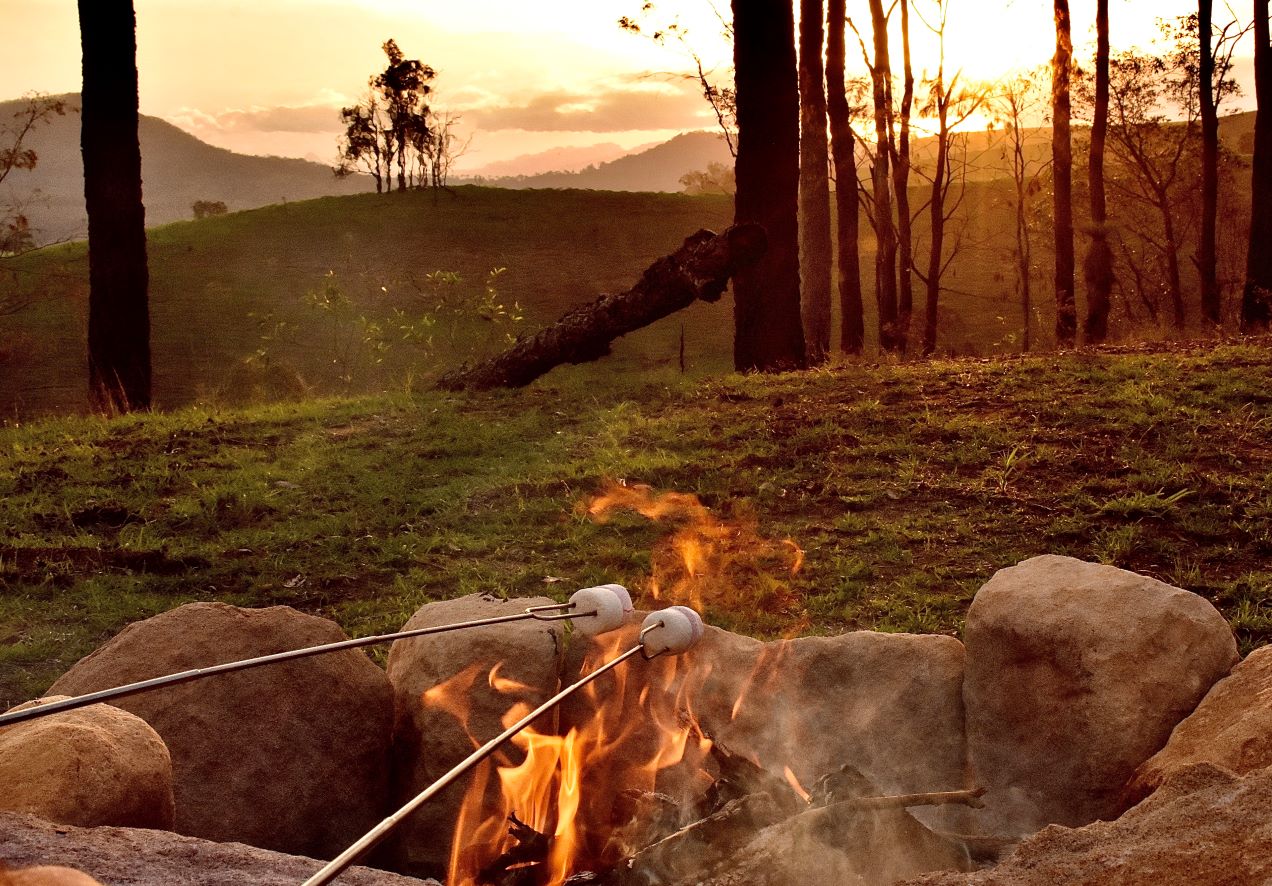 Want to curl up next to a crackling fire while baby it's cold outside?
The Scenic Rim has just the spot – or 21!
If you're dreaming of a winter escape complete with a roaring fireplace, a bottle of wine and a cheese platter, the Scenic Rim is calling – it's the perfect destination this winter to experience frosty breath mornings, blue-sky clear days and snappy cold nights. So, whether you are a Queenslander, or visiting from interstate, pack your bags because here's a list of 21 toasty escapes that are just a playlist away from Brisbane!
Images:
https://www.dropbox.com/scl/fo/mgtponva69av21tfyr5qj/h?dl=0&rlkey=c97bwqbrxykuolbawj0kc24kt
Mount French Lodge
Commanding prime position on a majestic mountainside overlooking the Scenic Rim, Mount French Lodge is the epitome of modern luxury and comfort, and is part of the Private Collection by Spicers. Perfect for use by a group of up to 16 people, guests can settle into their own private apartment featuring a cozy floating fireplace and furnished with the finest bedding and fittings, before joining their group for a champagne and stunning meal in the in the main lodge framed by a breathtaking backdrop of Scenic Rim mountains. To book click here
Cedar Creek Lodges and Cabins
Fancy a fireplace literally overlooking the stunning Cedar Creek in the ancient rain-and-wood forest neighbouring Tamborine National Park? Want to sip on a hot chocolate or red wine watching a roaring fire and listening to the creek cascading just metres away? Welcome to winter heaven!!!
Cedar Creek Lodges on Tamborine Mountain is the perfect place to curl up and experience a real Winter escape. In the Creek Cains the fireplaces share a glass wall overlooking the creek, making this bush retreat magical. There's all levels of accommodation at Cedar Creek Lodges, with fire pits throughout the camping and glamping areas. And for families looking for adventure, it shares its home with Thunderbird Park! Book here Cedar Creek Lodges
ALSO Cedar Creek Lodges have a helipad for direct landing near their lake and an EV Charge Station for guests with an electric vehicle AND if you're travelling with your pooch, Cedar Creek Lodges offer pet-friendly accommodation.
Alcheringa Holiday Retreat
Alcheringa is the home of two exceptional new holiday houses, adjacent to the famous Binna Burra Lodge at Lamington National Park in the Scenic Rim. overlooking the Coomera and Numinbah Valleys, each house has two bedrooms and two bathrooms, lounge and dining areas with floating fireplaces, a mudroom, a fully equipped kitchen, and balconies with gob-smacking views. They provide easy access to the of walking tracks of Lamington National Park and a base for visiting the many attractions of the Scenic Rim. And, they have a wonderful history….. the original Alcheringa was built in the early '70s by Donn Groom, one of the sons of Arthur Groom, co-founder of Binna Burra Lodge. Brisbane architect Robin Spencer designed the house. Donn built six massive rock walls without cranes or heavy machinery and employed carpenters to build around them. The original house was destroyed in the bushfires that swept the east of Australia in late 2019 and Robin Spencer was thrilled to be asked to design the replacement houses, which he did with his son Fraser. The two new houses were finished in August 2022. To book, click here
Verandah House Country Estate
The first five-star luxury retreat with THE most breathtaking views of the hinterland and beyond is Verandah House Country Estate, a brand new haven at Tamborine Mountain. Quite simply, it's stunning. Eight designer-appointed guest suites capture beautiful country style with modern-day luxuries. Each suite has a unique interior design with luxe king beds and sleeping-on-a-cloud bedding, log fireplaces, kitchenette and panoramic mountain views. There's a wellness space, yoga and meditation areas, a cedar hot tub with a view-to-die-for of the mountains, an infrared sauna, and a stunning communal fire-pit and barn-style space for guests to gather and relax. To book, click here
Country Mile Escape
Perfect for couples looking for a romantic hinterland getaway, or friends and family seeking a relaxing countryside escape, Country Mile Escape provides the perfect peaceful getaway to escape the hustle and bustle with two modern self-contained studios on a 70 acre cattle farm in the beautiful Flying Fox Valley, nestled between Beechmont and Mount Tamborine. Perfectly appointed with luxe bedding and furnishings, deep bathtubs and cosy log fires and outdoor fire-pits, one night will never be enough! To book, click here
Baya Tiny House Eco-retreat
With views of rolling hills and scenic mountain ranges, guests at the Baya Tiny House Eco-retreat at Ketchups Bank Glamping are rewarded with stylish accommodation in a bijou tiny house fitted with a queen loft bed and luxury linens, a perfectly-formed kitchen, a bathroom with rainfall shower, and an indoor wood fire and outdoor fire pit. To book, click here
Beechmont Estate
Fancy raising a glass with friends in front of a stunning stone fireplace before settling in for some of the finest paddock-to-plate dining in SE Queensland? This luxury country retreat on the Beechmont plateau, near Lamington National Park, is just the ticket . Situated amongst the rolling fields of a privately-owned Wagyu farm,. guests can relax in their own luxury cabin or pavilion with deluxe king beds, fireplaces, and their own private deck looking out over the idyllic hinterland countryside. Watching the sun set over the green hills, with horses grazing in the distance and an open fire crackling closely on the terrace is a seriously wonderful experience. Part of the Northern Escape Collection, a portfolio of boutique sustainable experiences that celebrate Queensland's diverse natural beauty, the estate is harnessing cutting-edge renewables technology to become Australia' first carbon positive hotel. To book, click here
Eighteen Mile Cottage and Homestead
Eighteen Mile Homestead in Darlington is a perfect tree change experience. The tastefully decorated 1920s timber cottage sleeps up to four people in two bedrooms and features an outdoor firepit with log seating. The larger family friendly homestead caters for 15 people and has two fireplaces. The inside fireplace is a traditional open chimney style, while outside there is a designated fire pit area with seating. Visitors are provided with firewood and a large cooking plate for the fire pit during their stay. To book your next stay, click here
Lumiere Farmhouse
This lovingly restored century-old farmhouse in Woolooman is set on two acres surrounded by rolling hills. The property features all the comforts of home, including a fireplace in the living area, making it the perfect spot to curl up on the couch with a good book while listening to the flames crackle. There's also a huge fire pit outside, perfect for a glass of wine and a few tunes. Check them out on Facebook.
Wongari Eco Retreat
Go off the grid and reconnect with nature at Wongari Eco Retreat, 40 minutes south of Beaudesert in Lamington. Guests can choose from two self-contained cabins, each with their own unique views and experiences. The 'Serenity' cabin is nestled in the forest, set beside the waters of Christmas Creek, while the 'Bimbul' cabin is open to the forest canopies with expansive 360-degree views of the mountains. Each cabin also has fireplaces inside and out, guaranteed to keep you warm on even the coldest of nights. To book your next stay, visit the website.
Cedar Glen Farmstay
Enjoy genuine country living on a real working farm at the Historic Cedar Glen Farmstay in Beaudesert, surrounded by beautiful mountain scenery. There are four private historic accommodation options to choose from, including the Cedar Glen Homestead, Stinson Cottage, Wallaby Cottage and Dairy Cottage. Three of their cottages have an indoor pot belly fireplace and outdoor fire pits. To book your next stay, click here
Greenlee Cottages
Featuring four contemporary cottages all with their own rustic charm, Greenlee Cottages offers a peaceful weekend away with picturesque views of the Canungra Valley. There are four cottages available for those who like the finer things in life, with breakfast included. Near the creek, visitors will find a communal fire pit, the perfect spot to toast marshmallows while admiring the starry skies above. To book your next stay, click here
Scenic Rim Adventure Park
If camping, hiking, mountain bike riding and four-wheel driving are more your style, the Scenic Rim Adventure Park is located on a 680-acre property at Tamrookum Creek. There are 14 individual camping areas located throughout the property, and they all have their own campfire locations. Guests can purchase cut firewood at the park entry or are welcome to collect their own from around the property. To book your next stay, click here
Hanoob Views
The owners of Hanoob Views understand your pets are part of the family, that's why their two houses welcome them too! Located in Carney's Creek, the two properties are private from each other, and feature all the creature comforts you need. In each living room, there's wood burning fireplaces where you can rug up and spend an evening tasting flavours of the Scenic Rim or playing a board game, all with your four-legged mate! To book your next stay, click here
Binna Burra Sky Lodges and Rainforest Campsite
Relax in comfort high above the clouds at the famous Binna Burra Sky Lodges and Rainforest Campsite. At 800m above sea level, Binna Burra sits amidst the sub-tropical rainforest of Lamington National Park – you are on top of the world! Each of the Sky Lodge apartments have fireplaces, and out the huge windows are breathtaking views. OR camp (or campervan) at the Rainforest Campsites which have multiple communal firepits. A safari tent with its own private firepit is also available, subject to availability. To book your next stay, click here
Herrmann House
Step back in time to an era long-gone at the historic Herrmann House in gorgeous Kalbar. Inside the stunningly restored house, there's four double bedrooms and two fireplaces, beautifully fitted out. There is also a fire pit in the conifer garden, giving guests that true country winter experience. To book your next stay, click here
The Old Church Bed and Breakfast
For a heavenly stay in the Scenic Rim, reserve a room at this old historic church located in Boonah. Guests can choose from rooms and private ensuites and verandas in the church, or the adjoining self-contained studio. There is an inside fireplace and outdoor fire pit to keep all travelers warm throughout their stay. To book your next stay, click here
Worendo Cottages
Escape from the fast lane and stay to this stunning wilderness setting overlooking the World Heritage Rainforest Mountains of Lamington National Park. Their three cottages feature indoor fireplaces, and all have an outdoor campfire setting where you can gather under the stars with free firewood and marshmallows. To book your next stay, click here
Pethers Rainforest Retreat
This private and secluded retreat on Tamborine Mountain has been exclusively designed for adults and is set on five hectares of pristine rainforest. Each of Pethers 10 private treehouses are surrounded by rainforest and include a spa for two and a fireplace, meaning guests can fully unwind and relax in style. The award-winning restaurant also hosts a large, open sided fireplace, so you'll definitely feel extra warm while enjoying their meal.
To book your next stay, click here
Moogerah Lake Houses
There are six fantastic lake houses to choose from and all can sleep large groups of families or friends. Three of the lake houses have their own fire pits which is sure to add to the ambience of your country escape.
Share with your friends and then book here.
Go fireside at the Scenic Rim's Camping and Glamping sites
The Scenic Rim has some of the best camping and glamping sites in the country, where you can sit around your own fire, or share the flames with others, make new mates and tell tall tales. For sites in the Scenic Rim, visit https://www.visitscenicrim.com.au/accommodation/caravan-camping-and-holiday-parks/
ABOUT THE SCENIC RIM: In a major international coup, the Scenic Rim was named by global travel authority Lonely Planet as one of the hottest destinations to visit in 2022! In 2023 delicious. magazine did the same thing!
Just an hour from Brisbane and 30 minutes from the heart of the Gold Coast, the Scenic Rim stretches from Canungra to The Lost World, Beaudesert to Boonah, Tamborine Mountain to Kalbar and is home to the ancient World Heritage-listed Gondwana Rainforests, six historic national parks, charming towns and villages, adventure parks, farm stays, craft breweries, boutique wineries, ecolodges, tantalising gourmet experiences, world class camping and glamping and breathtaking spaces in between. It's a region of more than 4,200 square kilometres of rich volcanic soil surrounded by ancient mountains and home to thousands of farmers and food creators, more than 30,000ha of parkland, plus three dams - Lake Moogerah, Lake Maroon, and Wyaralong Dam.
VISIT THE SCENIC RIM! Find out all you need at visitscenicrim.com.au
For more information contact Kath Rose & Associates on 0416 291 493 or kath@kathrose.com