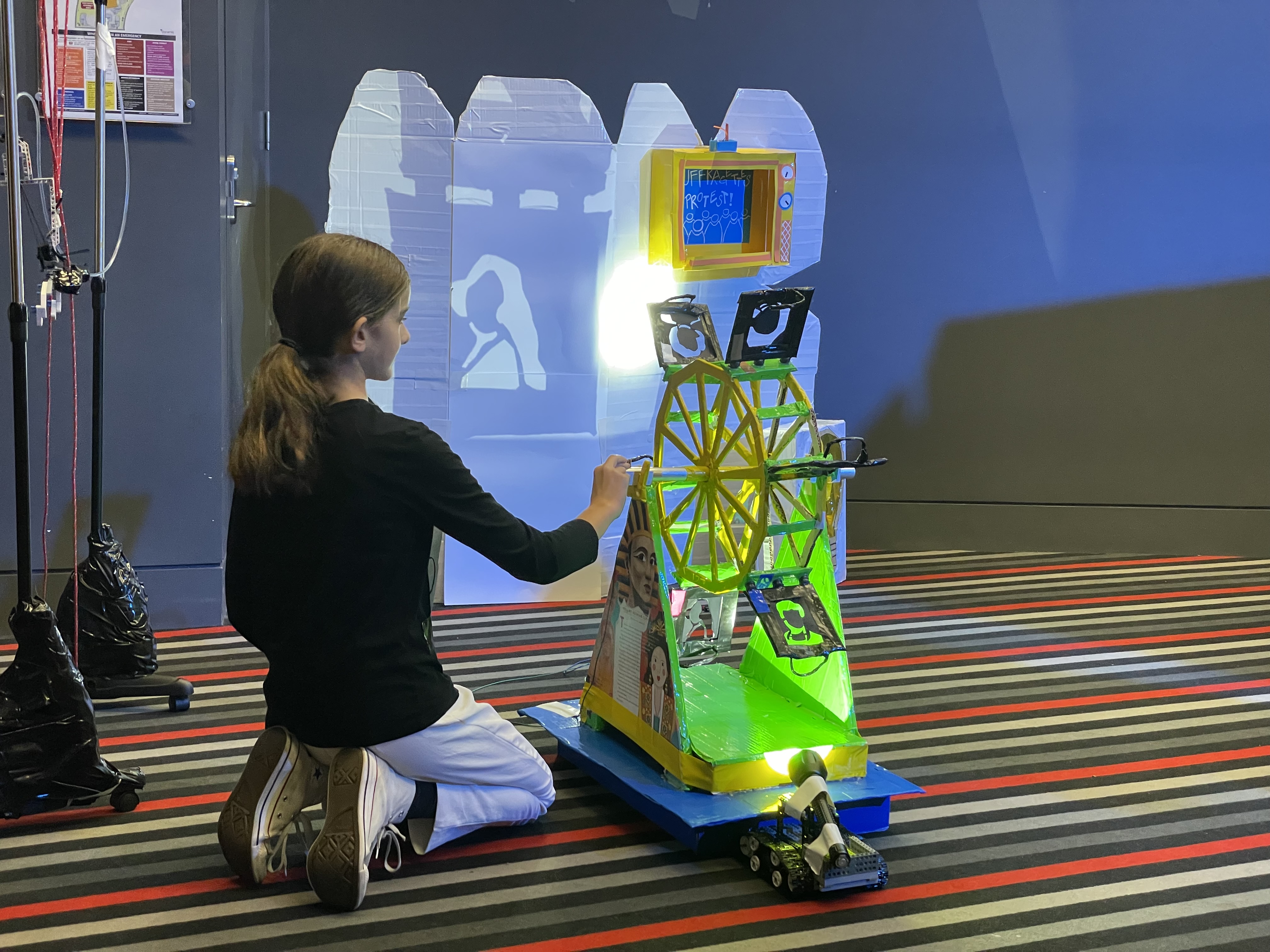 A lifechanging experience for STEM students
Last week Firbank Grammar School students participated in the Destination Imagination Global Finals in USA.
Where: Destination Imagination Global Finals held in Kansas City, USA.
Representing Australia in a STEM Challenge Program
This extraordinary team of students from Year 5, 6 and 7 at Firbank Grammar School were invited to represent Australia at, what is known as, the world's largest celebration of creativity.
Destination Imagination is a STEM Challenge Program in which teams of students are required to solve challenges in one of six categories – Science, Engineering, Technical, Fine Arts, Service Learning, and Improvisation. Each team selects a challenge and works for several months to imagine, design, create and refine their solution.
Our team chose a Technical Challenge
The Firbank Grammar team, who call themselves The Caramello Koalas, ambitiously chose to create a solution to the Technical Challenge. This challenge required them to build a puzzle to be solved by technical methods throughout a performance which involved a "pivotal" moment.
The team decided to set their story in an era where women had fewer privileges and the education system did not consistently support female enterprise and entrepreneurship. The students constructed a series of black and white back drops symbolising an environment where conformity was rewarded. The 'pivotal' moment occurs when one of the characters sees a new colour TV in a shop window and starts to believe that anything is possible.
From this moment the character starts to dream, and we see her imagination come to life in the form of a puzzle, created on the side of the stage. While the character reads a book about inspirational women throughout history who have challenged sterotyopes, her imagination grows and grows. To represent the character's imagination, the team use a combination of robotics, hydraulics, electronics, magnetism and a pulley system to build a Ferris Wheel which operates as a functioning projector, magnifying silhouettes of the famous women from the book.
Each team in the competition are also required to incorporate two "Team Choice Elements", showcasing their unique skills, talents, and passions. The Firbank team wanted to make their solution accessible to all people regardless of language, so they decided to present their solution as a "wordless production". They researched methods of non-verbal communication and cleverly incorporated them into their solution. They also utilised the skills of one of their team members who played an original flute composition throughout the performance to bring emotion to the storyline.
Instant challenges develop decision making skills
On competition day, each team presents their solution and then participates in an "Instant Challenge" which requires the team to demonstrate quick decision making, team work and creativity to solve a design challenge in only 5 minutes!
We are incredibly proud of our team who competed alongside students from all over the world. The Caramello Koalas placed an impressive 17th overall, 12th in the Central Challenge and an outstanding 3rd in the Team Choice Element section.
Collaboration a key strength of the Caramello Koalas' success
When reflecting on the experience, the team describe collaboration as one of their strengths.
"In our team we have a plethora of unique people. Each of our strengths adds something to the team, whether its Tiger's flute playing or Jessie's incredible scientific brain our challenge wouldn't be the same without every one of our teammates. We stuck to our strengths and before we did anything the 'expert' of every field would check it was plausible and that it was the most efficient and effective thing we could do. Our new ideas involved multiple people using their strengths to problem solve through the many hurdles which we faced."
They also talk about open mindedness and perseverance as being a key to their success.
"As we innovated on our solution, we had numerous failed prototypes. This was particularly evident in our second 'puzzle solver'. In total it was remade six times. Whenever we made something, it would have to go through a field test: Does it work as intended? Is this the best we can do? Often it was the second question which would be answered with no. We repeated this process with every single element and although it could be disheartening at times, it worked."
Students are enriched and filled with inspiration from their experience
The students are returning home enriched from the connections they have made with likeminded students from all over world and feeling inspired by what they have experienced. They are already enthusiastically preparing for the new round of challenges that will be released in July.
We look forward to hosting Victorian schools in December
Firbank Grammar is very proud to host the Melbourne Destination Imagination Tournament which will see teams from throughout Victorian come together to celebrate imagination, creativity and STEM on Saturday December 2, 2023.
Key Facts:
Student quotes
After DI I see the whole world differently. I can no longer walk into a room without being curious about how things work!"
"The best thing about Global Finals has been meeting people from other countries, getting to know their cultures and learning from their ideas."
"In DI I have learnt about all different subjects, all I think about now is DI"
"It has been so fun watching other teams present their solutions"
About us:
Firbank Grammar School is a leading Independent school, offering girls only education in Brighton and a co-educational campus in Sandringham. Firbank offers exceptional education and opportunities to students, with student wellbeing at the heart of everything they do.
Contact details:
Media contact
Marketing and Communications Manager
communications@firbank.vic.edu.au
Ph 95915188
Date and location
Firbank Grammar School, 51 Outer Crescent, Brighton Vic 3186
1 June May 2023