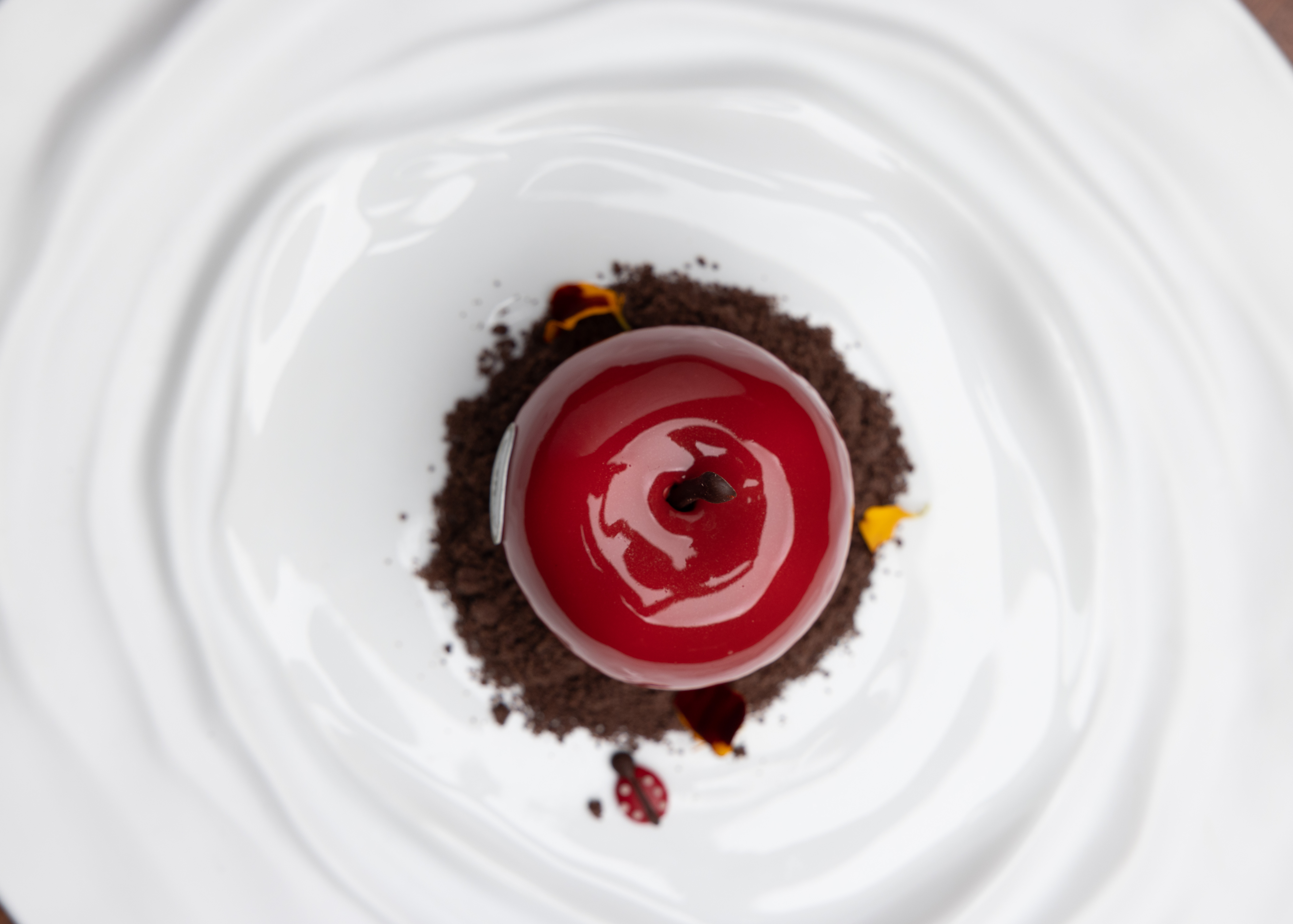 Inspired by Adria, mentored by Speroni, meet the flavour-master behind the new Winter Menu at Bacchus
Meet Bacchus Chef de Cuisine Manuele Erriu. He's the passion behind the new Winter Menu at Bacchus, with the dishes a reflection of places he calls home. Take note though, this isn't a traditional Winter dining experience!
Imagery here
Manuele pays tribute to his birthplace by the sea in Roseto degli Abruzzi, Italy, with a stunning champagne lobster dish, served with purple potato and a chardonnay sauce, as well as his duck breast featuring cannellini, herb braised lentils and juniper infused jus. And to champion the place he has called home for 10 years, he has created a kangaroo tartare with mustard, black ink ravioli, octopus and lemon grass. This dish, he says, is for those with an adventurous palate!
With his mentor the celebrated former Head Chef of Bacchus and now Executive Chef of Rydges South Bank Massimo Speroni, and his inspiration the Spanish food legend Ferran Adria of El Bulli, who Manuele said, "turned the world of cooking upside down". Manuele's menu is a rollcall of standout dishes, like:
Cauliflower flan served with textures of macadamia and wasabi
Goldband snapper, served with a broccoli and potato mash, broccoli puree and a burrata cheese sauce
Textures of pumpkin served with a plant based blue cheese and lentils
Carrot sorbet served with candied carrot and ginger consommé
A grill offering of Lamb Rump, Sirloin, Eye Fillet, Wagyu Scotch Fillet, Dry Aged Sirloin
Apple mascarpone mousse with a mulled wine and diced apple centre served on a chocolate soil
And his signature – Kingfish sashimi, ponzu, sesame and sea grapes
It means that dining in Bacchus this Winter will be an adventure, with flavours flying across his plates and local ingredients like Urban Valley Mushrooms, Queensland Champagne Lobsters, and beef from the Somerset Region, and the Southern and Darling Downs taking centre stage.
Bacchus has paired the Winter Menu with a new wine list that sees more Australian sparkling, pinot, shiraz, gamay and other varieties. At home in Queensland, they continue to collaborate with local vineyards and most recently featured La Petite Mort Wine with an aim to expand the Granite Belt offerings throughout the rest of 2023. The Bacchus wine list features 700 offerings and over 50 wines 'by the glass', celebrates the great grape growing regions of the world and the cheese trolley remains one of the best in the country.
The Winter Menu includes a full a la carte offering, two degustation experiences (main and vegetarian options), and a wonderful bar selection.
Back to Manuele. He has a deep love of food and local produce. He started working in the kitchen of a local Italian restaurant when he was 15 during the summer and on weekends. It's where he fell in love with food. He said he still remembers his first oyster as a joyous moment. He's since worked in London and back in Italy, and then came to Australia. He joined Bacchus under the mentorship of Massimo Speroni, and followed him to Newcastle to open JANA Restaurant at the QT HOTEL (sister to Bacchus), before returning to his beloved Brisbane, and now, takes the culinary lead.
And what are his must-haves in his fridge? Extra virgin olive oil, garlic, tomato, burrata!
So, food fans, Bacchus is taking on Winter 2023 with bold dishes and fantastic flavours. Book now!
Bacchus is at home in Rydges South Bank, the premier lifestyle and cultural hotel in Brisbane and one truly embedded in the cultural, dining, sporting and corporate life of the city.
BACCHUS RESTAURANT
9 Glenelg Street, South Brisbane - at Level 1 Rydges South Bank
BOOKINGS: Reservations — Bacchus Restaurant (bacchussouthbank.com.au) or call 07 3364 0837
For media interviews, imagery and more, please contact Kath Rose on kath@kathrose.com or 0416 291 493