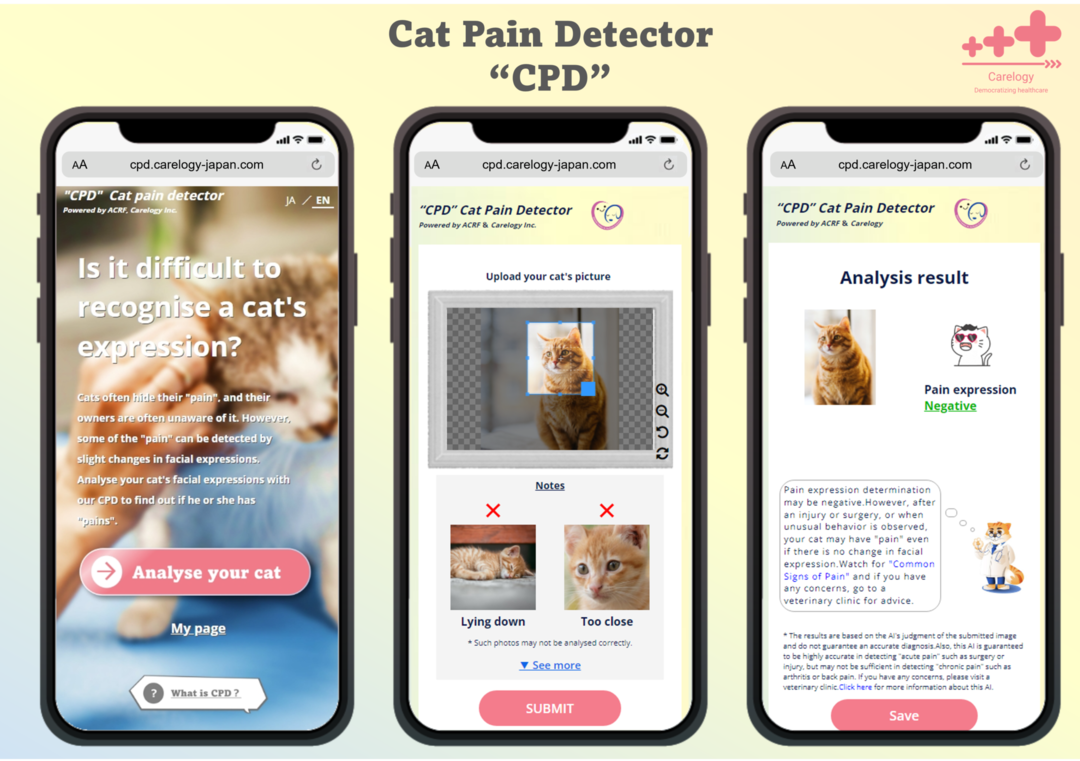 Japanese MedTech company Carelogy Inc. has launched CPD, an AI app that can detect a cat's SOS, and released the English version of CPD in June 2023. CPD is short for "Cat Pain Detector," this AI app enables you to detect if your cat is in pain by its facial expression in just a few seconds. Its detection accuracy exceeds 90% and is highly evaluated by veterinarians at Nihon University, with whom we have conducted joint research. CPD was released in Japan in May 2023 and immediately became a hot topic in many media, gaining 30,000 users in just one month.
Development Process
In collaboration with Nihon University's College of Veterinary Medicine, we collected about 6,000 facial images of cats. Veterinarians then determined the positive or negative of pain expression based on the "Feline Grimace Scale" methodology published by the University of Montreal (this method scores five items, including ear tilt, eye-opening, head position, etc.). By training AI on this classified data set, we have successfully developed a system capable of detecting pain facial expressions in cats with high accuracy.
How to use
CPD is a web service that can be started instantly and for free without installation. The CPD link and QR code are below.
▼ CPD Link
▼ CPD QR code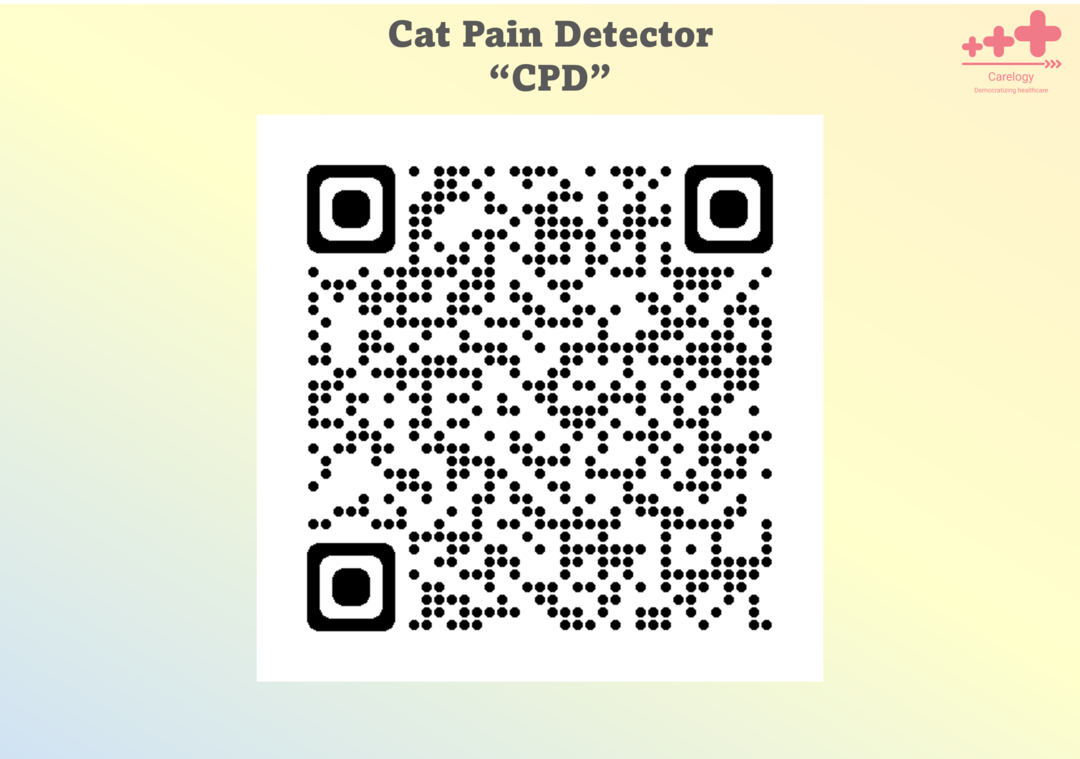 After accessing the site, tap the "Analyse your cat" button, upload a photo of your cat's face, and you will see the pain detection results in a few seconds. As a caution when using CPD, inaccurate results may happen if the cat's face cannot be recognized correctly in images such as eyes closed, lying down, etc. Please try several times with images taken from the front.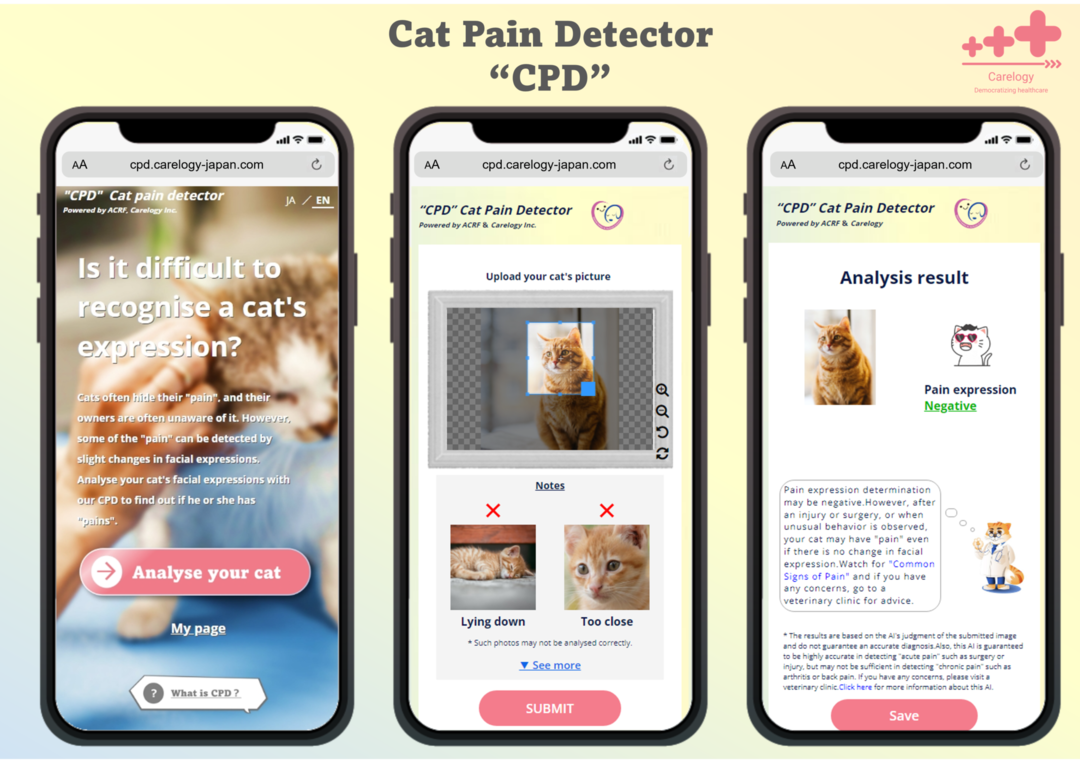 CPD goes further!
Based on user feedback, we will evolve CPD into a more convenient service, improve its accuracy and release a paid version with many additional features(CPD Premium).
CPD Premium will be available not only for cat owners but also for pet shops, breeders, and veterinary clinics.
About us
We are a Japanese start-up company with a vision of 'Democratizing healthcare'.

Official website: https://carelogy-japan.com/hp/en/
Key Facts:
Japanese company Carelogy Inc. has released a free app, that enables AI to detect pain in cats.
About us:
Company name: Carelogy.Inc
Establish: Feb19/2021
CEO: Go Sakioka
Address : 8-chōme-15-10 Ginza, Chuo City, Tokyo, JAPAN
Contact details:
Name: Daichi Ozeki
Mail: daichi.ozeki@carelogy-japan.com