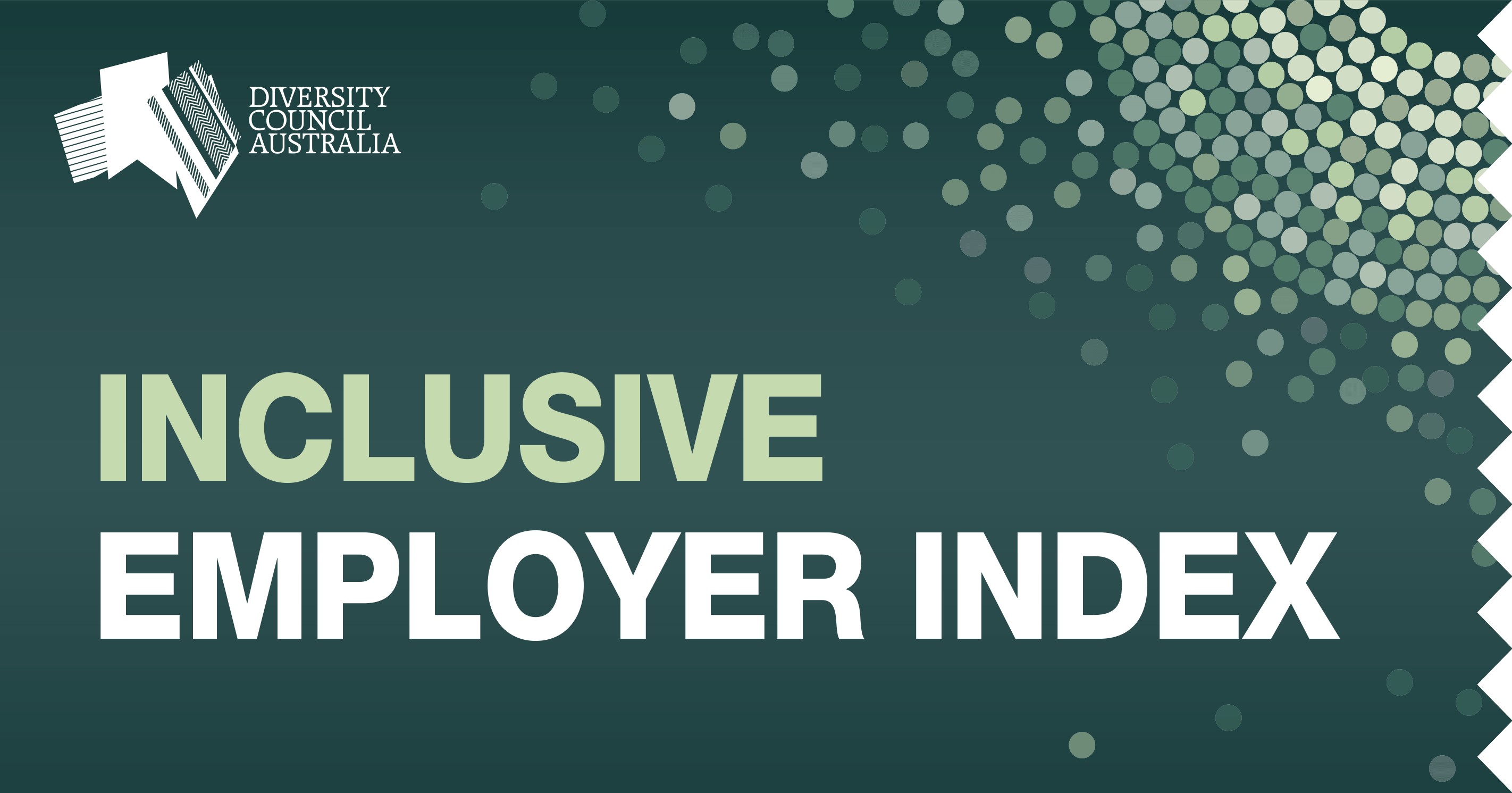 Diversity Council Australia is currently taking expressions of interest for its 2023-2024 Inclusive Employer Index, offering Australian organisations the opportunity to show their commitment to creating an inclusive workplace.
DCA's Inclusive Employer Index, produced in partnership with Cultural Infusion, enables participating employers to map and track the state of diversity and inclusion in their company, benchmarked against leaders in this space.
Employers who exceed the national index benchmark on a series of measures will be included on the 2023-2024 Inclusive Employer Index list and will be publicly promoted by DCA. They can also showcase their commitment to diversity and inclusion by displaying the Inclusive Employers logo.
Last year's Inclusive Employers came from a diverse spectrum of public, private and non-government organisations, large and small, including Cisco Systems Australia, John Deere, Services Australia, the Social Research Centre, WISE Employment and many more. See the full list here.
Fostering an inclusive workplace is a proven way to attract and retain top talent. In fact, our most recent Inclusion@Work Index shows workplace inclusion significantly increases performance, wellbeing and innovation. Plus, workers in inclusive teams are:
Four times less likely to leave their job,

Five times less likely to experience discrimination and/or harassment,

10 times more likely to be very satisfied and

11 times more likely to be highly effective than those in non-inclusive teams.
As employers across the country continue to struggle with staff shortages, there's no better time than now to find out how your company measures up and see where you can do better.
Employers can register their interest for DCA's 2023-2024 Inclusive Employer Index here.
Expressions of interest will close on 31 July 2023.
Quotes attributable to DCA CEO Lisa Annese:
"We know that inclusion has significant benefits for both employers and employees. This is an opportunity to show your commitment to inclusion, reflect on your achievements and identify ways to do even better."
"Our Inclusive Employer Index is rigorous; it is an opportunity to prove that inclusion is more than just an add on for your company, but a deeply ingrained attribute that actively contributes to your success.
"Inclusive Employers can show they are doing the work necessary to foster diversity and inclusion in their company and therefore helping to build a more inclusive Australia."
Quotes attributable to DCA's 2022-2023 Inclusive Employers:
Helping Hand Aged Care, South Australia Chris Stewart, Chief Executive Officer:
"This is the first year we have participated in the Inclusion at Work Index and we are incredibly proud to have achieved Inclusive Employer status.
"Processes like this provide an opportunity for organisations to hold a mirror up to themselves, and it can be vulnerable to place ourselves in these situations. But it's only through transparency and values-based engagement that you can allow yourselves the opportunity to see how you are tracking in these very important areas. For us, we are delighted in the positive result. However, we know we can always do more and we are committed to working even harder when it comes to diversity, inclusion and belonging.
"The absolute highlight for Helping Hand is that 60% of Helping Hand employees report having an inclusive manager, which is almost double the Australian workforce average of 31%. This speaks volumes about the culture at Helping Hand and how the leadership across the organisation truly does live our values and creates a safe and inclusive workplace. Aged care across the country needs to boost its workforce and I am hopeful this result will see people attracted to choose Helping Hand."
Australian Maritime Safety Authority Mick Kinley, Chief Executive Officer:
"We are immensely proud to be designated an Inclusive Employer. This achievement is a testament to our continued focus on embedding inclusive values at AMSA and provides us with a clear baseline from which to grow."
Carers Queensland Ltd Debra Cottrell, Chief Executive Officer:
"Achieving Inclusive Employer Status through Diversity Council Australia, not only validates the work we have done, it encourages us in our continued endeavour to make Carers Queensland a place for everyone."
Chamber of Commerce and Industry WA CEO Chris Rodwell:
"DCA's recognition of CCIWA as an inclusive employer gives us further assurance that we're on the right path. Importantly, its assessment tool also highlights opportunities for further improvements. The focus now needs to be on continuing this journey with our team and also sharing our efforts with the 8,000 businesses across our membership."
City of Stirling CEO Stuart Jardine PSM:
"Local government works best when it employs people who are a part of the community, and who reflect the diversity of that community. The City of Stirling is proud to be one of the most culturally diverse communities in Western Australia and we will continue to ensure we build an inclusive and harmonious City where everyone feels like they have a place."
Services Australia Rebecca Skinner PSM, Chief Executive Officer:
"Being recognised as an inclusive employer and achieving Inclusive Employer Status for a second year is a proud moment for Services Australia.
"As an agency that supports almost every Australian at some point in their life, regardless of ethnicity, religion, gender, gender expression, sexual orientation, age or ability, it's important that inclusion is at the heart of everything we do.
"We need to understand, connect with and represent the community we serve and being inclusive means we can deliver better services for all Australians. Our ongoing work to live and breathe inclusion improves the experience of our staff and customers, and we remain committed to championing inclusion in the workplace."
For more testaments from our 2022-2023 Inclusive Employers, go here.
Media contact: Ali Coulton 0430 242 682 |media@dca.org.au
About DCA: Diversity Council Australia is the independent not-for-profit peak body leading diversity and inclusion in the workplace. We provide unique research, inspiring events and programs, curated resources and expert advice across all diversity dimensions to a community of over 1,100 member organisations. Our member organisations are estimated to employ nearly two million Australians, representing up to 20% of the workforce.