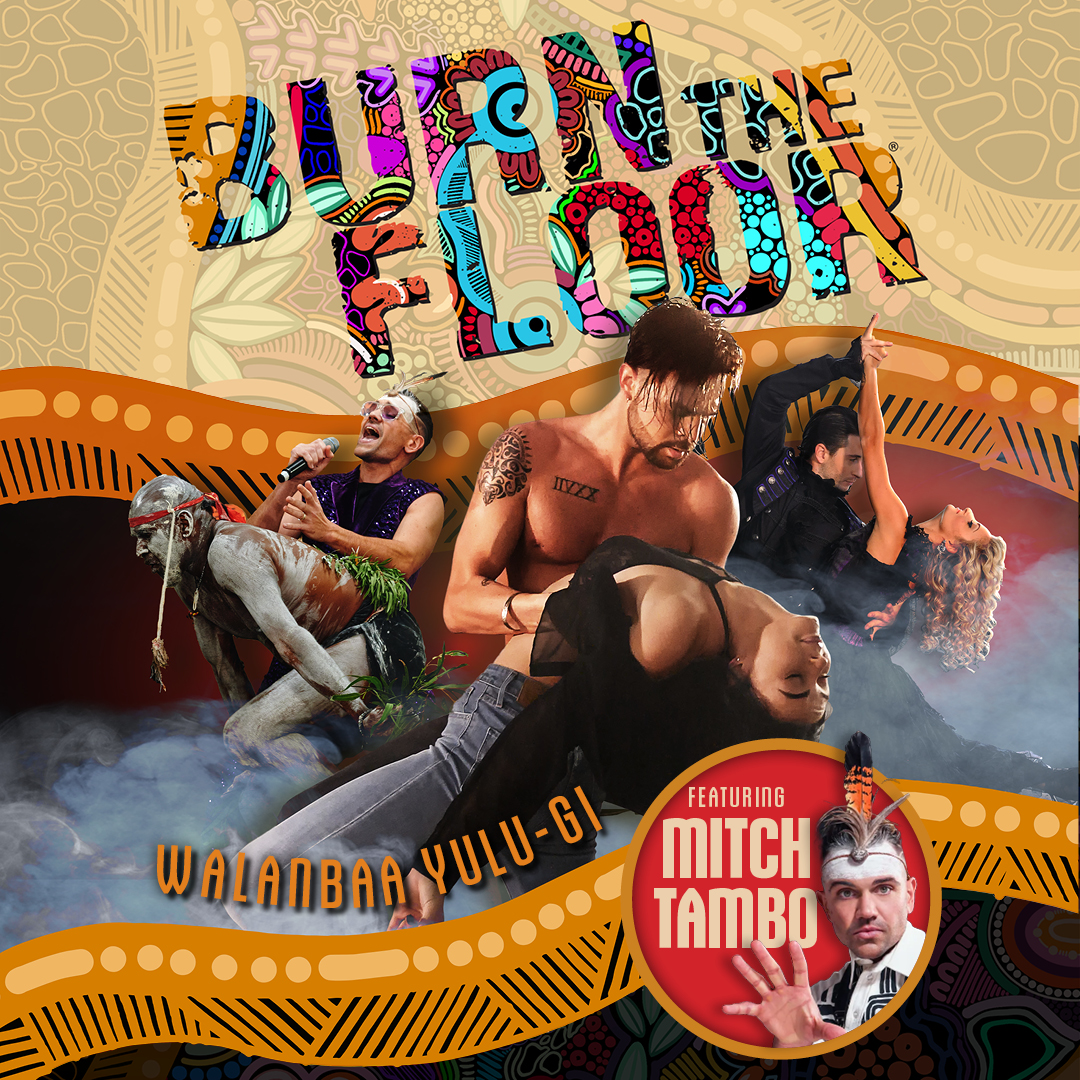 "Walanbaa Yulu-gi" - Burn the Floor- to feature Mitch Tambo
As the world renown Australian Ballroom and Latin dance company Burn the Floor passes it's 25th year, the performing group will collaborate with World Music star Mitch Tambo to create a brand-new dance production to premiere in Melbourne in July of 2023.
Together, BTF and Mitch will undertake an inspiration dance journey embracing First Nations Culture and Music, fuelled with Australian rock classics, from INXS to Midnight Oil, and driven with the energy and passion of 20 dancers, vocalists, and musicians.
The international track record of Burn the Floor includes a seven-month season on Broadway, two seasons on the West End and tours and through one hundred and fifty cities.
Burn the Floor is a powerhouse of the cruise-ship Industry, performing over 6,000 shows for Norwegian Cruise Line since 2012.
In 2023 Burn the Floor will begin its 11th World tour, across Japan, Korea and beyond, finishing at The Royal Albert Hall, London on July 8, 2024
Producer Harley Medcalf has been presenting shows in Brisbane since 1973, his first show was with Billy Thorpe. Over the years he has presented shows in Brisbane with Elton John - 8 times, Billy Connolly - 9 times, Meat Loaf 3 - times, Suzi Quatro - 18 times, Barry Humphries 5 times and dozens of other shows and Artists.
Harley has produced two Broadway shows and worked in 30 countries and over 180 cities during his 53 year career. He is in Brisbane on June 7 to promote Burn the Floor, and is available for in person or phone interviews about his life and his passion for Burn the Floor.
Mitch Tambo is on the verge of super stardom, his appearance, Infusing contemporary beats and performing in the Gamilaraay language, with story-telling of his own world are receiving rave reviews. His passion is to share his culture wider audiences. Mitch is available for advance phone interviews.
Burn the Floor with Mitch Tambo will be at the The Power House, Brisbane, Thursday 3rd August and Friday 4th August. Tickets are on sale now at Ticketek: https://premier.ticketek.com.au/shows/show.aspx?sh=BURNTHEF23
Key Facts:
1. Producer Harley Medcalf in Brisbane on 7th June and available for in person interviews
2. Burn the Floor with Mitch Tambo performs at Brisbane Powerhouse on The Power House, Brisbane, Thursday 3rd August and Friday 4th August
Contact details:
call Harley: 0419-738-837