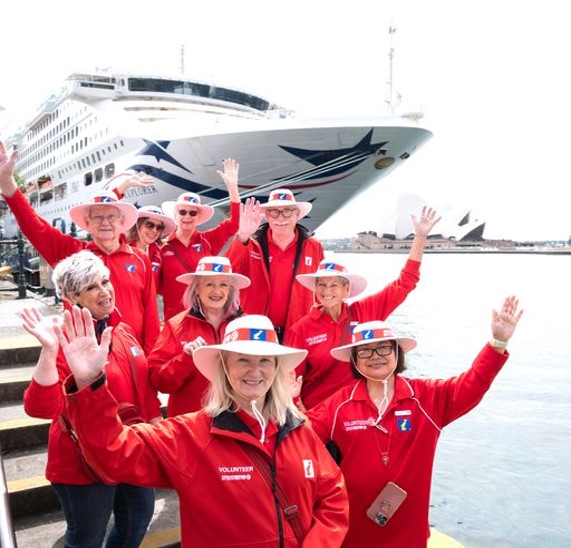 The City of Sydney is looking for volunteers to join a team of local experts who can help promote the city's world-class shops, restaurants and attractions to thousands of visitors each month.
Sydney Ambassadors will be the first point of contact for many tourists landing in the city, including holidaymakers on cruise ships that arrive at Circular Quay and White Bay.
With overnight visitors spending more than $17 billion in the local area in 2022, Lord Mayor of Sydney, Clover Moore AO said the ambassador program was a great way to support local businesses and help visitors make the most of everything Sydney has to offer.
"With international travel and tourism beginning to recover, Sydney is ready to welcome the world," the Lord Mayor said.
"Visitors and international tourists play a critical role in helping to reactivate our city, injecting millions of dollars into our economy.
"We want visitors to experience the best our city has to offer, and our ambassadors will be roaming throughout the city to extend a warm welcome and ensure visitors have the most enjoyable and memorable stay in Sydney.
"We're always keen to hear from volunteers who would like to be part of our program – if you love our city, and have the time to spare, this could be just the role for you."
As part of the program, the City of Sydney offers interactive training and Covid best practice with each volunteer and provides them with resources, including maps and guides. Ambassadors are also dressed in a red uniform to ensure they are easily identifiable for tourists.
Wal Robson and Maria Schrammel have been Sydney Ambassador volunteers for more than four years.
"Being a Sydney Ambassador provides me with the opportunity to meet new people and I get a thrill seeing the joy on their faces when we give them information about what there is to see and do in Sydney," Mr Robson said.
"The program is valuable to the local economy as we share local insights with visitors about what Sydney has to offer, and often it's the hidden gems they're looking for."
Ms Schrammel added, "Volunteering as a Sydney Ambassador, I get to meet people from all over the world and recommend parts of Sydney they may never have heard of. It also gives me the opportunity to learn new things to see and do in Sydney – it's a learning process for me as much as it is for the visitors. I just love it!"
For more information about the ambassador program visit cityofsydney.nsw.gov.au/volunteer-programs/sydney-ambassadors
For media enquiries, contact Elaine Kelly.
Phone 0477 362 550 or email ekelly@cityofsydney.nsw.gov.au
For interviews with Lord Mayor, Clover Moore AO, contact Zoe Delamare.
Phone 0477 263 615 or email zdelamare@cityofsydney.nsw.gov.au
For more stories, visit City of Sydney News
Restrictions: The City of Sydney provides access to this publicly distributed image for editorial purposes only and remains the copyright owner. No archiving, commercial use or third party distribution is permitted without prior written consent. When using content for editorial purposes, you must include the following image credit adjacent to the content: "Photographer's Name / City of Sydney"