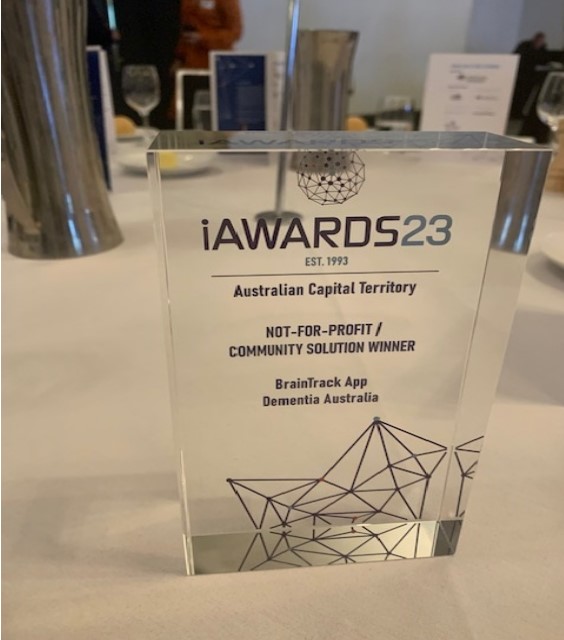 BrainTrack, a free app that helps you privately monitor and understand changes in cognition over time, won a major award at the recent ACT iAwards ceremony.
BrainTrack, developed by Dementia Australia and Deakin University's Applied Artificial Intelligence Institute (A²I²) Institute, won the community/not-for-profit category at the awards ceremony held in Canberra.
Dementia Australia CEO Maree McCabe AM said it was thrilling to receive the award, which recognised of how BrainTrack was promoting early diagnosis of dementia.
"With more than 400,000 Australians living with dementia – which is projected to increase to more than 800,000 people by 2058 – improving early diagnosis must be a priority," Ms McCabe said.
The Australian Information Industry Association iAwards program celebrates excellence in the Australian digital ecosystem.
BrainTrack helps individuals explore common cognitive concerns and provides brain health information through fun, travel-themed games that have been adapted from validated cognitive testing. Users can share their results with their GP to support the early identification of cognitive changes over time that may warrant further testing.
Co-Director of Deakin University's A²I², Alfred Deakin Professor Kon Mouzakis said he was proud to have worked with Dementia Australia in developing BrainTrack from concept through to it now being supported by a Medical Research Future Fund grant.
Since being released in October 2022 BrainTrack has been downloaded by more than 50,000 people, including from the US, UK, New Zealand and Canada.
"I congratulate the incredible team behind this groundbreaking tool that is increasing the understanding of dementia and raising awareness about the importance of monitoring and talking about brain health," Ms McCabe said.
The development of BrainTrack was funded by the Australian Government.
BrainTrack is available for download for free through the Apple App Store or Google Play. For more information, please visit www.dementia.org.au/braintrack or call the National Dementia Helpline on 1800 100 500.
To view all Dementia Australia's awards and recognition go to https://www.dementia.org.au/about-us/dementia-australia/awards-and-recognition
Dementia Australia is the source of trusted information, education and services for the estimated more than 400,000 Australians living with dementia, and the more than 1.5 million people involved in their care. We advocate for positive change and support vital research. We are here to support people impacted by dementia, and to enable them to live as well as possible. No matter how you are impacted by dementia or who you are, we are here for you.
For support, please contact the National Dementia Helpline on 1800 100 500. An interpreter service is available. The National Dementia Helpline is funded by the Australian Government. People looking for information can also visit dementia.org.au
-Ends-
Media contacts: David Gear, david.gear@dementia.org, 0427 204 297
When talking or writing about dementia please refer to Dementia-Friendly Language Guidelines.
Contact details:
David Gear, david.gear@dementia.org, 0427 204 297