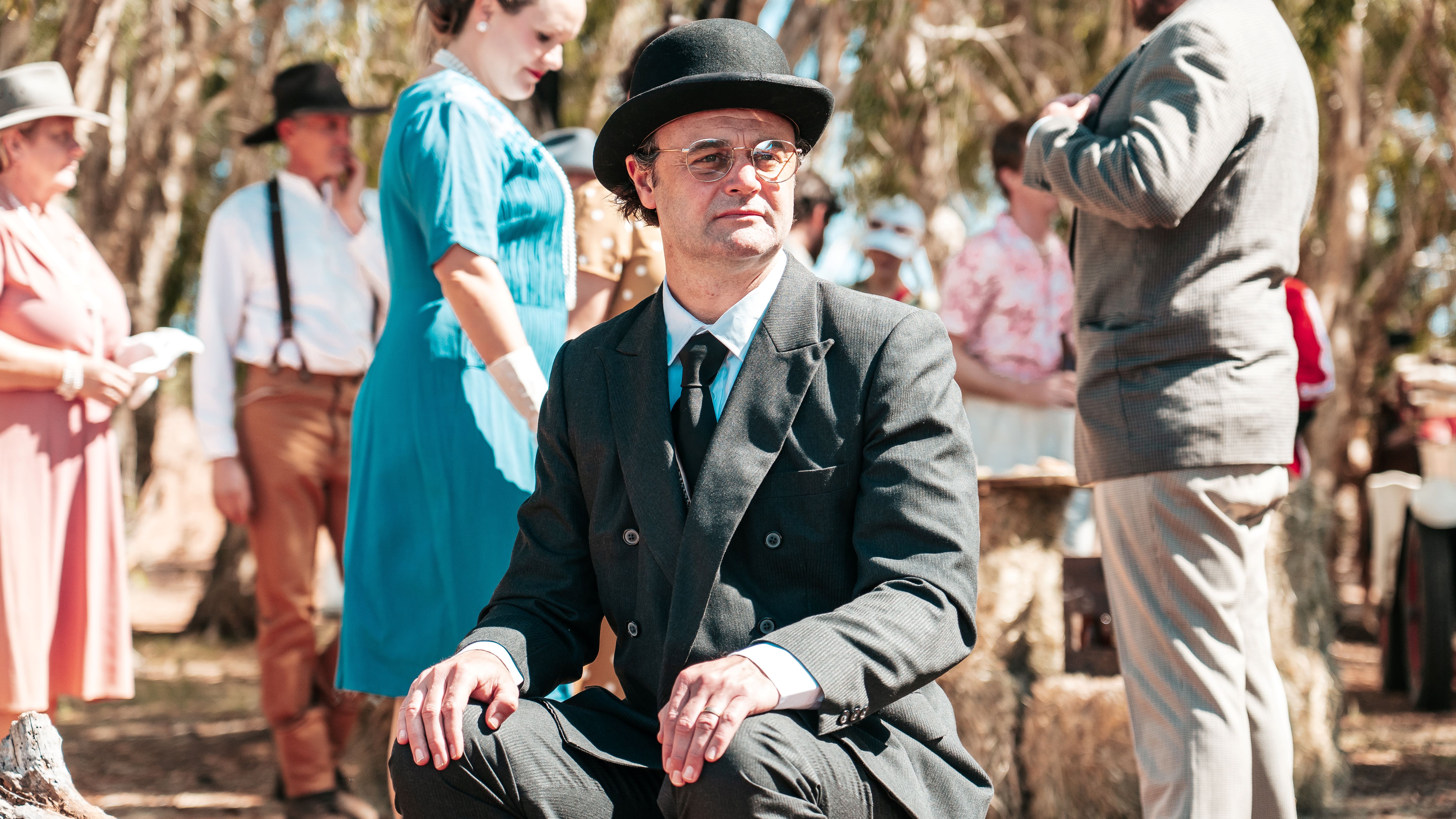 Cloncurry-wood to roll out the red carpet for the world premiere of 'The Bank Manager'
Remember that legendary Outback Queensland story of how in 1932 on election night, daring thieves broke into the strong room of the National Bank in Cloncurry and made off with £14,000? They were never caught, and to this day no-one has ever been charged.
Well, this Thursday, 1800 kilometres north west of Brisbane in Cloncurry, the red carpet will be rolled out down the main street for the world premiere of The Bank Manager, the short film inspired by this story, starring none other than Gyton Grantley (Underbelly, The Dressmaker) and Jason Wilder (Irreverent, The Portable Door).
Because of the Cloncurry Shire Council's innovative Film Incentive Program, together with the Mount Isa to Townsville Economic Zone, the short film was shot where the true story happened.
Co-creators of the film and siblings Madeleine Chaplain and Luke Chaplain grew up on a cattle station outside Cloncurry, hearing stories of this daring robbery. So when it came time to shoot the short film it made sense to film it where it happened.
Their connection goes further than just locality - one version of events cites their great-grandfather as allegedly being one of the naughty robbers.
"Apparently the loot is buried on our property. But I've checked and no luck yet," said Luke.
The Bank Manager is a comedy/heist riddled full of colourful characters, with writer/director Madeleine saying, "we're just here to tell the bold and exciting folklore that we grew up hearing at the dinner table."
Also starring in the short film is Paula Nazarski (In Our Blood, The Lord of the Rings: The Rings of Power) and Jordan Abbey-Young (Young Rock, Elvis), as well as on-screen performances from the filmmakers themselves, Madeleine and Luke.
Following the screening in Cloncurry, The Bank Manager will feature at The Vision Splendid Film Festival in Winton, down the road on June 24. After this, it will screen on the domestic and international film festival circuit.
Cloncurry Shire Council is one of only two Queensland Council's that is actively collaborating with producers to film in the region, with the Mayor Greg Campbell keeping that red carpet at the ready to roll out for filmmakers at a moment's notice, encouraging them to make the most of its remarkable outback location by providing important and needed film incentives.
And unlike the Cloncurry Bank Robbers, Mayor Greg Campbell does not want Cloncurry's landscape and community to remain a mystery.
"There are not many backdrops as dramatic as the rugged outback landscape of Cloncurry. The red ranges, spinifex and waterways have already played host to Channel 10's Survivor in 2021, and now in a wonderful serendipity, we have The Bank Manager, written and produced by two brilliant Outback QUEENSLAND-born creatives, and starring some of Australia's best known actors," he said.
"Cloncurry has a truly unique landscape and is one of few places that can offer extraordinary terrain, open plains and waterways all in one location. It also offers a range of local businesses that are ready and able to support filmmaking in the region."
"We are the only small local government offering financial incentives to film in the Shire, and as a Council we are committed to this program as we can see the benefit it brings to our community."
"We welcome any filmmakers to consider Cloncurry as a film location and encourage them to make the most of Council's support."
The Film Incentive Program is available to film makers wanting to capture their short film, feature film, pilots or series in the Shire of Cloncurry. For more information contact the local Council on 07 4742 4100 or council@cloncurry.qld.gov.au.
Follow @quambystudios for updates on screenings.
For more information, imagery and interviews please contact Kath Rose on 0416 291 493 or email kath@kathrose.com
IMAGERY (stills):
https://www.dropbox.com/scl/fo/ba54u50grxloqz6m7jocn/h?dl=0&rlkey=xjlut6za12j9wirwm9m5dylmk
VNR for Cloncurry Film Incentive Program and short film, The Bank Manager:
https://vimeo.com/user170863801/review/751463050/1095c80c2f
Cloncurry Shire Council Mayor Greg Campbell calls out to Steven Spielberg and Baz Luhrmann – "I'll take 'em for a drive – send your scouts"
Cloncurry filmmaker Luke Chaplain says to Jane Campion – "make your next feature here!"

"Ingredients for a film friendly location are diversity of landscape, diversity of architecture and a great attitude and Cloncurry has all these"

How a local Council went from Rubbish & Roads to welcoming Hollywood

Interviews with young filmmakers Luke and Madeleine Chaplain, Australian actor Gyton Grantley on why he become involved, Mayor and publican

Overlay of the stunning region and town, drone footage AND behind the scenes of filming
About Cloncurry
Few places can claim to be as influential in shaping Australia as Cloncurry; birthplace of the Royal Flying Doctor Service and destination of the first Qantas flight. It is a community that celebrates outback life - the true Australian way.
Cloncurry is located 780 kilometres west of Townsville, 120 kilometres east of Mount Isa and 1700 kilometres north west of Brisbane, nestled on the banks of the Cloncurry River

Key industries in Cloncurry include transport, mining, pastoral and tourism.

Population in the Cloncurry Shire is 3,200 people

Main township in the Shire is Cloncurry, with Dajarra a small indigenous community 170 south west from Cloncurry and hamlets of Burke and Wills (three ways), Kajabbi, Duchess and Quamby
About the Cloncurry Shire Council Film Incentive Program
Cloncurry Shire Council has committed to supporting filming within the Cloncurry Shire and have put funding aside to assist film makers wanting to film in the outback town.

Funding is available to eligible film makers wanting to capture their short film, feature film, pilots and series in the shire of Cloncurry

One of only two local governments in Queensland that offers film incentives for filming in their respective shires.
About The Bank Manager short film and its creators
The comedy/drama short film tells the story of the 1932 Cloncurry Bank Robbery. Based on real events, The Bank Manager focuses on a key moment that led to the success of the robbery. This moment takes place on the Cloncurry River, where a party is thrown by the alleged robbers. The purpose of the party is to charm the uptight bank manager into going swimming, so they can gain access to his keys that permanently reside in his jacket pocket. While he swims, a covert operation is underway to borrow the keys, take imprints then return them to his jacket pocket before he emerges from the water. Luke and Madeleine Chaplain from Quamby Studios were 2022 AATCA Pitch: Regional Landscapes finalists for their feature film screenplay of The Bank Manager.
About the Cloncurry bank robbery
In 1932, on state election night, thieves broke into the strong room of the National Bank and made off with £11,000 and also stole £3,000 from the nearby Bank of NSW. A daring feat by the thieves who were never caught. To this day no one was ever charged with the crime, but this did not stop speculation about who did it and how it happened. Most of the story is considered folklore. The alleged story goes:
Three sets of keys held by three men were stolen and copied

There were allegedly five men involved in the robbery. But it depends which version of the story you believe.

One set of keys were borrowed and copied while one of the bankers was swimming