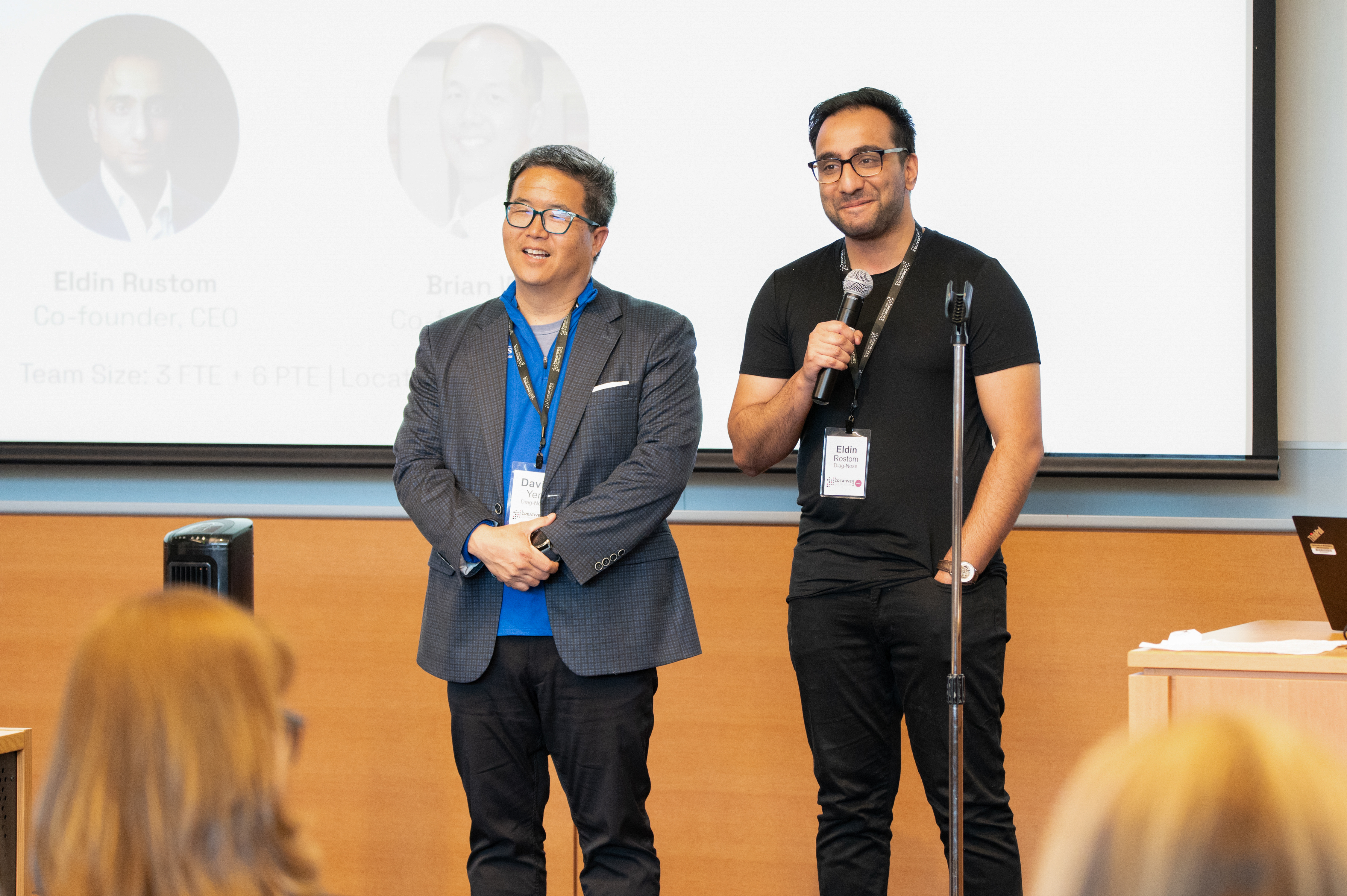 MELBOURNE, Victoria, 28th June 2023 - Diag-Nose.io, a pioneering Australian healthtech start-up has emerged triumphant from four intense elimination rounds in the highly competitive Creative Destruction Lab (CDL) program in Seattle, making it the first Australian company to graduate in the Computational Health Stream and only one of a few Australian companies since the program started in 2012.
Eldin Rostom, CEO and Co-Founder of Diag-Nose.io said "The CDL program has enabled us to move onto the next phase of clinical development with a robust strategy to expedite the commercialisation of our suite of AI-enabled diagnostic tools, to exponentially improve the clinician and patient experience when it comes to managing chronic nasal and airway disorders".
Current research shows that chronic respiratory disorders, including chronic sinusitis and asthma, consist of multiple biological subtypes, or "endotypes" which can be detected on a molecular level to predict and monitor treatment response. Yet, in clinical practice, treatment decisions are still primarily based on observable traits or symptoms, resulting in numerous failed therapies and prolonged patient distress that can last for several years.
"Diag-Nose.io's product, the RhinoMAP, will leverage proprietary chemistry and AI to map out these endotypes for each patient resulting in a better patient experience stemming from faster treatment decisions, reduced costs and improved overall outcomes. This is especially important today since the recent approval of antibody therapies in the respiratory space." Rostom explained.
Over a third of Australia's population is impacted by chronic respiratory conditions, including chronic sinusitis, asthma, and allergic rhinitis*. Among these, the two million individuals suffering from chronic sinusitis often experience severe symptoms that feel as debilitating as chronic heart failure or chronic back pain.
One of the mentors working with Diag-Nose.io, William Canestro, Managing Director of Washington Research Foundation commended the team on their vision and product saying "Diag-Nose.io provides a cutting-edge solution to the real world challenge of biologic treatment for chronic sinusitis and potentially other airway disorders. I'm excited to follow their progress as they spearhead personalized medicine in this space."
The highly-prized CDL program brings together aspiring science and technology venture founders and seasoned mentors from across the globe for a nine month period where founders battle it out to survive through to graduation, earning a coveted spot among the program's elite alumni. In 2022 alone, the CDL received more than 2,200 applications from 87 countries, and out of 650 ventures admitted, only 240 successfully graduated. Diag-Nose was one of only seven to graduate within their stream.
"We were very fortunate to be a part of this extraordinary program which enabled us to strategically deconstruct our go-to-market strategy into a series of actionable near-term initiatives to demonstrate early commercial proof points. Through this approach, we will build significant momentum in smaller beach-head markets which can be leveraged into scaling our full suite of products and exponentially improve care for chronic nasal and airway disorders" Rostom said.
Diag-Nose.io's mentoring team included: Dr. George Savage - Co-founder of Proteus Digital and President of Windmill Partners, Rhonda Rhyne - President & CEO of Prevencio, Douglas Beach - Chairman of Eavor Technologies Inc., Mark Adams - former COO of Adaptive Biotechnologies , Ben Wanamaker - VP Enterprise Strategy at Humana Inc., William Canestaro - Managing Director of Washington Research Foundation, Allison Gaw - Principal at Amplitude Ventures, Dr. Sheila Rege - Board Chair of American College of Radiation Oncology and Douglas Foster - Partner at Advanced Data Sciences LLC.
References:
* Australian Government, Department of Health. Chronic respiratory conditions Chronic respiratory conditions, Summary - Australian Institute of Health and Welfare (aihw.gov.au)

-ENDS-
Key Facts:
- DIAG-NOSE.IO ANNOUNCED AS AUSTRALIA'S FIRST HEALTHTECH START-UP TO GRADUATE FROM PRESTIGIOUS GLOBAL CREATIVE DESTRUCTION LAB (CDL) PROGRAM.
- WORLD-FIRST SUITE OF AI-ENABLED DIAGNOSTIC TOOLS SET TO PERSONALISE TREATMENT DECISIONS FOR CHRONIC RESPIRATORY CONDITIONS AND IMPROVE QUALITY OF LIFE FOR MANY AUSTRALIANS.
- OVER ONE THIRD OF AUSTRALIA'S POPULATION IS IMPACTED BY CHRONIC RESPIRATORY CONDITIONS WITH MANY EXPERIENCING SEVERE DEBILITATING SYMPTOMS.
About us:
About Diag-Nose.io
Founded in 2020 after a world-class team of otolaryngologists, bioengineers and entrepreneurs met at the Stanford Medicine EENT Innovation Program, Diag-Nose.io's founders are on a mission to improve a billion lives globally by significantly improving current diagnostic processes for chronic airway and nasal disorders. Their world-first clinical decision support system utilises a unique combination of proprietary chemistry and AI to deliver personalised treatment pathways for clinicians and patients and is currently undergoing clinical studies in both Australia and the United States.
Diag-Nose.io founders
Eldin Rostom - CEO/Co-Founder
Dr Brian Wang - Co-CMO/Co-Founder
Dr David Yen - Co-CMO/Co-Founder
Dr Josie Xu - MSL/Co-Founder


About Creative Destruction Lab (CDL)
Creative Destruction Lab (CDL) is a nonprofit organization that delivers an objectives-based program for massively scalable, seed-stage, science- and technology-based companies.

Founded in 2012 by Professor Ajay Agrawal at the University of Toronto's Rotman School of Management, the program has expanded to ten sites across four countries: Oxford, Paris, Atlanta, Madison, Seattle, Vancouver, Calgary, Montreal and Halifax. The successful commercialization of cutting-edge science and technology achieved through the program has led to the creation of over $28 billion CAD in equity value.
Contact details:
For any questions in relation to this release or to organise interviews with spokepeople, please contact:

Nicole Papoutsis
nicole.papoutsis@gmail.com
0422 418 099