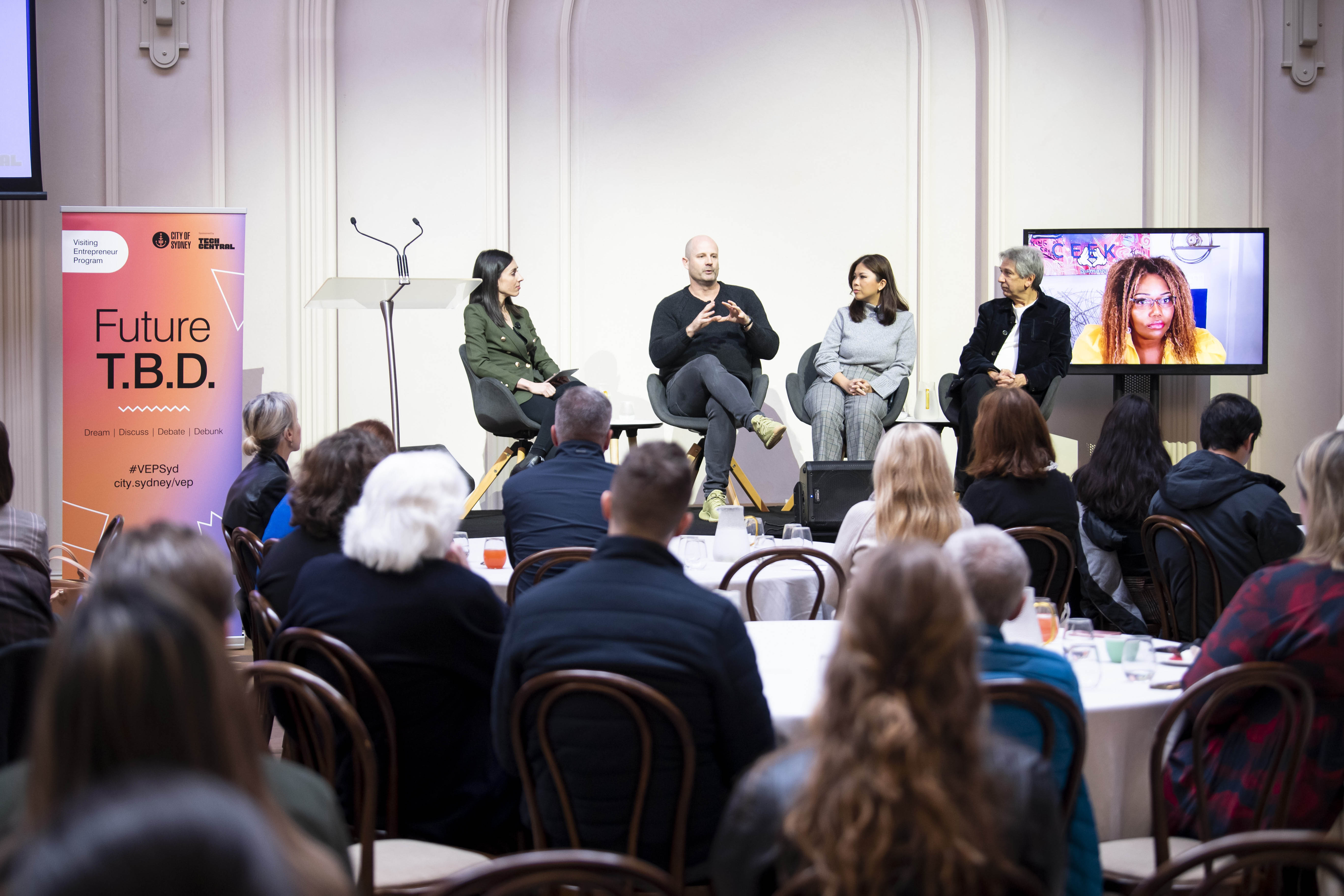 AI, future innovations, sustainable tech solutions and the impact of technology on creative industries are some of the topics under the spotlight by a series of talks from global experts this month.
One of the world's leading futurists, Galit Ariel, will join 4 global tech experts for a series of 9 free events over 7 days as part of the City of Sydney's Visiting Entrepreneur Program.
The talks and workshops will dissect the accountability, ethics and impact of emerging technology, digging deep into the good, the bad and the weird of our technological civilisation.
The City of Sydney has worked closely with Tech Central and the Greater Cities Commission on this year's program, themed 'Crossroads', that will explore the latest technological trends and innovations disrupting our society and economies.
"We set up our Visiting Entrepreneur Program 6 years ago to connect international experts with our local startup ecosystem to share their expertise and insights on future and transformative technologies," Sydney Lord Mayor, Clover Moore AO said.
"Our program this year is an invaluable opportunity for local entrepreneurs to gain a deeper knowledge of the global tech landscape and learn from the experts as we move towards a future with the biggest technology advances of our time."
Futurist and thought leader in augmented reality, Galit Ariel will kick off the program with her opening talk 'The tech we all deserve – exploring the impact of technology on our everyday lives and futures.'
"Technology's role is to better the human experience," Ms Ariel said.
"Augmented reality builds and enhances what we already experience in our everyday lives, but what will the tech industry and makers do in the future – will they seek to create value, will the technology enhance our connection with reality or will it create separate narratives?
"It's these kind of topics that we'll be exploring as part of the Visiting Entrepreneur Series, and I encourage everyone interested in today's and tomorrow's technologies to come along and be part of the discussion."
Other global experts involved in the program include:
Lubomila Jordanova, co-founder and CEO, Plan A and co-founder, Greentech Alliance (Germany) – will lead a panel discussion on the critical role that collaboration, communication, and community-building play in accelerating the response to climate change in cities

James Palles-Dimmock, CEO, Quantum Motion (UK) – will take part in a Q&A session, chaired by Petra Andren, Head of Innovation Districts, Greater Cities Commission, on Australia's quantum industry

Chris Yeh, co-founder of Blitzscaling Academy and co-author, of Blitzscaling: The Lightning-fast Path to Building Massively Valuable Companies (US) – will join Martin Karafilis, CEO, Fishburners, to explore disruptive ideas and growth innovation in technology

Dona Sarkar, software engineer, author and director of tech for Microsoft Accessibility (US) – will join Stela Solar, director of Australia's National AI Centre, for an open discussion about 'responsible AI: getting it right', sharing their insights and hopes for the future of AI.
Other topics covered in the program include creating responsible AI solutions, blockchain innovations, avatars, non-fungible tokens (NFT), generative art and the Metaverse.
"We are thrilled to partner with the City of Sydney once again to deliver this energising program of global experts leading conversations in trends, technology and innovation in Tech Central," Liza Noonan, executive director innovation districts said.
"Tech Central is Australia's innovation and tech startup capital, and events such as these bringing leading entrepreneurs and creative thinkers together inspires new thinking and opportunity."
Since its launch in November 2017, the City of Sydney has worked with more than 90 partner organisations on more than 100 visiting entrepreneur program events for more than 10,500 members of Sydney's tech startup ecosystem.
The 2023 Visiting Entrepreneur Program runs from 21 to 28 June at various venues across Sydney including UTS, Tech Central, Barangaroo, Haymarket and online. Bookings are essential.
For more information and bookings go to whatson.cityofsydney.nsw.gov.au
For media enquiries or images, contact Elaine Kelly.
Phone 0477 362 550 or email ekelly@cityofsydney.nsw.gov.au
For interviews with Lord Mayor Clover Moore, contact Zoe Delamare.
Phone 0477 263 615 or email zdelamare@cityofsydney.nsw.gov.au
For more stories from your local area, visit news.cityofsydney.nsw.gov.au
Restrictions: The City of Sydney provides access to this publicly distributed image for editorial purposes only and remains the copyright owner. No archiving, commercial use or third party distribution is permitted without prior written consent. When using content for editorial purposes, you must include the following image credit adjacent to the content: "Photographer's Name / City of Sydney"