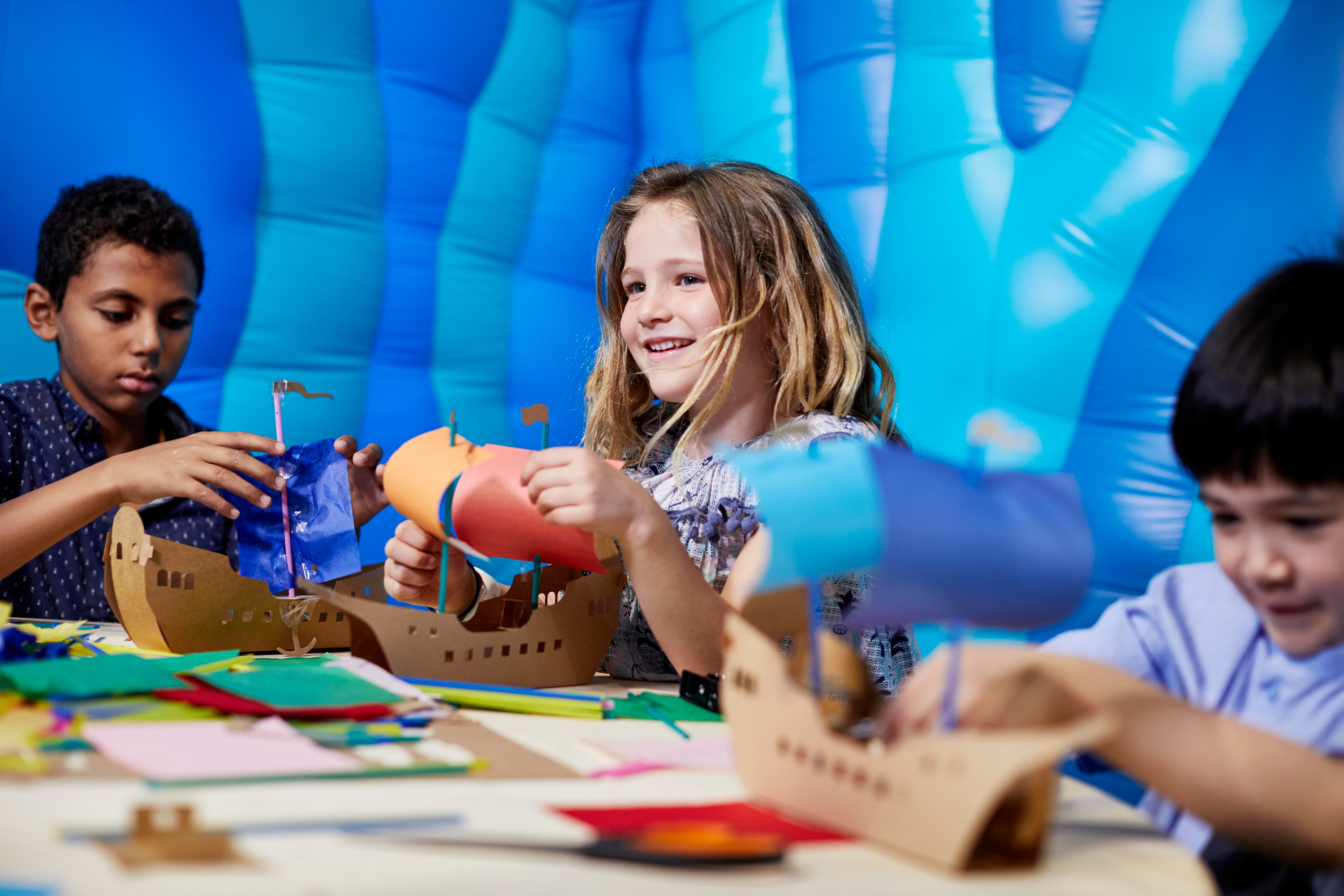 The Maritime Museum is awash with winter fun these school holidays. See two sides of the wildlife world, with the newly-opened Guykuda's Aquarium, and Wildlife Photographer of the Year exhibitions - and don't miss the amazing Brickwrecks: Sunken Ships in LEGO® Bricks.
Box of Birds' spectacular light playscape comes to the Aquatic Imaginarium – an interactive undersea adventure activity space, based on their previous performance, Shipwreck Odyssey. Get creative, with art and model making, fight future plastic pollution with practical scientific solutions from the Seabin Ocean Health Lab, climb aboard our huge and thrilling vessel fleet. There's hands-on specimens and objects at the Cabinet of Curiosities, set off on a Maritime minifigs activity trail, or relax with a film-screening…
PLUS
EPIC WHALE BUILD WITH THE BRICKMAN TEAM
Join The Brickman Team and work together to build a three-metre-high breaching humpback whale in LEGO® bricks! Book your session free with museum entry and be ready to build something spectacular! Book ahead to secure your place. Free with museum entry, bookings essential, 6 – 10 July.
Winter school holiday program highlights - click here for more information
AQUATIC IMAGINARIUM Unleash your creativity in the Imaginarium - an indoor playscape, art-making and discovery space. Swirl through coral reefs in Box of Bird's responsive digital installation, based on the underwater world of Shipwreck Odyssey. Build the ship of your dreams with giant blue blocks, take calm time in our Kelp Forest reading corner, curate a mini-museum, turn ocean waste into a spectacular collaborative sculpture or make your own model boat, sculpture, print and more. Open daily, 2-16 July, All ages, recommended 4-12 years and carers.


WILDLIFE PHOTOGRAPHER OF THE YEAR More than 100 stunning images from the world-renowned exhibition, on loan from the Natural History Museum in London. In its 58th year, this exhibition explores a spectacular array of plant and animal species and a micro-view of the natural world.
BRICKWRECKS - SUNKEN SHIPS IN LEGO® BRICKS
Mini-fig scale LEGO® models created by Ryan 'The Brickman' McNaught replicate shipwrecked vessels and wreck sites from around the world - including RMS Titanic, Swedish warship Vasa, Dutch trading vessel Batavia and HMS Pandora. Discover stories behind real shipwreck artefacts and deep-dive into a web experience with the museum's maritime archaeologists. Book online at sea.museum/whats-on
Mana and Bäru: The Sea Country of Guykuda Munungurr
Yolŋu sculptor Guykuda Munungurr's marine life sculptures are special to his family and ancestors of the Yirrkala region. Walk through this three-dimensional exhibition of Guykuda's acclaimed solo work, in the newly-opened Badu Gallery - featuring fish, sharks and crocodile sculptures and share cultural knowledge that exists beneath the surface of the ocean.

Creative One Day Workshops, 8 – 14 year olds
Fantastic Fossils and Marvellous Models
Thurs 6 July, Thurs 13 July, 10am – 4pm
Be inspired by models, dioramas and fossils in the museum's collection and learn about how we create replica objects for exhibitions. Experiment with specialist sculpting materials like silicon and plaster to make your own marvellous models and sculptures. Create moulds to cast a variety of materials like soap, plaster or even chocolate! Bookings essential, book online. $65 members and earlybird / $75 general admission.

Cockatoo Island Adventures Photography workshop
Wednesday 5 July, Wednesday 12 July, 10am – 4.30pm
Ferry out to the shipyards of Cockatoo Island for this photography workshop. Build skills in digital SLR camera use and learn photo editing techniques. Photos can be printed and exhibited at the museum. All levels of experience, all equipment provided. $100 / $90 members and earlybird. Bookings essential, book online. *This course is eligible for creative kids vouchers.
Hands-on art and science fun for families


MINI MARINERS
Explore the galleries, sing and dance in interactive tours with costumed guides. Enjoy creative free play, craft, games and story time in our themed activity area. There's a new theme every month. Selected Tuesdays and Saturdays in holidays and term time. Ages 2–5 and their carers. Child $12/Adult $8, members free. Booked playgroups welcome. Online bookings essential. Session 1: 10.30–11.15 am Session 2: 11.30–12.15 pm.

MARITIME MINIFIG ACTIVITY TRAIL
Explore the museum's collection as you search for minifig maritime archaeologists, sneaky sailors and pernicious pirates hidden throughout the museum. Seek sunken treasures, precious cargo and spectacular ship-models in this all-ages activity. Complete the trail to receive your prize. Free, available every day until October 2023.

OCEAN HEALTH LAB - EXHIBITION AND DROP-IN PROGRAM
The Seabin Ocean Health Lab has landed at the Maritime Museum – the first of its kind in the world, Seabin scientists analyse marine debris – from macroplastics to tiny nurdles, sucked from the sea by the 30 Seabins stationed around Sydney Harbour. Dive deep into the stories behind the data and learn about what we can do to turn the tide on marine pollution. Free entry, check for tour times and activities. Recommended ages 5 to adult. Open 2 – 16 July and weekends in term time.


SENSORY FRIENDLY SUNDAYS ACCESS PROGRAM
A comfortable environment for kids and adults on the autism spectrum and visitors with a variety of access requirements. Join us for Sensory-Friendly Sundays for a quieter museum experience, visiting new exhibitions, selected vessels and activity areas extra early. Our trained staff and volunteers are on hand to facilitate creative activities. Children under 4 and members free. Pre-booking encouraged, includes early access to Brickwrecks. April 16 and Sundays during term time.
Contact details:
ENDS
For media enquiries please contact:
Kate O'Connell Communications Manager
M: 0415521015 E: kate.oconnell@sea.museum