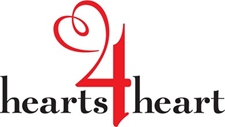 Media Alert
June 19 – 25 is Heart Failure Awareness Week
You've only got one heart. Don't fail it.
Did you know . . .
Over 500,000 Australians are living with heart failure, with many more potentially undiagnosed.
The chronic condition claims the lives of 61,000 every year, and it's the number one cause of hospitalisation in people over age 65.
As more people are surviving heart attacks and other acute heart diseases, more people are going to develop heart failure.
With

early diagnosis, treatment and lifestyle changes, a person with heart failure can reduce their risk of hospitalisation, feel better, and live a longer and healthier life.
Despite the name, heart failure doesn't mean the heart has stopped or failed, it means the heart is 'failing' to keep up with the body's demands.
In the lead up to Heart Failure Awareness Week (June 19 - 25), peak body hearts4heart, the Parliamentary Friends of Heart and Stroke Foundations, cardiologists and heart failure patients and carers across the country are urging Australians to be smart about your heart and speak with your GP about heart failure if you're over 65 or experiencing symptoms.
Arranging interviews
We can line up interviews with a hearts4heart spokesperson, medical expert, or case study.
Media Assets
We can assist you with a range of resources to help you build your story including content for TV, radio and online.
About us:
About hearts4heart
Supported by Australian and New Zealand cardiologists, hearts4heart is a leading health promotion charity supporting, educating, and advocating for people living with heart disease.
For more information visit hearts4heart.org.au
Contact details:
Olivia Carolan 0414 440 788–/ olivia@palin.com.au