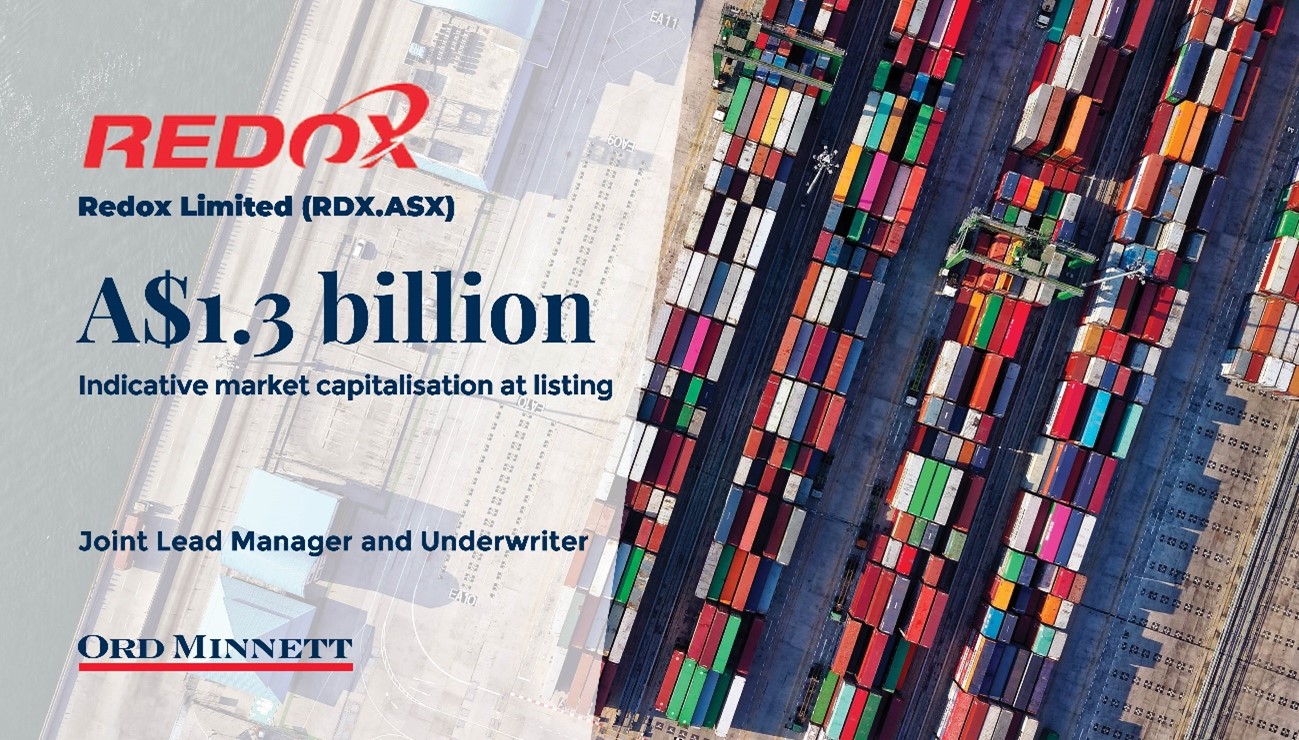 Ord Minnett is delighted to announce its role as Joint Lead Manager and Underwriter for the initial public offering (IPO) of Redox Limited (Redox) (RDX.ASX).
Redox, founded in 1965 is Australia's largest supplier and distributor of chemicals, ingredients and raw materials with a long track record of robust revenue growth. Redox operates across 16 global locations in 4 countries, with 400+ employees and annual revenue of over A$1.0 billion.
The Company is majority owned and operated by the Coneliano family and has maintained consistent and sustainable revenue growth over the past 30 years, with an impressive CAGR of 11.9%.
With a highly resilient business Redox enjoys the advantage of having a loyal customer base that generates stable and recurring revenue, with 91% of the company's revenue in FY22 coming from long-standing customers who have been purchasing from Redox for the past five years.
Sustainable long-term growth will be delivered through multiple channels including continued entry into new products, increasing market penetration of existing product portfolio, offshore expansion and accelerated growth via inorganic acquisition.
The IPO will raise approximately A$402.0 million at an offer price of A$2.55 per share, valuing Redox at a market capitalisation at listing of A$1.3 billion. Shares are expected to begin trading on ASX on 3 July 2023 and investors who are interested in acquiring shares in the IPO should obtain and consider the prospectus for the offer from Ord Minnett and complete the accompanying application form.
Ord Minnett's CEO and Managing Director, Karl Morris commented: "Ord Minnett is pleased to be acting as Joint Lead Manager and Underwriter to Redox's IPO. This IPO marks a significant milestone, being the largest IPO on the ASX since November 2021, and opens the window for other high-quality companies to pursue a listing. We look forward to continuing to support Raimond Coneliano, Renato Coneliano, Roy Brown and the rest of the Redox team as an ASX-listed entity."
Note: Offers to acquire shares must be accompanied by a copy of the Prospectus which can be obtained from Ord Minnett. A person should consider the Prospectus in deciding whether to acquire securities in Redox Limited and must complete an accompanying application form.
(End)
Contact details:
For more information contact media@ords.com.au