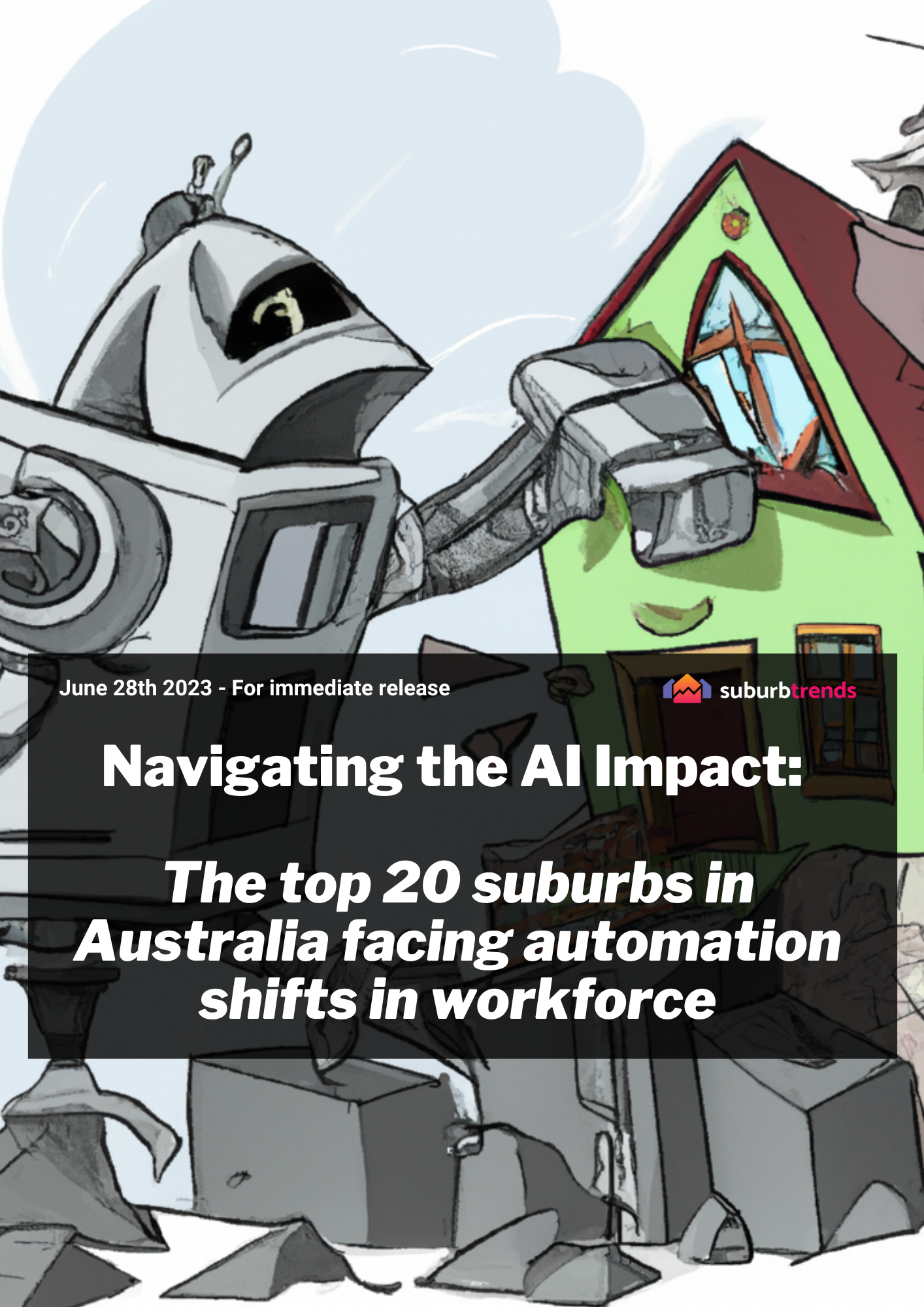 FOR IMMEDIATE RELEASE
Navigating the AI Impact: The top 20 suburbs in Australia facing automation shifts in workforce
Australia - A recent report published by Suburbtrends reveals the top 20 Australian suburbs that could face the most significant workforce shifts due to AI and automation. Titled "Navigating the AI Impact," the report presents a detailed suburb-by-suburb analysis, highlighting potential employment impacts in the wake of increasing AI integration into various industries.
Kent Lardner, the founder of Suburbtrends, emphasises the importance of these insights, stating, "Understanding the potential ramifications of AI and automation at a granular level is crucial for planning, whether at the policy level, in business strategy, or for individual career development."
The report reveals that Melbourne, Point Cook, and Craigieburn, all in Victoria, top the list of potentially most affected suburbs. Melbourne could see as many as 16,490 individuals impacted, followed closely by Point Cook with 16,132 and Craigieburn with 12,667 people respectively.
According to Kent, "These numbers underscore the need for Australia to prepare for a future where AI and automation will undoubtedly play an increasingly pivotal role. It's not necessarily about job losses, but job transformation. Areas with higher concentrations of workers in certain industries might feel the effects more intensely, and we need to be ready for that."
The report also emphasises the importance of nuanced understanding and proactive planning. While it presents a worst-case scenario, it underscores that an increase in productivity due to AI does not necessarily equate to job losses. The changes could lead to job transformation, redistribution and even the creation of new roles.
Kent adds, "We're standing on the precipice of a significant shift in the workforce. This transformation could be as profound as the industrial revolution, but with the right preparation, Australia can navigate this change effectively."
The full dataset, offering a more comprehensive view, is accessible for media and members on the Suburbtrends website.
About Suburbtrends
Suburbtrends is a leading provider of detailed suburb-level data and insights, empowering policy-makers, businesses and individuals to make informed decisions based on the most accurate, up-to-date information available.
Press Contact:
Kent Lardner Mobile 0458936912 | Email kentlardner@suburbtrends.com.au
END