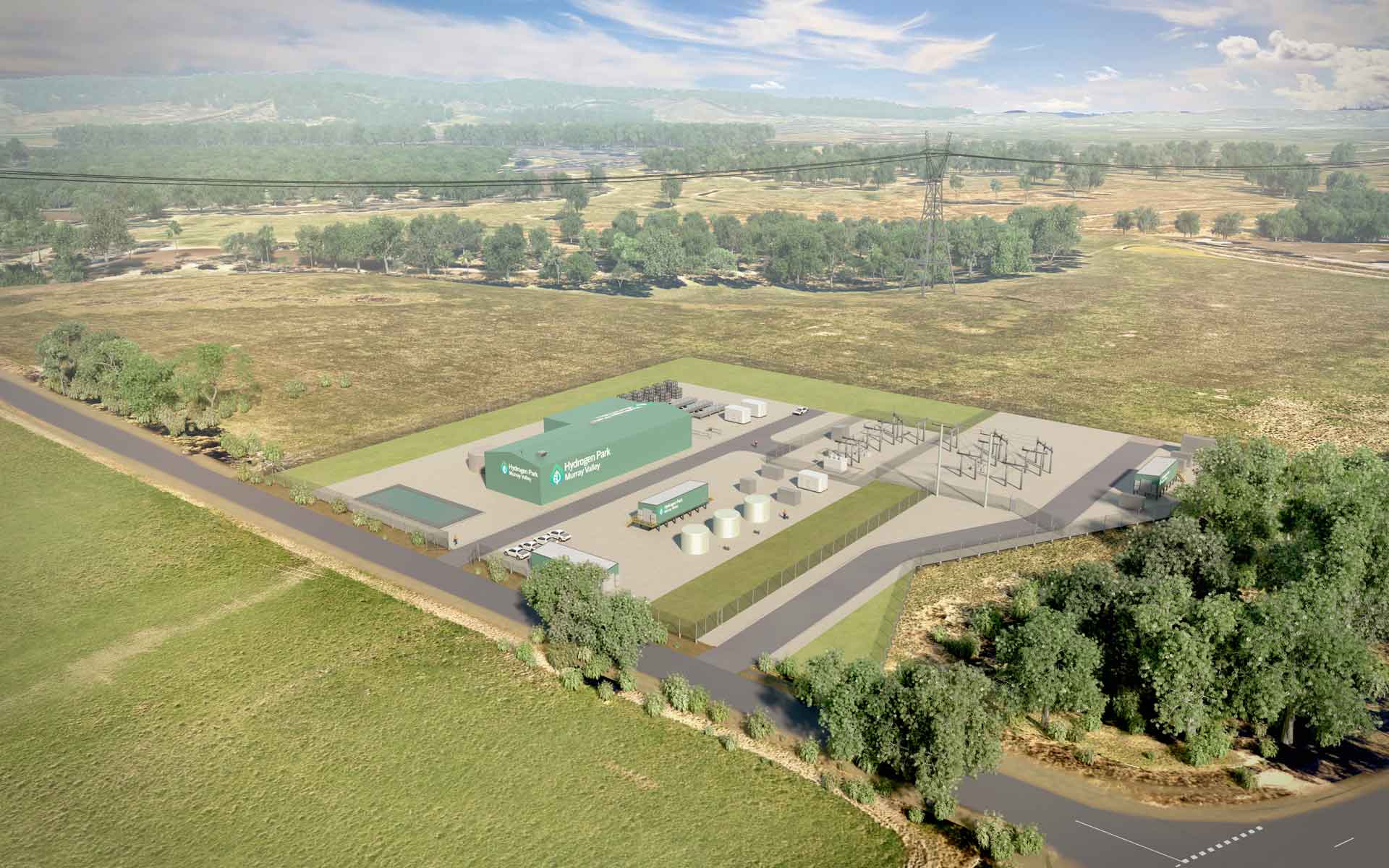 One of Australia's largest renewable hydrogen plants is set to go ahead, with the Australian Gas Infrastructure Group (AGIG) reaching financial close on its Hydrogen Park Murray Valley development.
On behalf of the Australian Government, the Australian Renewable Energy Agency (ARENA) has announced a $36.1 million commitment to AGIG for the 10 MW electrolyser deployment in Wodonga, Victoria.
The project builds on ARENA's existing work in renewable hydrogen and strong track record of delivering transformative projects in the energy transition in pursuit of net zero.
The Hydrogen Park Murray Valley project will produce renewable hydrogen to initially be blended into the local natural gas distribution network, owned by Australian Gas Networks, part of AGIG.
The facility will be located next to North East Water's Wodonga Wastewater Treatment Plant. Once complete, the project will be the largest renewable hydrogen facility on the east coast and equal largest in Australia.
The renewable hydrogen produced will displace natural gas supplied to local customers and industry at blends of up to 10 per cent, reducing carbon emissions with no change to amenity for gas users.
With more than 40,000 connections to the local gas network, the project will supply hydrogen to an estimated 85,000 people spanning the border of Victoria and New South Wales. At a blend of 10 per cent, the project is predicted to cut approximately 4,000 tonnes of CO2 each year.
Wodonga's strategic location along a major road freight route also provides access to other end use markets, particularly in heavy vehicle transport.
The Victorian Government is supporting the project with $12.315 million through the Department of Energy, Environment and Climate Action (DEECA), with additional financial backing from the Clean Energy Finance Corporation (CEFC).
Mars Petcare Australia will purchase Renewable Gas Guarantee of Origin certificates, generated by the project and accredited by GreenPower, to match the gas use of their local pet food factory in Wodonga.
Hydrogen Park Murray Valley is the second 10 MW project supported by ARENA to reach financial close after the first, Engie's Project Yuri in the Pilbara, achieved the milestone in September 2021. Both were funded as part of a $103 million competitive funding round for commercial scale hydrogen electrolyser projects.
ARENA CEO Darren Miller said the project is paving the way for renewable hydrogen in Australia.
"It's essential to scaling up Australia's renewable hydrogen industry that we get these first-generation projects up and running," Mr Miller said.
"Producing renewable hydrogen on this scale has never been done in Australia. The lessons we learn here will help inform our hydrogen industry as it grows from its early stages to a pillar of the net zero economy.
"ARENA has been at the forefront of advancing renewable hydrogen projects and will continue to play an integral role, as we support the Australian Government's Hydrogen Headstart program and other large scale projects.
What's exciting about this project is that it will be producing hydrogen that reduces local emissions from day one, with the potential to supply additional markets as they move towards net zero."
AGIG CEO Craig de Laine said that AGIG is proud to work with both the Australian and Victorian Governments on this landmark project.
"The strong support received from both the Australian and Victorian Governments demonstrates the importance of renewable hydrogen to decarbonising energy across Australia. We thank all our project partners and key stakeholders, including the Albury-Wodonga community for their contribution to the project to date."
Since 2017 ARENA has committed more than $255 million in renewable hydrogen projects. ARENA will also play a key role in the development of the Australian Government's $2 billion Hydrogen Headstart initiative to underwrite the biggest green hydrogen projects to be built in Australia.
Construction on the project is due to commence in 2023, with the site operational by 2025.