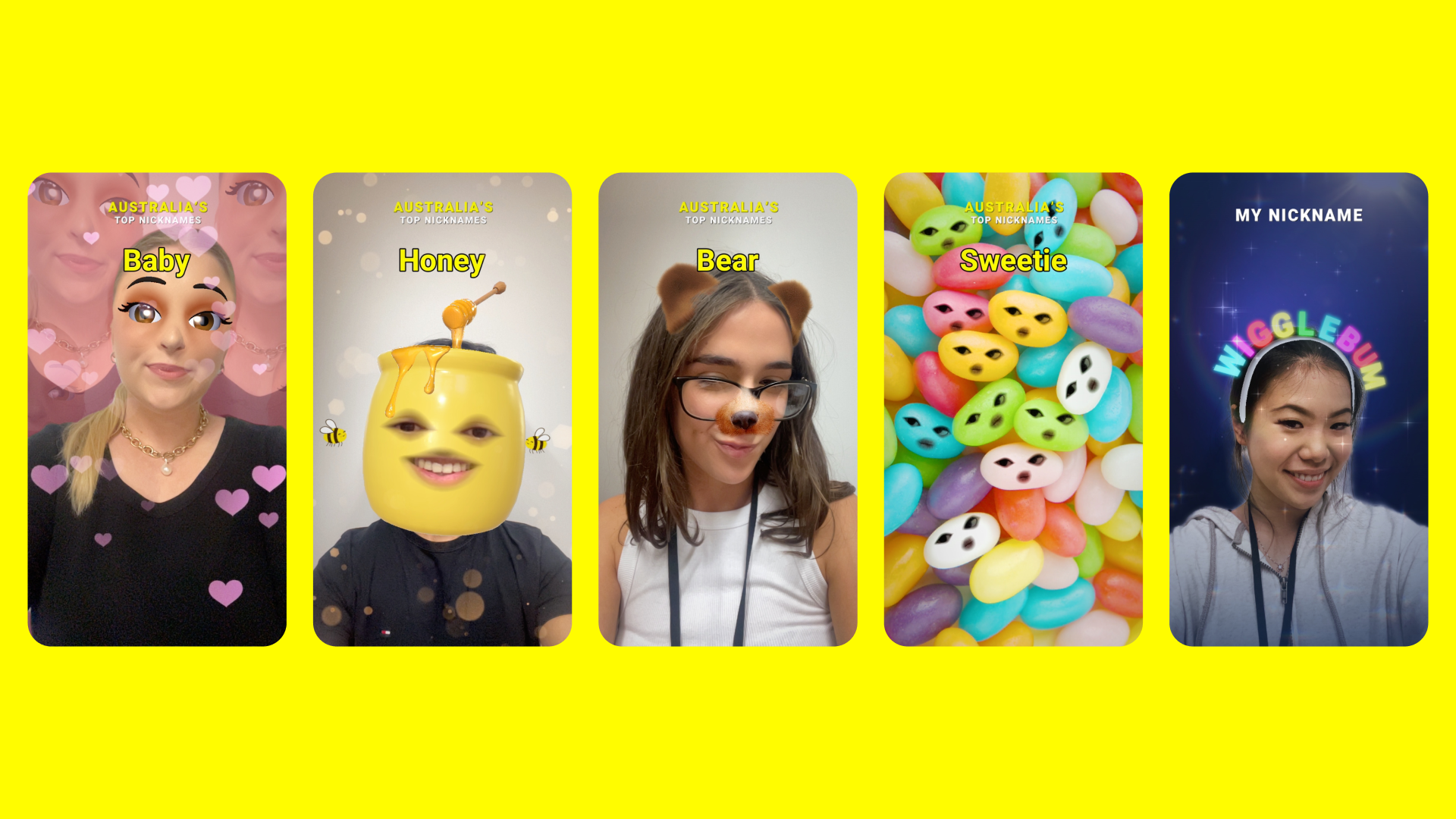 The #1 nickname in Australia is "Baby".

17.7 million Aussies over 16 years old have had a nickname.

The average Australian will have three nicknames in their lifetime, whilst only 13% report never having had a nickname.

Over 80% of people believe nicknames are a unique part of being Australian.
Sydney, Wednesday 21 June 2023 – Snapchat, the visual messaging app for friends and family, has today released new research into our unique Aussie nickname culture, uncovering our national obsession with nicknames and revealing five of the most popular nicknames in the country. The research, conducted by Lonergan on behalf of Snap, found Australia's most popular nicknames include:
Baby

Honey

Babe

Cutie

Digger
Unsurprisingly, the research found that Aussies also love adding on 'y', 'ie' or 'o' to the end of names when giving friends and family nicknames with Allie, Milly and Jacko being some of our favourites. Additionally, some more surprising nicknames found their way into our most popular, including Sausage, Bear, Wigglebum, Sweetie, and Shorty, showing that terms of endearment are truly unique!
Snapchat, which helps capture the spontaneity and fun of real life conversations with close friends and family, is a place where nicknames can truly come to life. In this study new insights were unearthed into the role of nicknames in Australia's cultural DNA, showing that each person will have three nicknames on average during their lifetime and nearly half of Aussies (43%) say that others tend to know them by their nickname over their real name.
In celebration of the nicknames given to us by our nearest and dearest, Snapchat has launched new Augmented Reality (AR) Lenses to immortalise them. As well as these Lenses bringing to life some of the most popular affectionate nicknames across the country, Aussies can also customise a Snapchat Lens with their very own unique nickname. From the weird and wacky to the oddball, romantic and downright hilarious, the new custom nickname AR experience has been purpose built by Snapchat to bring users closer to their inner circle and enable the fun and joy of sharing nicknames.
Nickname vs. real name:
The research has shown that nearly half of Aussies (43%) say others tend to know them by their nickname over their real name, and taking this one step further two thirds of people (67%) say while they don't divulge their nickname, they naturally get called one by others. It also seems that nickname use has seeped into every part of our lives, with half of people (50%) going by a nickname around their family, and the incidence increasing even more (60%) when people are with friends. Interestingly, women are much more likely to be called by a nickname around family than men (61% vs. 38%).
The nickname versus real name debate continues at a generational level, with millennials being most likely to usually introduce themselves by their nickname instead of their real name (34%; compared to Gen Z 26%, Gen X 24%, Baby Boomers 20%). The younger generations are also more likely to be known by their nickname than their real name (Gen Z 53%, Millennials 50%, compared to Gen X 39%, Baby Boomers 38%).
Nickname etiquette is real!
The research has shown that at least 17.7 million Aussies over 16 years old have had a nickname before, and more than 4 out of 5 people (82%) believe nicknames are a unique part of being Australian, proving nicknames really are a deep part of our culture.
The research has also uncovered interesting insights into how familiarity with someone can impact our nickname use; as a community we seem to use nicknames to demonstrate the connection with those we care about and the validity of our relationship. The majority of us (65%) say we feel closer to one another when we use nicknames. But, while Aussies are a friendly bunch, most of us (90%) still don't believe it is acceptable to start calling someone by their nickname the first time that you meet, with nearly four in five people (79%) saying that you should wait at least a week before you start using someone's nickname.
We love to 'Aussie-fy' our names:
Almost a third of respondents say they love to call others by a nickname based on their first name (32%) or by giving them a nickname ending in 'ie' or 'y' (31%), with names like Cutie, Ally, Ashy, and Milly coming out in the top names of this type. Likewise, many of us (17%) love using nicknames ending in 'o', with names like Johnno, Jacko and Tomo coming out on top and proving we really do love to add an Aussie twang to everything.
When taking a peek at a national level, it seems that as a country we're pretty proud of our nicknames, with three quarters of people (76%) saying they like their nickname, although a small minority of people (3%) do report either disliking or hating their nickname.
Aussie's love cute nicknames:
The data also shows that some of us are more lovingly-inclined than others, with a quarter of Aussies (24%) saying they enjoy calling people nicknames based on terms of endearment or cute pet names. Affectionately classified nicknames made up half of the dominant nickname types in Australia, with Baby, Honey, Cutie, Bear, Shorty, Sweetie, Sausage, Darling, Sweetpea and Wigglebum all coming in within the top 20 of this category.
Nicknaming trends shift over time and between genders:
The new research has uncovered that the positive sentiment towards nicknames may be symptomatic of a social shift between generations and genders. Millennials have emerged as the most likely to have successfully given themselves a nickname (25%), demonstrating a change from their predecessors Gen X (16%) and Baby Boomers (13%), whilst we can see an interesting shift backwards again for Gen Z (17%).
Interestingly too, men are more likely to become fast friends and jump to nickname stage after only a week (43%), while women tend to take a little longer until nicknaming others, with only a small group (29%) starting that within the first week.
Cheekiness prevails:
Australians are a cheeky bunch and that is no more clear than with our nicknames. In true Aussie style , nearly one in ten (9%) of us with nicknames are sporting a nickname that is rude or that others might find offensive. Millennials have come out on top of the rudeness scale, with close to a sixth (14%) saying that their nickname is rude, with Gen Z trailing closely behind with 12% of them sporting rude nicknames. The ACT has also come out as the most likely to have a rude nickname (16%), tailed by the Northern Territory and Queensland (12% respectively).
Tony Keusgen, Managing Director of Snap Inc. Australia and New Zealand, said, "Snapchat is all about having fun and connecting with your friends and family, and so often it's those closest to us who coin our nicknames. We wanted to take a playful look at the way Australians use nicknames and those that are most ubiquitous to all Aussies, as well as create a fun way to share even more of the real you with your favourite people on Snapchat."
The Snapchat nickname Lenses will be available on Snapchat in Australia from 21 June 2023. Click the following links or in the Snapchat app, scan the Snapcodes below or search for "AU's Top Nicknames" and "My Nickname AU" to find the Lenses.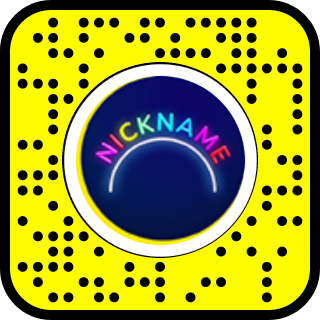 -ENDS-
Image and video assets of the new Lenses and the full suite of Snapchat Nickname research is available here.
How to use the 'AU's Top Nicknames' and 'My Nickname AU' Lenses:
Snapchatters will be able to trigger the two Lenses from 21 June 2023 by following the steps below:
Open the Snapchat app on your phone

Launch the 'AU's Top Nicknames' or 'My Nickname AU' Lens by

Clicking on the above link, or

Opening Snapchat and scanning the above Snapcode, or

Searching for "My Nickname AU" or "AU's Top Nicknames" in the app and scrolling down to "Lenses" to find the right one.

Select the Lens you want to try

Turn the in-app camera to selfie mode and point your phone at your face, positioning it within the Lens design.

Take a Snap, and share with your close friends via Snap, or post to your Story, or on Spotlight.
Research background:
The research was commissioned on behalf of Snapchat and conducted by Lonergan Research in accordance with the ISO 20252 standard. Lonergan Research surveyed 1,450 Australians aged 16+ and a follow up survey of 1,001 Australians 18+. Surveys were distributed throughout Australia including both capital city and non capital city areas. The survey was conducted online amongst members of a permission based panel, between 6 April and 17 April 2023. After interviewing, data was weighted to the latest population estimates sourced from the Australian Bureau of Statistics.
Key Facts:
The top nicknames in the country include:

Baby

Honey

Babe

Cutie

Digger

82% of Aussies believe nicknames are a unique part of being Australian.

43% of Aussies say that others tend to know them by their nickname over their real name.

Nearly 1 in 10 Aussies are sporting a rude nickname.

50% of Aussies go by a nickname around their family, and 60% around their friends.

Some more surprising nicknames which found their way into our most popular include Sausage, Bear, Wigglebum, Sweetie, and Shorty, showing that terms of endearment are truly unique.
About us:
About Snap Inc.
Snap is a technology company. We believe the camera presents the greatest opportunity to improve the way people live and communicate. Snap contributes to human progress by empowering people to express themselves, live in the moment, learn about the world, and have fun together. The Company's three core products are Snapchat, a visual messaging app that enhances your relationships with friends, family, and the world; Lens Studio, an augmented reality platform that powers AR across Snapchat and other services; and it's AR glasses, Spectacles. For more information, visit snap.com.
Contact details:
For further information please contact:
Lillian Morrison, Account Director
Edelman Australia
0430 390 393