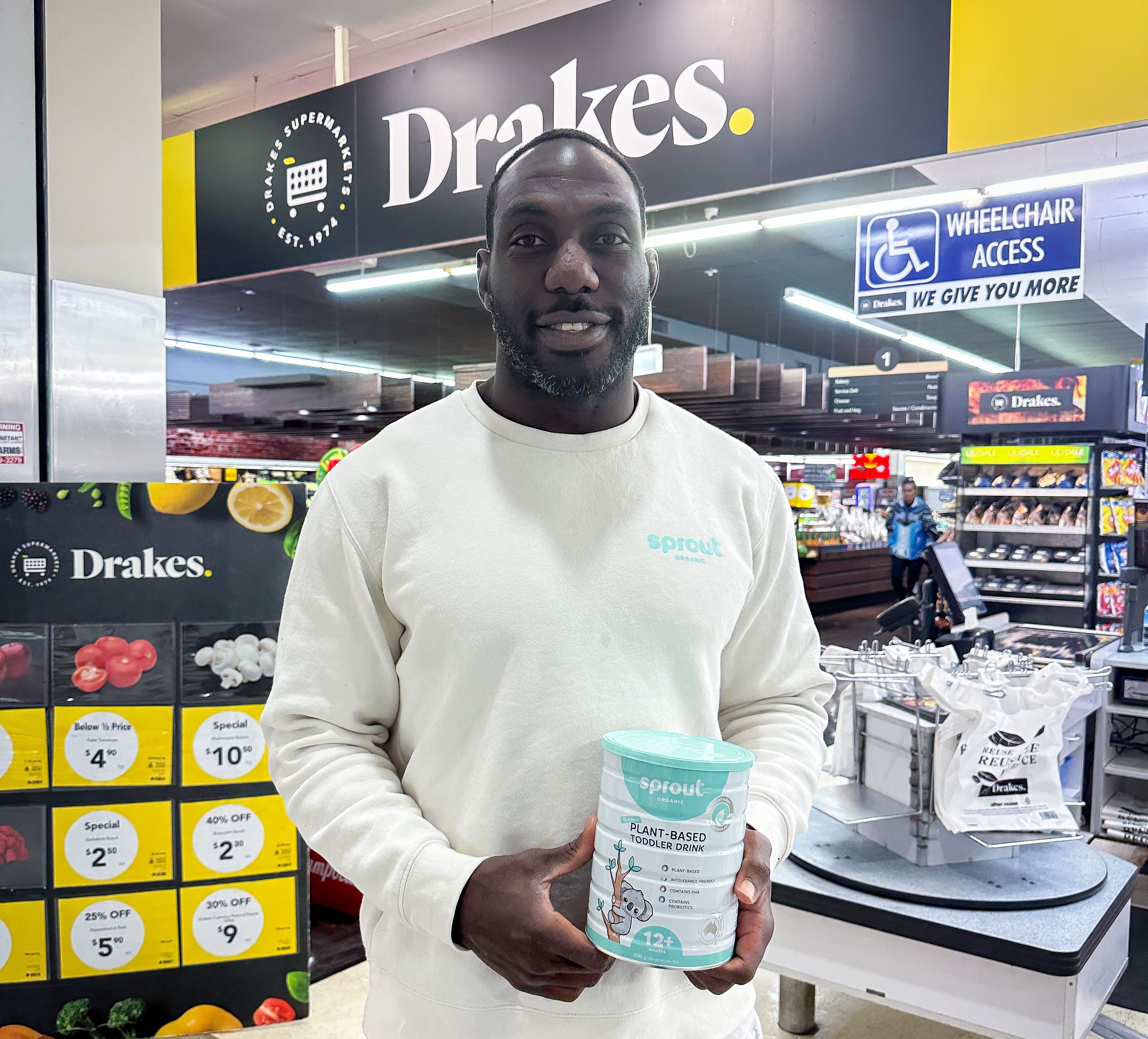 Gold Coast, QLD (June 29 2023) — Sprout Organic Pty Ltd ("Sprout" or the "Company"), the Queensland company behind Australia's first vegan and organic infant formula today announced it has signed an agreement with Drakes, the largest independent grocery retailer in Australia.
With 70+ locations throughout Queensland and South Australia, the Drakes partnership provides Sprout Organic with critical access to families seeking plant-based nutrition for their children. The Drakes announcement follows Sprout's most recent national roll-out with Chemist Warehouse and Terry White.
"By partnering with the largest independent grocery retailer in Australia, Sprout Organic is furthering its mission to revolutionise the kids nutrition industry, offering sustainable and nutritious plant-based alternatives to traditional dairy and soy," said Selasi Berdie, CEO of Sprout Organic.
"Being a part of Drakes distribution network is also a major step forward for our retail growth strategy. Our focus on organic, allergy-friendly and plant-based ingredients has positioned us as a leading disruptor in this market with distribution in over 2,000 retail stores, formal distribution into three countries, and e-commerce sales into 45+ countries."
Drakes Supermarkets was recognised as the Retailer of the Year at the 2023 National Retail Association Awards in recognition of its dedication to excellence in customer service and delivering a wide range of high-quality products.
Contact: Nadia Schilling, nadia@sproutorganic.com.au, 0469 545 424


Photos & Footage:
Interviews with Selasi Berdie, Sprout founder and CEO available on request.
###
About Sprout Organic
Sprout Organic is an Australian children's nutrition company which creates organic, plant-based infant formula, and healthy plant-based snacks for kids. Its mission is to provide children and their families with access to nourishing plant-based food products across the globe. Approved by leading paediatricians, dietitians, and biotechnologists, in June 2021 Sprout launched its world-first plant-based and organic infant formula, disrupting a 120 year old industry that has seen little to no innovation beyond dairy and soy.
About Drakes
Drakes Supermarkets is the largest independent grocery retailer in Australia, with over 70 stores across Queensland and South Australia. The company is known for its strong focus on supporting local suppliers and farmers, with an emphasis on stocking locally sourced and Australian-made products. Drakes Supermarkets has received multiple awards and recognition for its dedication to quality and service, including being named Retailer of the Year at the 2023 National Retail Association Awards. The retailer continues to expand its footprint, regularly