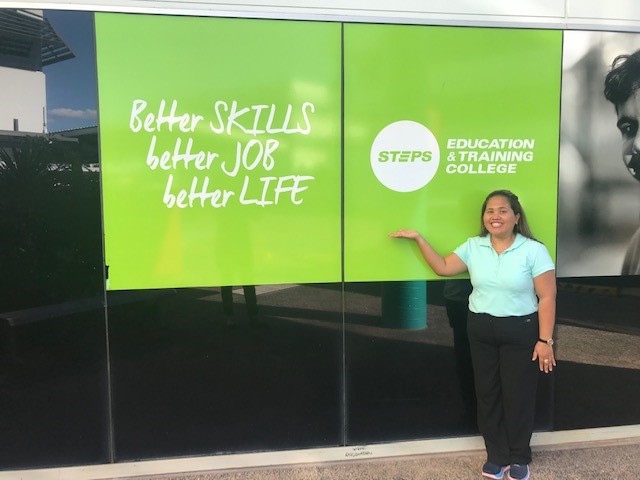 The life-changing impact of the Adult Migrant English Program (AMEP) was on show at the prestigious AMEP 75th Anniversary Awards for Excellence Dinner on Tuesday, June 6.
STEPS student Amalynn Manlutac was recognised with an Award for Excellence, capping off a remarkable journey since relocating to Darwin from the Philippines in 2014.
Amalynn's journey in the AMEP has been nothing short of extraordinary, starting in 2021 at the Casuarina Level 2 class, she was determined to improve her English skills and communication abilities. Her dedication resulted in achieving Certificates II and III in Spoken and Written English.
Recognising her potential, Amalynn enrolled in the SLPET Ready For Work course, where she completed a ten-week program and gained practical experience in a childcare setting. While discovering her true calling in caring for adults, she pursued the Certificate III in Individual Support, overcoming challenges and excelling in her coursework.
Amalynn's commitment paid off as she obtained her qualification in December 2022, followed by a successful 120-hour work placement with Territory Care and Support Services. Impressed by her abilities, they offered her a position as a Disability Support Worker within their Activities Hub.
Amalynn expressed her gratitude for the support she received and her passion for helping older Australians lead fulfilling lives.
"I am so grateful for the support I received in Australia, and I am proud to reciprocate by helping older Australians lead longer and happier lives," Amalynn said.
"AMEP classes pushed me to grow, and I am immensely grateful. I love assisting people with disabilities and engaging in various activities like singing, dancing, shopping, and making jewellery. I have no desire to return to cleaning work, I genuinely love my job."
As a disability support worker for five months, Amalynn has already completed an Epilepsy certificate and plans to pursue a Certificate IV in Aged Care.
Amalynn's Individual Support trainer, Tanya Mathews said it was an absolute privilege to support Amalynn throughout her studies.
"Her dedication has been outstanding, as she would reach out to me late at night and even on weekends. Her natural empathy and care for others make her a perfect fit for the disability and age care industry," Tanya said.
The Adult Migrant English Program provides unlimited hours of free English language lessons to eligible migrants and humanitarian entrants.
Contact details:
Jack Waters - 0419 022 598