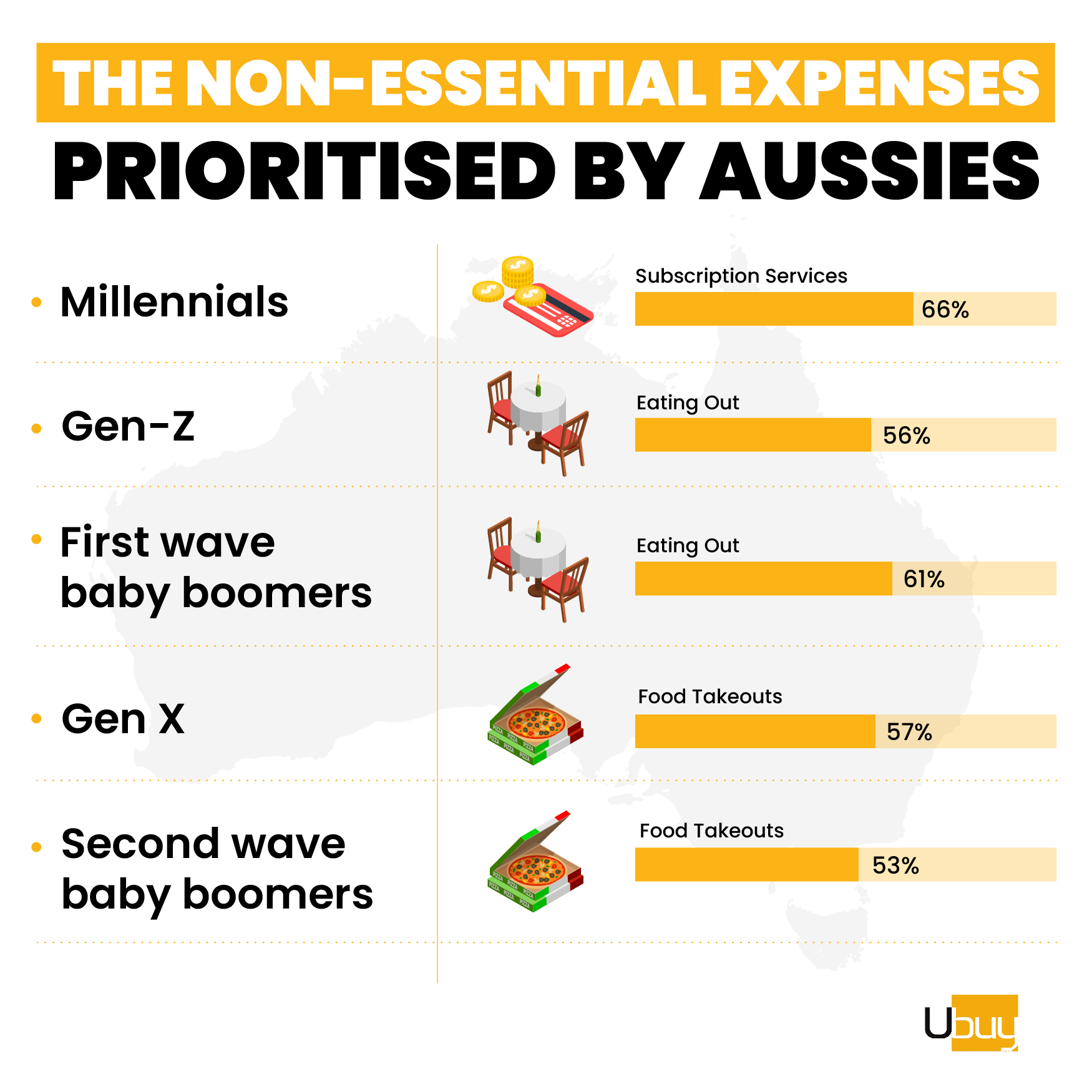 Over 1,000 Australian adults born after 1946 were surveyed by global e-commerce platform Ubuy to determine generational budgeting trends.


Global inflation has left many economies reeling across the world, seeing increases in interest rates, energy costs, and even food prices and daily essentials. As a result, many shoppers are now having to be extra careful with their spending habits to stretch their pennies as far as they'll go.


In a new survey of 1,000 Australians born after 1946, the established e-commerce platform Ubuy wanted to better understand the measures different Australian generations are taking to budget their monthly income, and what non-essentials are included within these budgets.


Commenting on the survey, Faizan Khan at Ubuy said:


"Through this survey, we wanted to know how different generations spend and save their money, alongside finding out which non-essential items are deemed worthy enough to have money set aside for them each month.


"We know that, for many, the cost of living has increased significantly in recent times – and this has likely had a big impact on the ways in which people spend their hard-earned money throughout the month.


"Overall, our survey found that the younger generations are largely more likely to budget heavily each month, while the older generations still largely have financial freedom. We also found that, for most generations, the non-essential expenses they just can't live without differ quite significantly.


"It has been really interesting to see how these spending and budgeting habits have formed throughout different generations over time."

The survey revealed that a majority of Australians set themselves a budget (77%), with 46% having an established monthly budget, while 30% generally budget but not necessarily every month.


Interestingly, just 23% of survey respondents said they did not budget their spending at all.


Generationally, millennials were the most likely to budget, with 85% doing so. 51% of them told Ubuy that they budgeted every month, with 33% budgeting often. Overall, just 15% of millennial Australians said they did not budget at all.


This is in contrast to the first wave of baby boomers, who were the least likely to set themselves a budget. Just 52% of respondents in this generation said they budgeted their spending, with 48% having no budget at all. 16% of those that budgeted did so often, with 36% setting aside money each month.


Generally, younger generations seemed to prioritise budgeting their income. Alongside millennials, Gen-Z were also largely in favour of budgets (80%), with the majority setting themselves a limit each month (45%).


Gen X were also big on budgeting (74%) – with 48% doing so each month, while 26% did so often.


Ubuy's survey also found that the majority of Australians budget for non-essential expenses, alongside their everyday expenses such as bills, rent, etc.


In terms of non-essentials that were popular choices for Aussies, 54% said they set aside money to dine out, while an additional 54% opted to save for streaming services.


Other popular non-essentials included:
Takeaway (52%)

Work lunches/coffee (33%)

Fashion/clothing (32%)

Gym memberships (27%)

The non-essentials that were prioritised in a monthly budget varied depending on the generation of the respondent, with certain expenses taking priority with older generations.


For millennials, 66% said they budgeted for subscriptions to media streaming services. While, in comparison, 56% of Gen-Z preferred to budget for a meal out. The first wave of baby boomers also prioritised dining out (61%), while both Gen X (57%) and the second wave of baby boomers (53%) each opted to budget for a takeaway meal.


Ubuy also wanted to know how much is budgeted each month for non-essentials. They found that, generally, the average amount of money set aside for extra expenses each month is AU$117.57.


20% of respondents budgeted between AU$131-$150 each month for non-essentials, while 18% each budgeted between AU$30-$50 and AU$91-$110 per month.


And of course, many Australians were also guilty of going over-budget on these non-essential purchases. Ubuy found that almost half (49%) of respondents often overspend by 25%-50%, while 20% of respondents go over budget by less than 25% and an additional 20% stay within their budget at all times.


Across all generations, going over budget by 25%-50% was the most common amount.


Broken down generationally, it looks like this:
Gen-Z (51%)

Millennials (50%)

Gen X (49%)

Boomers II (42%)

Boomers I (35%)


ENDS
Notes to editors
The full piece can be found here: https://www.u-buy.com.au/research/generation-budgeting-spending-monthly-income


Methodology
Ubuy conducted a survey of 1,006 Australian adults born after 1946. The survey ran between the 26th of April 2023 and the 2nd of May 2023.

About us:
About Ubuy
Founded in 2012, Ubuy is a leading cross-border retail search engine that connects customers to over 100 million unique products from top international brands. Committed to providing the best possible shopping experience for its customers, Ubuy is building a connected world where quality brands are just a tap away.