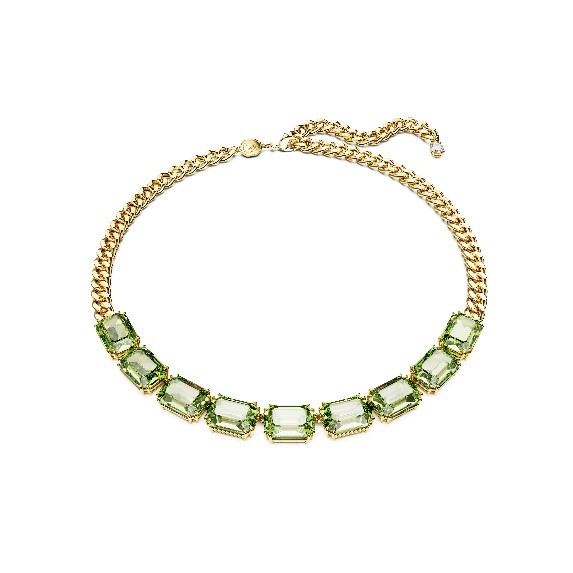 Embracing a galaxy of colour and light, Swarovski presents an inspiring new range of jewellery for Fall / Winter 2023. Each expressive piece has been made for joyful extravagance, with artistic Savoir-Faire that will transform any look.
In crafting this array of eye-catching designs, Swarovski Creative Director Giovanna Engelbert has taken her cues from multiple worlds. Whether it's Idyllia's secret gardens filled with wondrous creatures, or Luna's star-covered skies illuminated by crescent moons, there is a seamless connection between science and magic throughout each family.
Of course, Swarovski's unmistakable design language is also deeply infused within all of this season's jewellery. Light-catching crystals. Exquisite faceting. Sublime techniques that bring imagination to life. Add this to the evolving shapes of Dextera, the show-stopping cuts of Mesmera, or the captivating designs of Hyperbola, and you have a rich collection of pieces that demands attention.
NEW TO OUR WORLD
Cosmic inspiration provides the evocative theme behind this season's newest family, Luna.
LUNA
As if gazing up to constellations of trailing light and vast wonder, the Luna family is Swarovski's ode to the moon. Crescent shapes play a prominent role, yet this jewellery is also imbued with mystical energy, thanks to the dazzling use of refined pavé and various stone cuts.
EXPLORE EVERY FAMILY
Swarovski's most sought-after families are welcoming new designs this season. Each one retains its signature style, while also offering a wave of fresh creativity.
DEXTERA
Balancing bold metal constructions with angular crystals, the Dextera family offers an eye-catching display of materials and technique. Fall / Winter 2023 reveals new shapes that are soft and organic, adding rounder forms and tubular pieces that work beautifully alongside the traditional octagon designs.
IDYLLIA
Idyllia ignites the imagination with magical creations and luscious interpretations of flora and fauna that will energise your look. Going deeper into that dream world, this season's pieces include fairytale creations, from vivid butterflies and verdant clovers, through to exotic birds and cute ladybugs that cleverly open their wings. Combining colour, movement, and Savoir-Faire, Idyllia showcases some of the newest Swarovski innovations.
MILLENIA
These are the essential pieces for any wardrobe. Timeless and refined, Millenia has far-reaching connections within fashion with its bold faceted crystals and bright hues. Fall / Winter 2023 introduces hypnotic new designs in light green, as well as denim blue, alongside industrial-style chains that add a modern edge to the most contemporary pieces.
GEMA
By mixing a wide variety of cuts and stones, the Gema family is one of unexpected beauty. Each piece reveals a collision of crystals that seamlessly work together in perfect harmony. This season unveils dazzling new statement pieces in a vibrant shade of blue.
MESMERA
As the name suggests, Mesmera jewellery is made for breathtaking style. The extravagance continues in Fall / Winter 2023 with dramatic clusters of different cuts and a high level of refinement for genuine sophistication. There are also subtle accents of colour that accentuate the classic silhouettes, while various stone settings and ingenious techniques deliver a sensational look.
HYPERBOLA
Each Hyperbola piece is built around spellbinding materials, with complex constructions that offer just the right amount of drama. For a modern and ownable designs feature alluring green and white stones, set within spiraling metallic forms that truly stand out from the crowd.
MATRIX
The go-to styles to excite and delight. Matrix jewellery moves and flows with an evolution of head-turning crystals. The Fall / Winter 2023 choices are full of versatility, enabling you to wear them from day to night. This includes the distinctive use of dark green crystals, as well as classic Tennis designs with opulent round stones.
LUCENT
Glowing bright with large vibrant gems, Lucent makes full use of its light-catching potential. The bold styles for this season will transform any simple outfit with a wondrous dose of extra. From large, octagonal earrings, to expertly faceted motif rings, this is one family that is certain to illuminate the darker months.
ICONIC SWAN
Prepare to go ice blue this fall and winter. Swarovski's most symbolic family, the Iconic Swan, is a faithful representation of elegance and nobility. This season's new designs come alive in their own radiant blue colour, crafted with dazzling pavé, hanging stones, and graceful silhouettes. An easy way to inject your look with exquisite beauty.
STILLA
Simple droplets of light and colour make Stilla a perfect family for accentuation. The mix-and-match style continues in Fall / Winter 2023 with added complexity and bright tones. This includes joyful side detailing with radiant clear stones – a small yet impactful update that elevates each piece with extra sophistication.
Delve into the discovery of each seasonal creation. All will be available in-store or online at swarovski.com.
Please find assets linked here.
For more information, please contact:
Head of Marketing
Goncalo Pinto Da Costa
goncalo.pintodacosta@swarovski.com
PR Executive
Tegan Whitfield
You can also visit our online Press Room for more information and resources: News – Swarovski
ABOUT SWAROVSKI
Masters of Light Since 1895
Swarovski creates beautiful crystals-based products of impeccable quality and craftsmanship that bring joy and celebrate individuality. Founded in 1895 in Austria, the company designs, manufactures and sells the world's finest crystals, gemstones, Swarovski Created Diamonds and zirconia, jewellery, and accessories, as well as objects and home accessories. Swarovski Crystal Business has a global reach with approximately 2,400 stores and 6,700 points of sales in over 150 countries and employs more than 18,000 people. Together with its sister companies Swarovski Optik (optical devices) and Tyrolit (abrasives), Swarovski Crystal Business forms the Swarovski Group. A responsible relationship with people and the planet is part of Swarovski's heritage. Today this legacy is rooted in sustainability measures across the value chain, with an emphasis on circular innovation, championing diversity, inclusion and self-expression, and in the philanthropic work of the Swarovski Foundation, which supports charitable organisations bringing positive environmental and social impact.