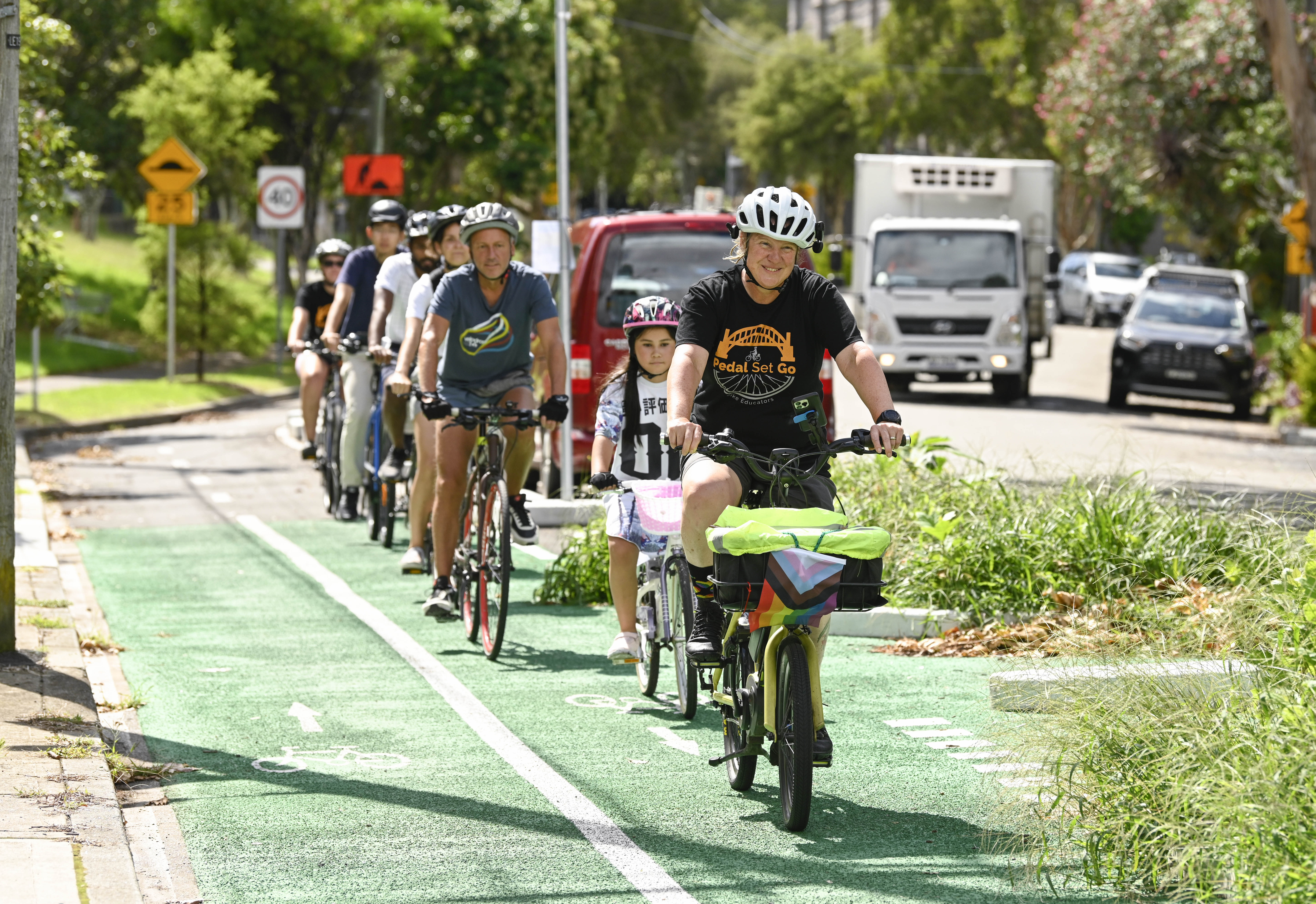 Record numbers of Sydneysiders are choosing to travel into the city on two wheels, with recorded bike trips in some locations up to six times higher than in 2010.
Sydney Lord Mayor Clover Moore attributed the increase to the expansion of cycling infrastructure throughout the city.
"Since 2007 we have delivered 25 kilometres of safe, separated cycleways including pop-ups, 60 kilometres of shared paths and 40 kilometres of other cycling infrastructure.
"In the past year, we've opened new separated cycleways on more than 15 streets including at Waterloo, Erskineville, and Green Square.
"Over the next year we'll be adding to this network with the highly anticipated Oxford Street cycleway and the extension of existing cycleways on Castlereagh and Liverpool streets, among others."
The City's busiest intersections in 2022/23 were:
Oxford Street/Flinders Street/Bourke Street – 2,701 trips per day during peak hours

Oxford Street/Lang Road/Moore Park Road/Queen Street – 2,378 trips per day during peak hours

Pyrmont Bridge Road/Murray Street/Pyrmont Bridge – 2,057 trips per day during peak hours

King Street/Kent Street – 2,037 trips per day during peak hours
Trips by bike across the local area were up 18% at peak hours compared to last year.
"People really embraced cycling as a means of active transport during Covid, when we added to our network with pop-up cycleways to help people get around the city during the pandemic.
"We've made some of these cycleways permanent because they proved so popular. As workers and visitors returned to the city post-pandemic, even more these remarkable figures show many of them continue to ride in and out of the city while others have joined the two-wheel revolution," the Lord Mayor said.
Several intersections showed a huge increase in bike path use since counts started in 2010:
Campbell and Euston roads intersection, up by 609%

Kent and Druitt streets intersection, up by 602%

Castlereagh and Goulburn streets intersection, up by 449%

Wellington and George streets intersection up, by 435%

Liverpool and George streets intersection, up by 427%
The permanent 24-hour counters on some of our cycleways show similar increases for total daily trips. For example, Bourke Street cycleway in Surry Hills has a daily average of 1,616 bike trips this year, up 41% on last year and higher than all previous years. Castlereagh Street cycleway has a daily average of 862 bike trips this year, up 47% on last year.
"It really is fantastic to see so many of our residents and workers using active transport to commute and travel across our city," the Lord Mayor said.
Our 2022-23 budget sets aside over $69 million for bicycle related works over the next four years, spending on average $17.35 million per year on cycle infrastructure.


The network has even gained international attention with Denmark's Crown Princess Mary requesting a tour of the cycleways on a recent trip to Sydney.
"We were delighted to welcome the Crown Princess to our city and show the 'Copenhagenisation' of Sydney. The Princess enjoyed a safe ride with City staff from Hyde Park to Circular Quay. "
For those interested in making the switch to bike-riding, the City offers confidence-building cycling in the city courses, and bike care and maintenance classes at the Sydney Park Cycling Centre.
View more details more about cycling in the city: https://www.cityofsydney.nsw.gov.au/cycling
For media inquiries or images, contact Senior Media Advisor, Nicky Breen. Phone 0436 599 861 or email nbreen@cityofsydney.nsw.gov.au
For interviews with Lord Mayor Clover Moore, phone 02 8974 4165 or email media@clovermoore.com.au


For more stories from your local area, visit news.cityofsydney.nsw.gov.au
Restrictions: The City of Sydney provides access to this publicly distributed image for editorial purposes only and remains the copyright owner. No archiving, commercial use or third party distribution is permitted without prior written consent. When using content for editorial purposes, you must include the following image credit adjacent to the content: "Photographer's Name / City of Sydney"