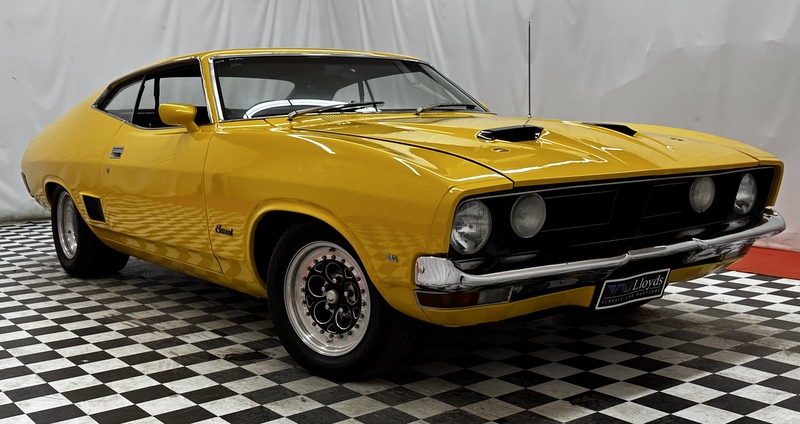 Bill Edgar, known as 'The Coffin Confessor', is auctioning his famous Ford XB Falcon he drives when crashing funerals, confessing statements from the deceased, and the bid is starting from just $1.
What started out as just a joke back in 2018, changed Bills life forever. Originally working as a financial private investigator, he then turned to a career as a funeral service, confessing any statements that a deceased person would like read out on behalf of them at their funeral.
After international media appearances, Bill Edgar has gone global with clients across the world including Australia, UK, US and China.
"This is certainly a story you don't hear of everyday, with his classic car ending up at Lloyds for auction and is the very vehicle that the Coffin Confessor drives when attending his client's funeral," said Mr. Lee Hames, Chief Operations Officer for Lloyds Auctions.
The bright yellow, street tough 1974 Ford XB Falcon Hardtop is in excellent condition and running a heart racing 1000hp rate c4 transmission.
The Coffin Confessor has spent many years roaring up to funerals in style with his beloved XB Ford Falcon but is now selling it to pursue business ventures internationally.
"While this vehicle has been with me on many different occasions, I'm excited to see it go to a new custodian for them to enjoy," said Mr. Bill Edgar, Coffin Confessor.
The Ford Falcon will be a part of a massive Classic Car auction at Lloyds Auctions this month where over 300 other classics will also be going under the hammer.
Also included in the auction is a 1996 HSV VS GTSR, 1 of only 3 ever made with an optimised sunroof from factory, with build #001 selling for $1 million at auction last year.
"This is a fantastic auction featuring some extremely rare and unique cars, including the iconic masterpiece from the Coffin Confessor which if this car could talk I bet it would have some confessions of its own to tell," said Mr. Hames.
These two vehicles will go under the hammer LIVE on Saturday 24th June from 10am.
You can view the Coffin Confessor car here.
You can view the entire auction here.
Video footage available on request.
For more information visit www.lloydsauction.com.au
Contact details:
Taylah Gray
Public Relations
0488 288 178