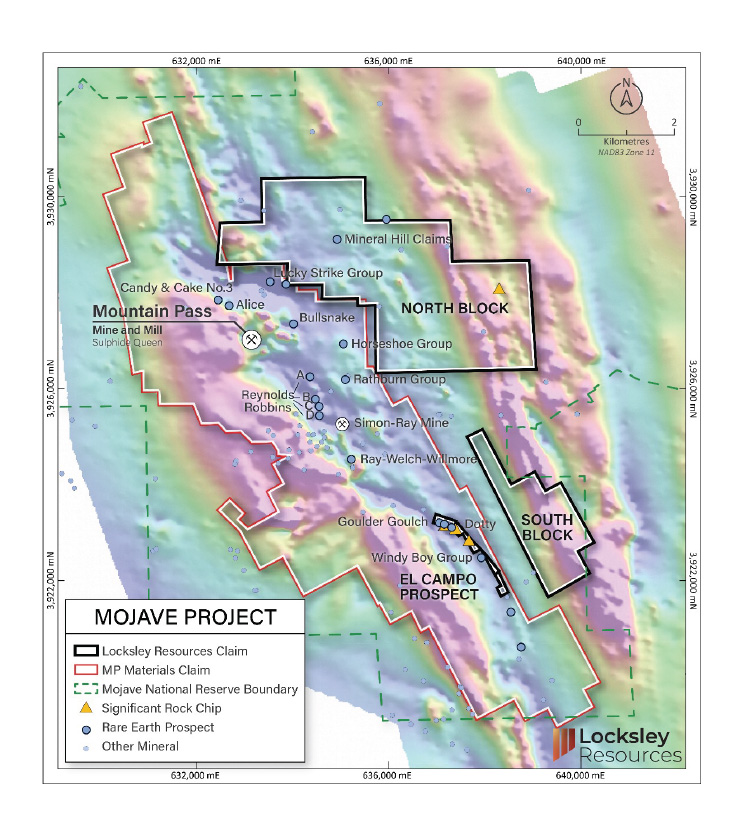 Acquisition Of Highly Prospective REE Project In California, USA
Mojave Project adjacent to the giant high-grade Mountain Pass Mine owned by MP Materials, the largest producer of high-grade rare-earth materials in the western hemisphere, delivering approximately 15% of the global rare earth supply1.
Mojave Project has returned high grade TREO rock-chip results of up to 9.49%2.
The United States and Australia affirmed that accelerating the global clean energy transformation is pivotal to creating an inclusive, clean energy economy.
Highlights
The Mojave North Block lies 1.4 km to the north-east of the Mountain Pass Open Pit Mine, the largest rare-earth element (REE) mine in the USA
The Mojave Project has potential to host numerous REE deposits. Rare earth elements (REE) are indispensable for the functioning of modern society, powering technological innovations and enabling advancements in renewable energy, electronics, and defence systems
The Mojave Project consists of three areas: The North Block is comprised of 164 claims totalling 14.9 km², South Block comprising of 32 claims totalling 3.5 km², and El Campo Prospect comprising of 5 claims totalling 0.34 km²
The Mojave Project is located on California's south-eastern border with
Nevada, USA
Locksley have received firm commitments for a $4 million placement at
$0.06
ESM is a party to an option agreement pursuant to which it has the option to acquire 100% of the 5 mineral claims comprising the El Campo Prospect. 5 of the 25 rock-chip samples collected at the El Campo Prospect returned high grade TREO results of 3.74% to 9.49% within a 6-meter-wide mineralised zone2
Locksley Resources Limited (ASX:LKY) ("Locksley" or "the Company") is pleased to announce that it has entered into an agreement to acquire 100% of a highly prospective rare-earth elements (REE) exploration project located right beside the largest REE mine in the USA
Locksley Resources Limited has been presented with the opportunity to acquire (subject to satisfaction of certain conditions precedent) 100% of the issued capital of Enigma Strategic Minerals Holdings Pty Ltd ("ESM") which, through its wholly owned subsidiaries, owns 201 mineral claims making up the North Block and South Block of the Mojave Project located in the Mojave Desert, California, USA and has the option to acquire an additional five (5) mineral claims making up the El Campo Prospect area (see Figure 1).
Locksley Resources, Managing Director, Steve Woodham commented on the proposed transaction:
"The deal gives Locksley Resources shareholders exposure to the burgeoning Rare Earths sector in a location within eyesight of one of the world's richest Rare Earth deposits known as Mountain Pass in the United States of America.
ESM own a group of exploration tenements surrounding the Mountain Pass Mine in California USA. Mountain Pass currently supplies a significant proportion of global demand for Rare Earth Elements which are included on the critical minerals list. Mountain Pass is the only producer of REE in North America.
This transaction brings together highly skilled teams both in Australia and the USA with a view to expanding on existing strong exploration targets. Multiple high grade carbonatite veins have been identified and will be followed up as part of the imminent exploration program.
The directors of the Company are of the view that the proposed transaction will create a significant opportunity to expose shareholders to an underexplored and highly prospective region with a proven history of REE production."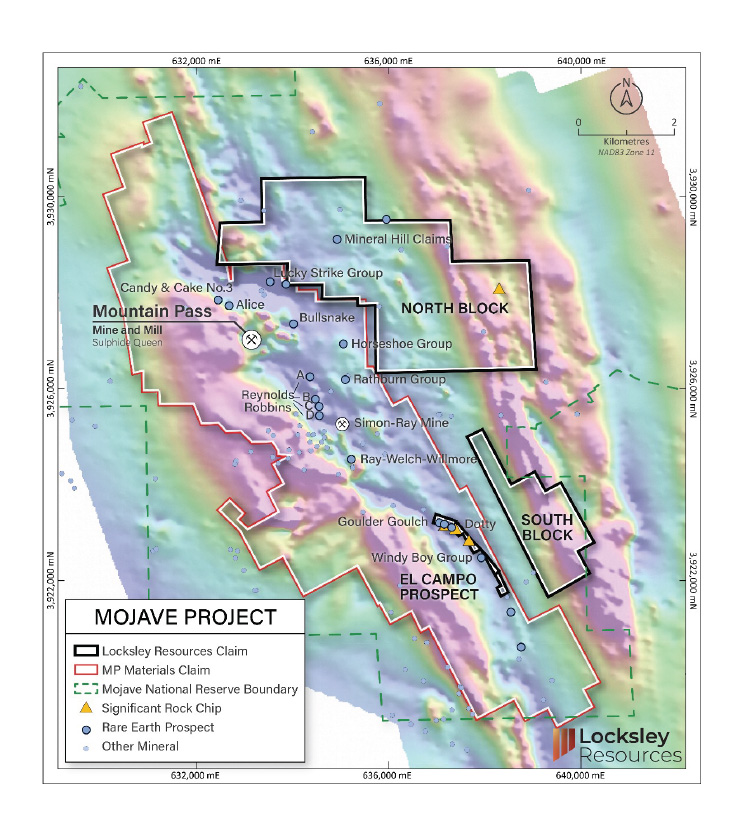 Figure 1. MOJAVE PROJECT – Location of the Mojave Project Prospects relative to MP Materials Mountain Pass Mine and Claims.
Background = Regional RTP magnetics
The Mojave Project is positioned next to one of the highest-grade REE mines in the world and multiple
significant carbonatite REE veins have been identified. 13 targets, 19 interpreted geophysical features and four (4) REE mineral prospects have been identified for field review.3
ESM has also entered into an option agreement pursuant to which it has the option to acquire 100% of
five (5) mining claims totalling 0.34 km² which comprise the El Campo Prospect. The El Campo Prospect has produced high grade samples with five of the twenty-five rock-chip samples collected, returning TREO results with assays up to 9.49% (see Table 1). These samples were collected from outcrops of syenite, shonkinite and carbonatite comprising a 6-meter-wide mineralised zone.4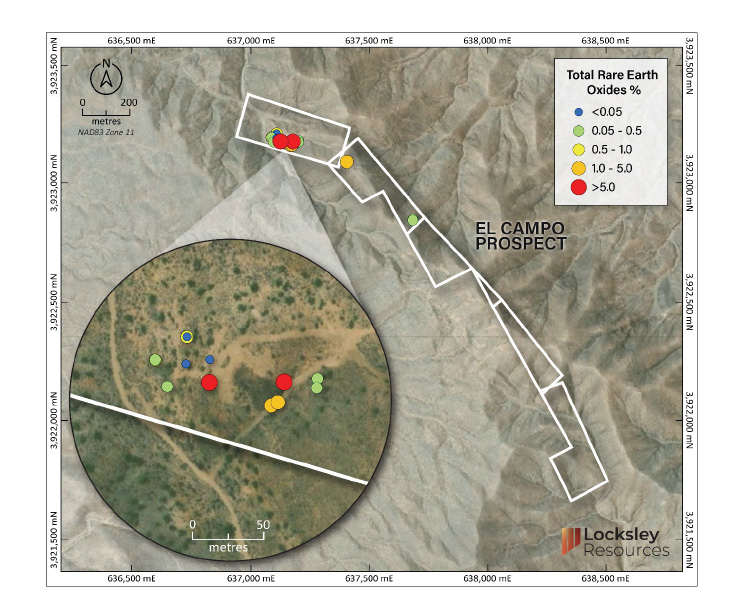 Figure 2. EL CAMPO PROSPECT – Rockchip Geochemistry on aerial photography
Occurrences of dykes of mid-Proterozoic intrusive rocks including syenite, shonkinite and carbonatite have been documented in the El Campo claim blocks and are interpreted to also be found in the North and South blocks5. The Proterozoic carbonatite terrane at Mountain Pass hosts the largest resource of REE's in North America.
The close proximity of the El Campo Prospect to the Mountain Pass Mine and high-grade rockchip
samples provides strong potential for further significant REE discoveries within the exploration package.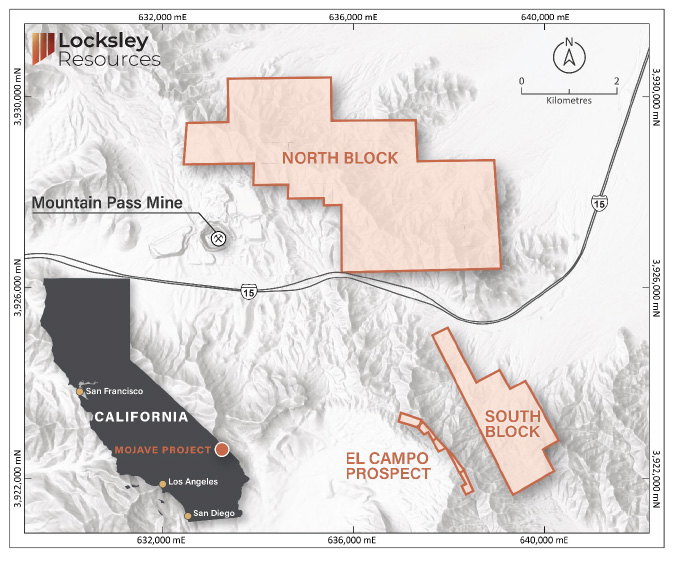 Figure 3. MOJAVE PROJECT – Location of the Mojave Project Blocks in south-eastern California, USA
1. https://investors.mpmaterials.com/overview/default.aspx
2. Enigma Strategic Minerals – El Campo Overview and January 2023 Exploration Plan
3. Enigma Strategic Minerals LLC – USA Rare Earths Project
4. CSA Global – EL Campo Project Progress Report 2023
5. Enigma Strategic Minerals – El Campo Overview and January 2023 Exploration Plan
Contact details:
Debra Clarke
0432 337 286