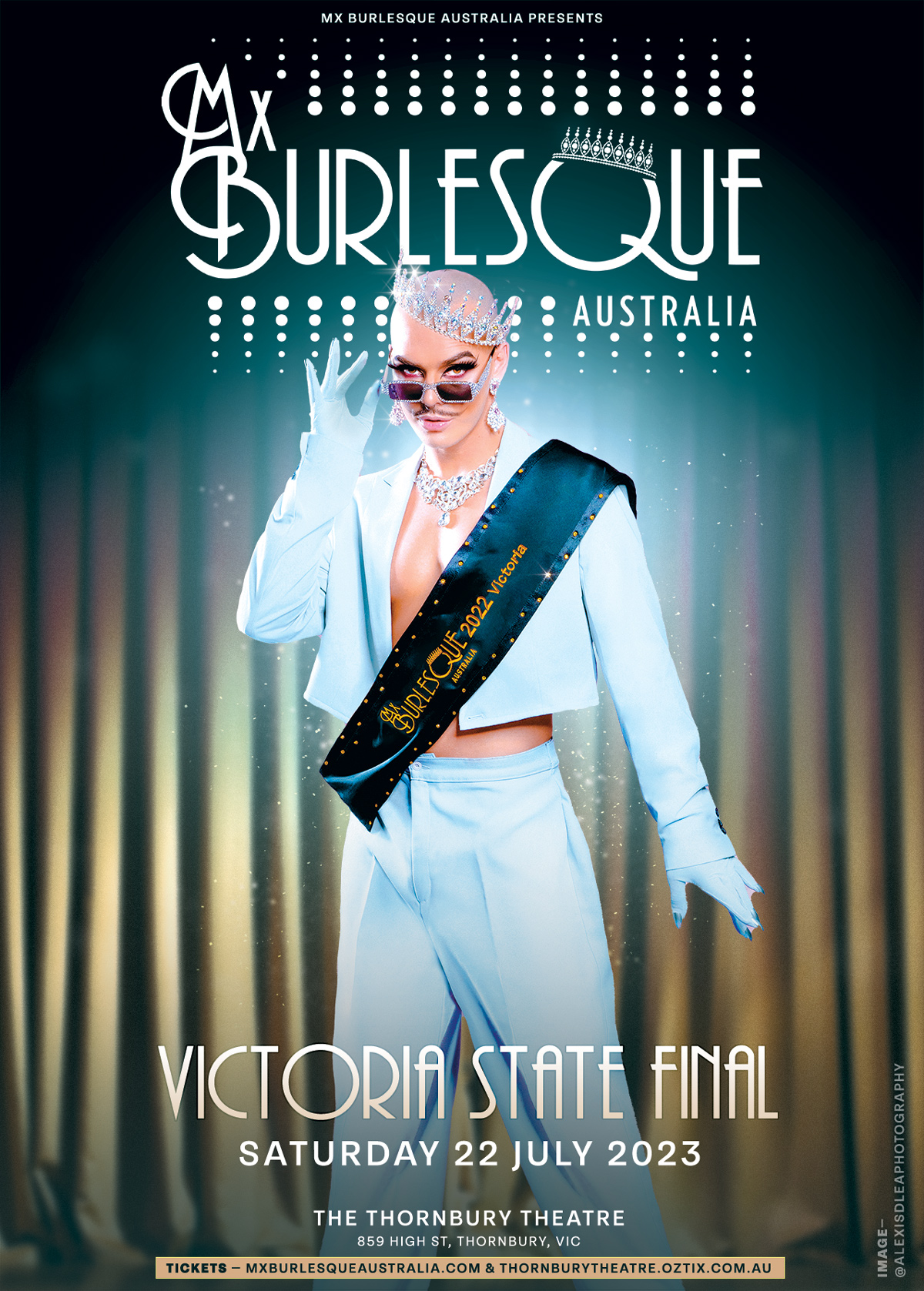 On Saturday 22nd July, the Victorian State Finalists will throw their sparkles into the ring and battle it out for the crown and title – Mx Burlesque Victoria 2023 – as well as a fabulous swag of spectacular prizes.
Nine Melbourne based burlesque artists, Cherry Charleston, Chica Boom Boom, Lauren Bok, Moxie Delite, Sallie Cinnamon, Valerie (Va Va) Valentine, Vampi, Velma Vouloir and Winter Greene will tantalise audiences at the iconic Thornbury Theatre in Thornbury.
Mx Burlesque Victoria is the Victorian state final for the Mx Burlesque Australia competition.
New Mx Burlesque Victoria Producer Domino De Jour is excited to take over the competition for 2023.
"Mx Burlesque Australia is dedicated to promoting an open and inclusive environment that gives ALL performers the freedom to be themselves, so they can present their best art on an equal platform. The 2023 competitors bring a variety and diversity of performance styles and influences to the big stage we have not seen in some time in Melbourne." she said.
Mx Burlesque VIC is an 18+ event. The event will be Auslan interpreted and Thornbury Theater is wheelchair accessible.
Mx Burlesque Victoria 2023 State Final
Date: Saturday 22nd July 2023
Time: Doors 6.30pm, Show starts 7.30pm SHARP
Where: Thornbury Theater,
Tickets: From $60
To book visit : https://thornburytheatre.oztix.com.au/
https://mxburlesqueaustralia.com


PHOTOS: We can arrange a photo session and/or interview for you with a one of the Finalists or previous winner. High res photos have also been attached and will require crediting if used.

NOTES TO EDITOR: In 2022, the Miss Burlesque and Mr Boylesque competitions merged to relaunch as Mx Burlesque Australia. This competition is now open to all expression of gender identity. Winners may choose the title that they identify with best – Miss Burlesque, Mr Burlesque, or Mx Burlesque.

Key Facts:
- The Mx Burlseque Victoria final is on 22 July 2023 at The Thornbury Theater
- Nine of Melbourne's best performers will battle it out in a night of entertainment for the crown and title
- Mx Burlesque Victoria is open to all gender identies and vaules inclusivity, diversity and body positivity
About us:
About Miss Burlesque Australia: The Title of Mx Burlesque Victoria is awarded to the best overall performer across a range of activities including a red carpet parade, as well as striptease and unique interpretation of Burlesque. The goal of the Mx Burlesque competition is to provide a platform for performers to create their best work. Mx Burlesque encourages a supportive professional development through constructive criticism from industry leaders and to raise the professional standard within the burlesque industry. The core values of the burlesque revival are emboldened with empowerment and feminism. Mx Burlesque Australia seeks to uphold an all-inclusive competition and encourages diversity, body positivity and aligns itself with the LGBTQI community.
Contact details:
Mx Burlesque Victoria producer
Domino De Jour (Felicity)
ph: 0438162227
mxburlesquevictoria@gmail.com