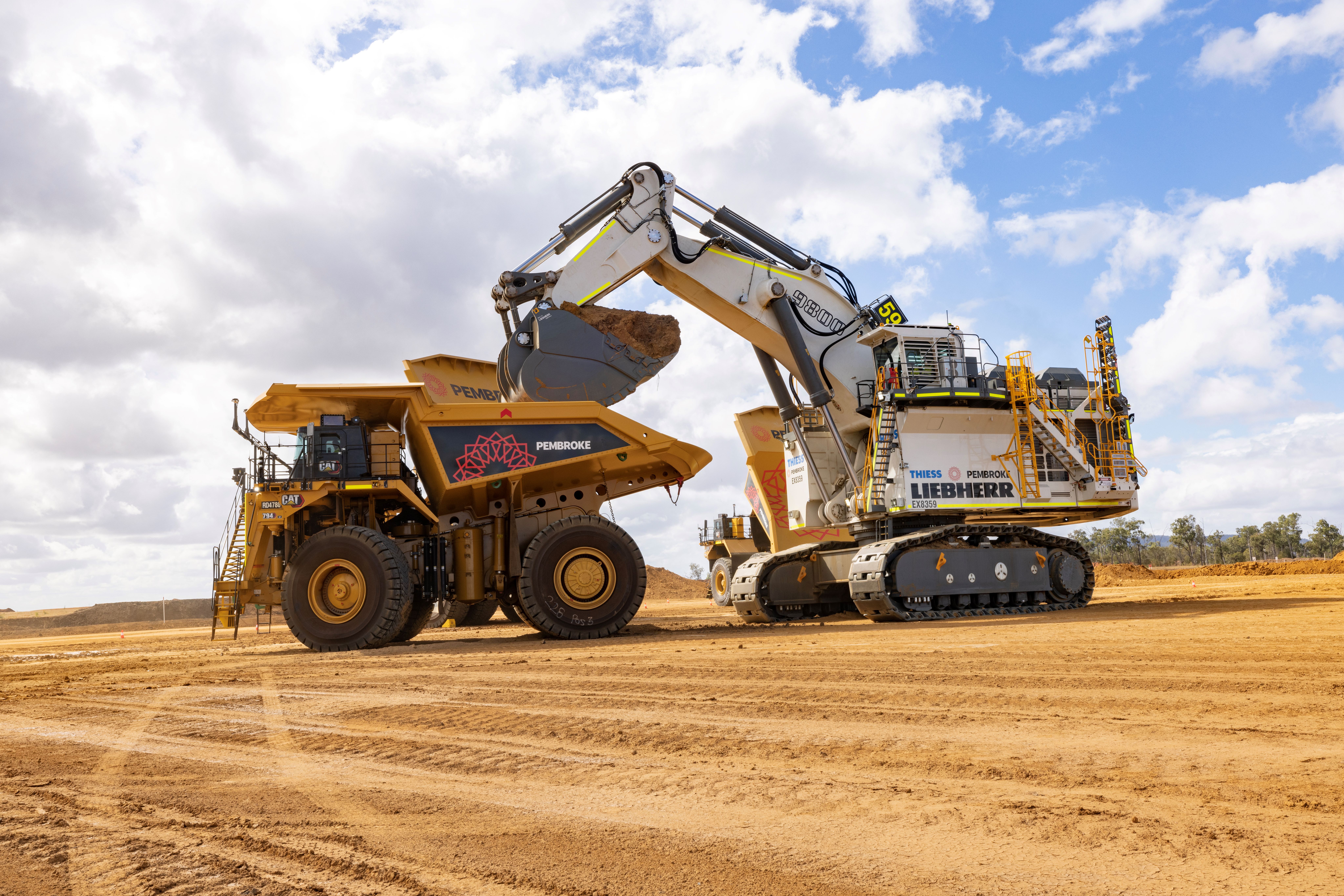 Thiess Group Executive Assets, Technical Services and Technology Ramesh Liyanage and General Manager Mining Vikesh Magan today joined Pembroke Resources ("Pembroke") Chairman and CEO Barry Tudor, and senior executives from Caterpillar, Liebherr and Hastings Deering, to mark the commencement of mining at the Olive Downs Complex in Central Queensland.
The official moving of first dirt celebrated the safe mobilisation of Thiess people, plant and equipment to the complex, including a new Liebherr R 9800 excavator and several Caterpillar autonomous-ready 794 AC haul trucks. It represents a significant milestone for the Olive Downs Complex to deploy both Cat® MineStarTM Command for hauling and Command for drilling – Caterpillar's autonomous hauling and drilling solutions.
Thiess, together with Pembroke, Caterpillar and Hastings Deering will provide 21 autonomous haul trucks, three autonomous drills and a private LTE network for the complex to enable full operations to commence in late 2023.
Mr Liyanage recognised the Olive Downs Complex as an excellent fit for Thiess' progression to the next level of technology and sustainable mining with the ultimate goal of delivering greater value for its clients.
"The moving of first dirt recognises our partnership with Pembroke and the hard work, passion and ingenuity of hundreds of people across our teams, suppliers, partners and communities where we operate. Together we look forward to pioneering a new standard for project delivery," Mr Liyanage said.
Thiess Group Executive Chair and CEO Michael Wright said, "We share Pembroke's vision for Olive Downs Complex and look forward to leveraging the power of our people and technology to deliver a world class, sustainable mine."
Mr Tudor said: "This is a proud day for Pembroke and Thiess as we celebrate our collective success of safely mobilising resources for the project. This milestone also demonstrates our shared commitment to exceed targets and showcases the capabilities on offer to enhance our safety and profitability and maximise our mine life.
"We're excited for Thiess to deploy autonomous equipment and processes to the Olive Downs Complex. Implementing this technology will not only enhance safety and productivity but also contribute significantly to the achievement of our sustainability goals: improving energy consumption, lowering carbon emissions and decreasing our ecological footprint."
The Olive Downs Complex underpins the sustainable production of steelmaking coal and provides the flexibility for Pembroke to deliver high quality coking coal and pulverised coal injection (PCI) products to key markets including Japan, South Korea and India.
Pembroke and Thiess will continue to work closely at the Olive Downs Complex, solidifying its position as a world-class, modern mine that can efficiently and cost-effectively supply high-quality coking coal for decades to come.
ENDS
Issued by Thiess Pty Ltd ABN 87 010 221 486 www.thiess.com
Contacts
Jenna Johnstone, Thiess Senior Communication Specialist, T+61 0448 703 013
Vivian Lim, Thiess Group Manager Communications & Marketing, T +61 0434 306 131
Thiess partners with its clients to deliver sustainable solutions in open cut and underground mining in Australia, Asia and the Americas. For almost 90 years, Thiess has operated across diverse commodities, geologies, environments and cultures.
As a global services provider, Thiess is uniquely placed to make a significant contribution to responsible, sustainable mining and a low-carbon future by working with our clients, suppliers and the industry to enable the global energy transition. Thiess is committed to harnessing the power of its people and technology to drive sustainable change.​
Visit www.thiess.com