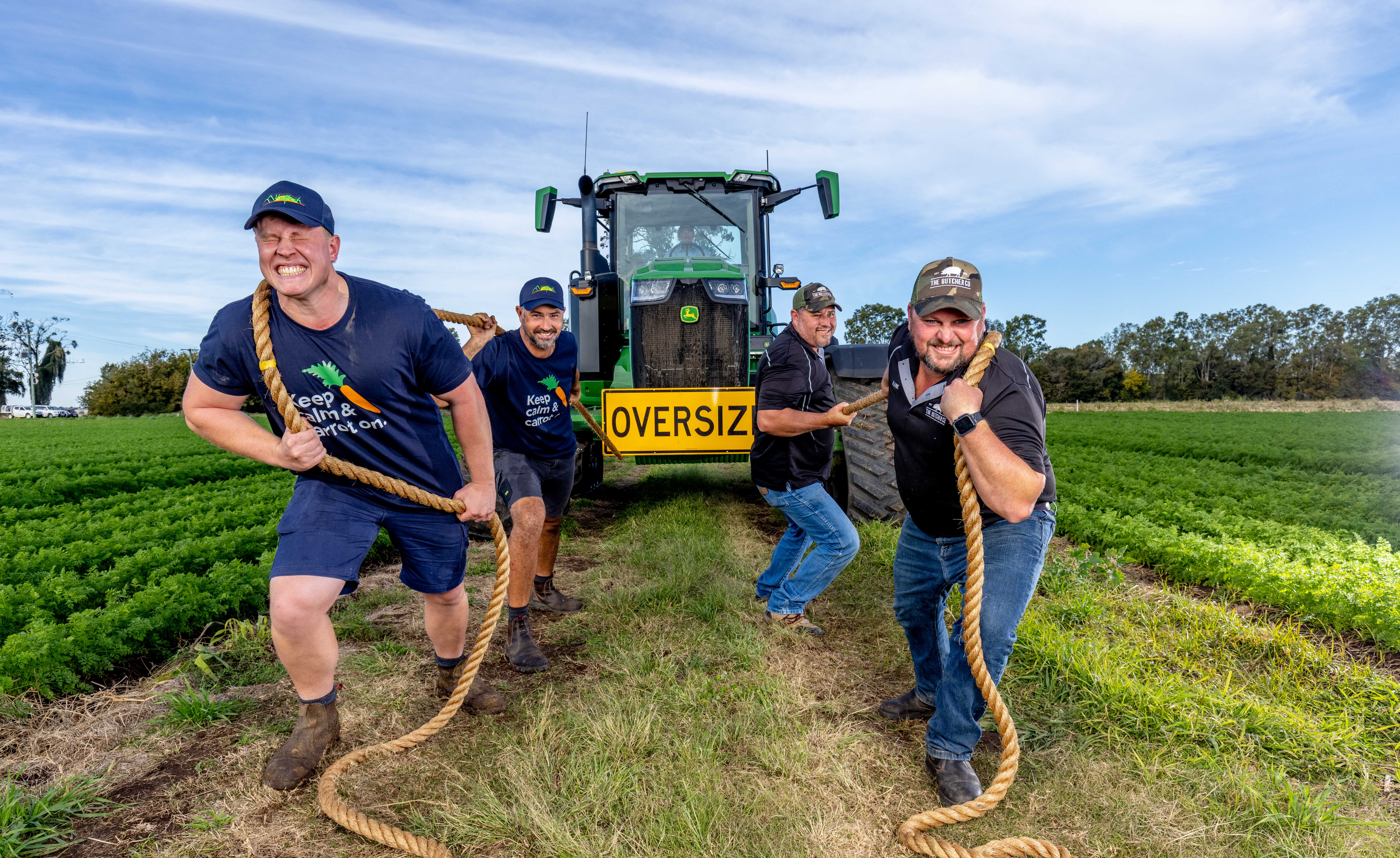 Thought STATE OF ORIGIN was competitive?
It's got nothing on the famous Winter Harvest Festival TRACTOR PULL in the Scenic Rim!
Yep, this event sees the best of the best battle it out in a paddock at Aratula – with the reigning champions, the local BUTCHERS, already claiming 'unbeatability' against the vegetable farmers from multiple teams including national producers Kalfresh and Moffat's Produce. In breaking news, a team from Kokoda Barracks at Canungra have just entered, with confirmation they have been training specifically for this globally famed event. It's Top Gun meets Rocky in the Scenic Rim – and thousands are expecting to witness what will be another epic battle.
This age old contest will take place at what is Eat Local Month's signature and finale event, WINTER HARVEST FESTIVAL, this Saturday July 1.
In addition to the Tractor Pulling events, Scenic Rim Food Ambassador chefs will join growers, producers and flavour-makers in celebrating where food comes from.
Kids Tractor Pull at 11.30am and the adults battle it out at 2.30pm.
Oh, there's also Carrot Ice Cream for afterwards!!!
New this year is the Meet the Producer Stage presented by Moffatt Fresh Produce, with a focus on the growers and producers of the region sharing their stories, from carrot farmers to cheese makers, mushroom producers to dairy farmers and more, while The Cook & The Chef Stage presented by Kalfresh Vegetables will see chefs Javier Codina, Simon Furley, Josh Lopez and Kate Raymont shares their secrets!
For lovers of a tipple, a visit to the Winter Harvest Festival means coming face to face with the world's best Brandy! Judged just last month at the London Spirits Competition, the winner was Tamborine Mountain Distillery's Apricot Brandy, beating more than 4000 submissions from over 80 countries. So there's that! It also means tasting the Scenic Rim Brewery's newest addition – the Ripa Rita, a beer starring local beetroot from Valley Pride Produce and Rosellas from Vanbery Jam Co. While there, taste the Beauy & Blue, a spiced pumpkin ale made from famous Beaudesert Blue pumpkins (ah, the penny drops). Cheese lovers should head to the Summer Land Camels stall for their Camel Milk Marinated Persian Feta which won Gold at the 2023 Sydney Royal Cheese & Dairy Show.
Yes, there will be Carrot Ice-cream! This delicious creation of Moffatt Fresh Produce will be available at their stall. Quick fact: the Scenic Rim produces 600 million carrots a year and is the carrot capital of the country!
And there's so much for the kids to do that they'll be asleep before you get home.
Bring an empty esky (or three!), pack the kids (it's a fantastic family event), gather the crew, and prepare for the ultimate farm gate, and an absolute overload of country hospitality!
WINTER HARVEST FESTIVAL: Saturday July 1, 10am to 4pm
COST: $15 adults, children under 12 free
WHERE: Aratula Sports Complex, Carter Road, Aratula
BOOK TICKETS HERE: www.eatlocalmonth.com.au
Images here: https://www.dropbox.com/scl/fo/8dgur8htioh3gpq1w6ws9/h?dl=0&rlkey=01wr9zttn6vxrt9wsevpgwzco
HERE'S WHAT YOU NEED TO KNOW…..
ONSTAGE
The Cook & The Chef presented by Kalfresh Vegetables (stage inside Aratula Sports Hall)
The Cook & MC: Caz Osborne with Scenic Rim Food Ambassadors:
11am – Chef Javier Codina shares his family traditions and secrets to creating a delicious Spanish paella
12pm – Chef Josh Lopez will create carrotacular dishes with the humble carrot
1pm – Chef Simon Furley talks cooking over coals to create a delicious winter salad
2pm – Chef Kate Raymont and Gen Windley will talk about preserving and pickling - what to do with an abundance of in-season produce
NEW IN 2023 - Meet the Producer presented by Moffatt Fresh Produce (stage in marquee)
10:30am – Scenic Rim Mushrooms: Discover the magic of mushrooms and their healing properties
11:00am – Moffatt Fresh Produce: 99 years of farming in the Scenic Rim!
11:30am – Towri Sheep Cheeses: The power of collaboration
12noon – Elderflower Farm: Growing edible flowers at home
12:30pm – Tommerup's Dairy Farm: Butter making demonstration
1:00pm – Vanbery Jam Co: What to do with Rosellas and how to grow them at home
WORKSHOPS
NEW IN 2023 - Winter Harvest Festival Workshops - suitable for the whole family
$10 workshop fee applies - book on-line
10:30am – Workshop with Rachel from Elderflower Farm: Learn about growing and pressing edible flowers at home and decorate Scenic Rim cookies with edible pressed flowers.
11:30am – Workshop with Rachel from Jasmine Urban Farm: Learn about the importance of creating a habitat for bugs and create a seed bomb for home using a beneficial bug mix of seeds.
12:30pm – Workshop with Mat from Scenic Rim Mushrooms: Learn how to grow mushrooms at home using a Scenic Rim Mushrooms grow kit.
1:30pm – Workshop with Rachel from Jasmine Urban Farm and Amber from Eden Seeds: Planting seeds for the future - Learn how to plant seeds and seedlings to grow at home.
FOR THE KIDS
Urban Utilities 'Top Drop' mini golf activity

Sparky Do Dah - activities and games for kids

Kalfresh Tractor tables

Giant slide and Jumping Castle

Giant Games - Chess, Jenga, Connect Four, Noughts & Crosses, Checkers, Cornhole, and Snakes & Ladders.
TIPPLES & SIPS BAR
11am / 12:30pm / 2pm – Performances by Ross Weber
MAIN SEATING AREA
10:15am / 11:45am / 1:15pm – Performances by Nicky Convine
BREAD & CHEESE, MILK & HONEY, FRESH PRODUCE, LOCALLY PRODUCED:
Areleah Chocolates -

Rocky Road, fudge, peanut brittle, coconut ice, rainbow jellies, freckles and more

Arthur Clives Bakery Café -

house-made breads, sandwiches, pies, sausage rolls, cakes and pastries

Bee All Natural -

raw honey, creamed honey, infused creamed honey, honey based bath, body and beauty products

Canungra Creek Finger limes -

Fresh finger limes, marmalades and preserves made with finger limes, skin Products made from finger limes

Chef Dylan's Gourmet Food Co. -

seasonings and small batches sauces created on Mount Tamborine using fresh local ingredients sourced direct wherever possible

Christmas Creek Produce -

Dried fruits and salts

Chokola'j -

small batch chocolate and confectionery using locally sourced produce - roasted macadamia and lemon myrtle chocolate bars, Dried Olive chocolate bars, honeycomb, macadamia brittle

Greenlee Farm -

Dry roasted & salted macadamias, macadamia brittle, Nut-In-Shell, TJ's Nutcrackers

Hampson Honey -

Locally produced raw honey and honeycomb products

Heritage Poultry -

if you want to take home a laying hen or a day old chick, this is the place! Yep, they have all you need as well to create your own chicken coop.

Kalfresh Vegetables -

local produce galore – and CARROTS!

Kent's Produce -

coffee, bacon and egg burgers, hamburgers, toasted sandwiches and fresh produce

Moffatt Fresh Produce -

more local produce galore!!

Moshki -

crochet baskets, bags and more made from jute twine and more

My Mountain Farm

- luxurious goat milk soaps, products and balms, tumeric products and remedies, and freshly harvested garlic, ginger and tumeric

Olive View Farm -

EV Olive oil, table olives, dipping oil, relishes, jams, chutneys, magnesium products made with local edible flowers, organic kombucha, dukkah, lip balm, olive blossom honey, native bush food tea

Rathlogan Olive Grove / The Shed Café -

Olives, olive oil, vinegars and dukkah

Scenic Rim Farm Box -

Meet the fabulous Scenic Rim Farm Box team face to face and find out more about the Scenic Rim home delivery food service. Fresh produce from Kalfresh will be available for purchase.

Scenic Rim Mushrooms -

grow kits, fresh harvested mushrooms, mushroom salts and Lions Mane extracts

Summer Land Camels -

Gelato, cheese and charcuterie packs and skincare products

The Pickling Project -

Pickles, relishes and ferments

Tommerup's Dairy Farm -

dairy products straight from the farm

Towri Sheep Cheeses -

their award-winning Eweghurt and Fetta

Tracey's Tucker Bag -

artisan meal bag made with a selection of spices, beans, rice and lentils in a coloured sands style. Great for the slow cooker, camp oven and stove top.

Truffle Discovery Centre -

Truffle infused condiments - oils, balsamics, aioli, mustard, butter, cheese, sauces, salt, seasonings, hot sauce. Non truffle gourmet condiments - jams, chutneys and sauces.

Ungermann Brothers Gourmet Ice Cream -

handmade and created from natural fruits and flavours

Valley Pride Produce -

fresh farm vegetables, jams, chutneys, infused beets, banana breads, honey, lamb and goat meats, Hummus, pesto, all locally produced

Vanbery Jam Co

- Rosella products including jam, paste, syrup, coulis & flowers, orange marmalade and lemon curd

Wilde Foods -

Pickled Warrgal Greens, Pickled Warrigal Greens & Macadamia Nut Pesto, Davidson's Plum Spicy Sauce, Wilde Dukkah, Pepperberry & Wattleseed Rub and native food tastings
READY TO EAT
Dosa Delish

- Crispy savoury Indian pancakes with spicy potato masala, zingy samba sauce and coconut chutney. Gluten free, vegan friendly and flavourfully fermented.

Fire N Dough Wood Fired Pizza -

Wood fired pizza (using local ingredient toppings)

Lopez at Home

- Scenic Rim beef cheek tacos and charred carrot tacos prepared by Scenic Rim Food Ambassador Josh Lopez

Moda Tapas Brasa Bar -

delicious Spanish paella prepared by Scenic Rim Ambassador chef Javier Codina

Pots of Produce

- Vegan, vegetarian and gluten free food using locally grown produce, along with fresh juices, lemonade and chai tea

The Butcher Co. -

Sausages on a stick, rib fillet sliders, small goods - kabana, salami and pepperoni
FOR SIPS AND TIPPLES:
Barney Creek Vineyard Cottages -

tasting varieties include Shiraz, Petit Verdot, Grenache and Mourvedre

Cauldron Distillery -

gin and hot toddy tastings

O'Reilly's Canungra Valley Vineyards -

tastings, glass sales and bottle sales

Scenic Rim Brewery and Café -

craft beer and pretzels

Summer Land Camels -

vodka tastings and sales

Tamborine Mountain Distillery -

with their range of award winning liqueurs, gin, vodka and more, plus their just-awarded World's Best Brandy!

The Overflow Estate 1895

- tasting varieties include Vermentino, Fiano, Montepulciano, Tempranillo, Rose, Sparkling Rose, Sparkling White Wine and Sparkling Red Wine

Witches Falls Winery -

Witches Falls Wine and Eighth Day Cider
FLOWERS, HERBS AND PLANTS:
Elderflower Farm -

their famous fresh farm flowers, plus their wonderful products including flower sprinkles, Floripops, flower field honey and honeycomb, seed bombs, bath salts, flower seeds and edible flowers.

Jasmine Urban Farm -

seedlings, seed bombs and herbal teas
FOR THE COFFEE LOVERS:
Cuppa-licious -

coffee, tea, chai, hot chocolate, iced latte and milkshakes

Ginger & Bean

(vintage coffee caravan) - Botero Coffee, teas, juices and cakes

Scenic Rim eXpresso -

full coffee range made with For Real Milk and Dairy Farmers milk

Plus, cold drinks available from the Aratula Community Sports Centre, coffee from Kent's Produce and organic Kombucha from Olive View Farm
SCENIC RIM EAT LOCAL MONTH 2023
June 1 – July 2 www.eatlocalmonth.com.au
Tickets on sale NOW
The real stars of Eat Local Month are the award-winning producers, growers and flavour-makers, with the event providing the ultimate backstage pass to the farms, wineries, faces and food stories of the Scenic Rim, named by delicious Magazine as one of the top 5 places to visit in 2023. Scenic Rim Eat Local Month is proudly presented by Scenic Rim Regional Council, with support from Major Partners Kalfresh Vegetables and Moffatt Fresh Produce, and Supporting Partners Urban Utilities, Community Bank Kalbar & District and Brisbane Economic Development Agency. The event is also supported by the Queensland Government through Tourism and Events Queensland and features on the It's Live! in Queensland events calendar.
For more information, imagery and interviews please contact Kath Rose on 0416 291 493 or email kath@kathrose.com