2 June 2023: Winter is the season that brings a chill in the air, making it the perfect time to transform your home into a cozy sanctuary. This Winter Warmers Day on Wednesday, 7 June, we have some great home accessories and delicious recipes to help combat winter blues which are all available with free delivery for tomorrow only.
For the home
Soft and fluffy blankets and pillows will instantly add warmth to any living space. Opt for materials like velvet or faux fur like the Donna Salyers throw or pillow pack for extra comfort. Thick curtains or thermal blinds will also help to insulate your home.
Lighting plays a crucial role in creating a cozy ambiance. Replace harsh overhead lights with warm, dimmable lamps and Be Enlighted candles to add a touch of elegance to your winter home. Consider incorporating natural elements too with displays of pinecones, branches, and winter berries in vases, or create a centrepiece with your Be Enlightened scented candles surrounded by cinnamon sticks.
These EMU boots, fluffy slippers gorgeous faux fur scarf and gloves from Holiday and are guaranteed to keep you warm both indoors and outdoors.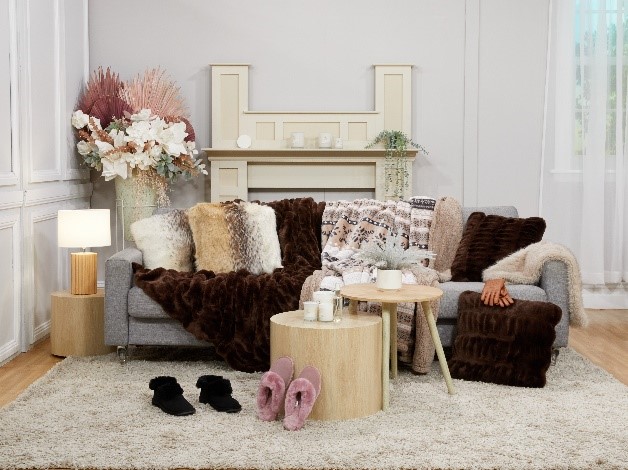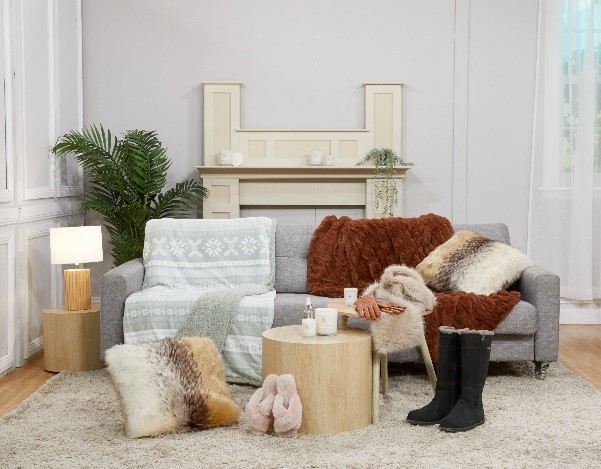 *all furniture, foliage and vases, greenery and rugs are stylists props and not available for purchase.
Now let's talk about food!
Winter is the perfect time to indulge in hearty and comforting meals. Recipes like slow-cooked stews, creamy soups, and aromatic baked goods can fill your home with delightful aromas and satisfy your taste buds.
We reached out to our Tefal Brand Ambassador and guest chef, Loren Lys who shared her delicious chicken cacciatore in the Tefal Cook4Me Touch.
Ingredients:
1 tbsp Olive Oil
6 pieces of chicken (4 thigh cutlets, 2 drumsticks_
1 large onion
2 cloves garlic
1 small deseeded red chilli, finely chopped (or ½ tsp dried chilli)
1 tbsp tomato pste
Splash of red wine (Pinot Noir if you have)
2 bay leaves
1 sprig fresh rosemary
1 tsp dried oregano
1tsp sugar
1 small deseeded yellow capsicum, diced
1 small deseeded red capsicum, diced
1 large carrot, cut in large chunks
200 grams brown mushrooms, laved
150 grams cherry tomatoes
1 x 400 gram can of tinned tomatoes
1 x 700 gram bottle of passata
1 crushed chicken stock cube
150 grams pitted Kalamata olives
Chopped parsley to garnish
Method:
Go to browning/stir fry on your Tefal Cook4Me Touch until nbowl is hot. Add oil and brown chicken pieces in two batches.
Set aside.
Fry onion, garlic and chilli until onion is translucent.
Add tomato paste and cook off a little then add the wine. Stir for 1-2 minutes until alcohol has evaporated. Add the fresh/dry herbs and sugar.
Now add all the veggies and give everything a good stir. Follow with the tomato paste and diced tomato (add a little water to bottle/can to get all the sauce out and add that to the bowl_. Crush in the stock cube and season with salt and pepper.
Give everything a good stir until evenly mixed. Now return the chicken back to the bowls, arranging evening in the bowl and submerging in the sauce.
Select 'Pressure Cook' and set to 15 minutes.
Once cooking is complete stir in the olives.
Garnish with chopped parsley. Service this with pasta, rice or mash.
With the right home accessories, delicious recipes, and a few simple touches, you can transform your space into a cozy retreat where you can relax and enjoy the beauty of the season.
For further information about TVSN and explore the extensive range of premium brands, products, and services on offer, please visit www.tvsn.com.au.
#vcommerce | #digitalcommerce | #tvshopping | #digitalretail | #digitalretailing | #omnichannelretail | #retail | #experientialretail
- ENDS -
About us:
About TVSN
Australia and New Zealand's Premier Television Shopping Network, TVSN has entertained, informed and inspired customers for more than 27 years with exciting content, high quality products and exceptional customer service 24 hours a