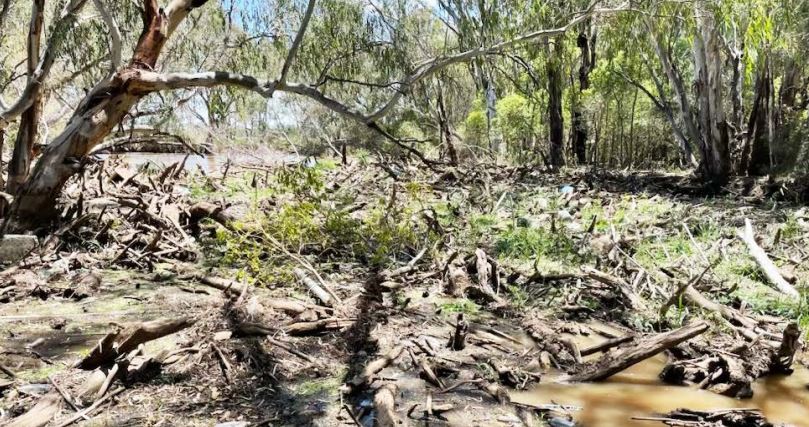 The State Recovery Committee has endorsed the partial removal of two Macquarie River debris rafts following expert consultant review, observations and community feedback.
The NSW Environment Protection Authority (EPA) will engage a contractor and coordinate the work which is expected to commence in August.
The extent of the rafts to be removed from the Macquarie River will be determined by a risk-based assessment with all works planned and coordinated in a manner that is safe to the environment. The focus of debris removal will be on hazardous, manmade and exotic woody debris.
Water flow, water quality and bank erosion will be considered during the assessment phase and may impact how some work is completed.
Monitoring will be undertaken before, during and after the proposed works.
An additional monitoring program covering erosion potential, water levels and flow and water quality along the length of the Macquarie River where other rafts are present will also be implemented. The data collected will be used to assess risk for these rafts and inform any future decisions on removal.
These monitoring programs, which will be led by the Department of Planning and Environment, will commence in June 2023.
The EPA would like to thank the local community for their ongoing patience and appreciates further understanding as these complex works are planned and executed safely.
We will continue to update the community throughout the planning and execution of these works and on the monitoring program. More information is available on the EPA website.
A community drop-in session will be held in Warren on Tuesday 27 June from 10 -12pm at the Window on the Wetlands Centre.
Background
Following the 2022 flood events in NSW, there are seven debris rafts along a approximtely 15km of the Macquarie River, starting approximately 10km north of Warren.
The EPA engaged independent environmental experts EMM Consulting to develop a report on the impacts of the rafts on the river and the surrounding environment.
We have been working with other government agencies to understand and guide possible actions related to the management of the rafts and also held a community drop-in session in Warren in February with other agencies including Local Land Services (LLS), Department of Planning and Environment, Environment and Heritage Group (EHG) and EMM Consulting.
An analysis of options for managing the rafts was completed and criteria were developed for raft management including removal activities.
Contact details:
Isaac Carey
isaac.carey@epa.nsw.gov.au