No matter our age or stage in life, most of us have something in common: retirement. Whether it's 40 years from now or five years away, there are things you can be doing to ensure you have enough superannuation to retire comfortably. This issue looks at how much super is enough. It breaks down the numbers needed to qualify for the full age pension, and offers valuable tips to maximise your savings for the future. Pick up your copy of the June issue of Money, out now.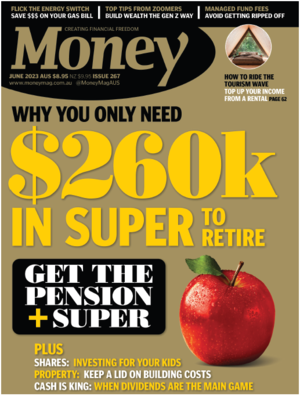 What's the secret sweet spot? It's where your nest egg combines with the full age pension to arrive at a figure comfortable enough to fund retirement. In this month's cover story, Susan Hely discovers just how much you need to retire in that secret sweet spot, whether you're a single or a couple – and offers tips to maximise your income in the years leading up to retirement.
In this month's cover story, you'll find:
The taper rate explained

Why many people have anxiety about retiring

Where to seek advice

How to handle debts

The truth about annuities or lifetime pensions
The June issue also features:
They're tech savvy, eco-conscious, and the fastest growing group of investors in Australia. Meet the zoomers, the young generation embracing financial independence and who could, quite frankly, teach the rest of us a thing or two about investing.
How to ride the tourism revival
In the three months to December 2022, spending by domestic overnight tourists increased by 34%, to $27.5 billion, compared with the same period in 2019. This is good news for investors in the tourism accommodation sector – those who offer rooms or homes on Airbnb, people with short-stay apartments or investors with Australian Real Estate Investment Trusts.
Beware variations when building
Building a new home can be one of the most exciting and rewarding experiences you will ever go through. However, it comes with a hefty financial commitment. It pays to be aware of variations – changes or alternations made during your build, which are outside the scope of your building contract.
Sparking household energy savings
As Australia makes a transition towards renewable energy, there's another transformation taking place in homes around the country: the switch from gas to electricity. We break down the climate and health benefits – and look at the costs of electrification, from electric heating to induction stovetops.
Top stories from moneymag.com.au this month:
About us:
About Money magazine
Money is Australia's longest-running, highest-selling and most-read personal finance magazine. Founded in 1999, Money magazine provides credible, independent and easy-to-understand financial information, helping readers to earn more, save more and make the most of their investments.
Money magazine is a Rainmaker Group company.
About Rainmaker Group

The Rainmaker Group was founded in 1992 and has established a reputation as a leading financial services information company in Australia providing market intelligence, industry research, media and publishing, events and consulting services.
Rainmaker produces strategic, tactical, and analytical information about the financial services industry predominantly for superannuation funds, investment managers, financial planners and consumers.
The Rainmaker Group comprises: Rainmaker Information, Financial Standard,
FS Aspire CPD, SelectingSuper, SelectAdviser, Industry Moves, FS Sustainability and Money magazine.
Contact details:
Julian Clarkstone
P. 02 8234 7514