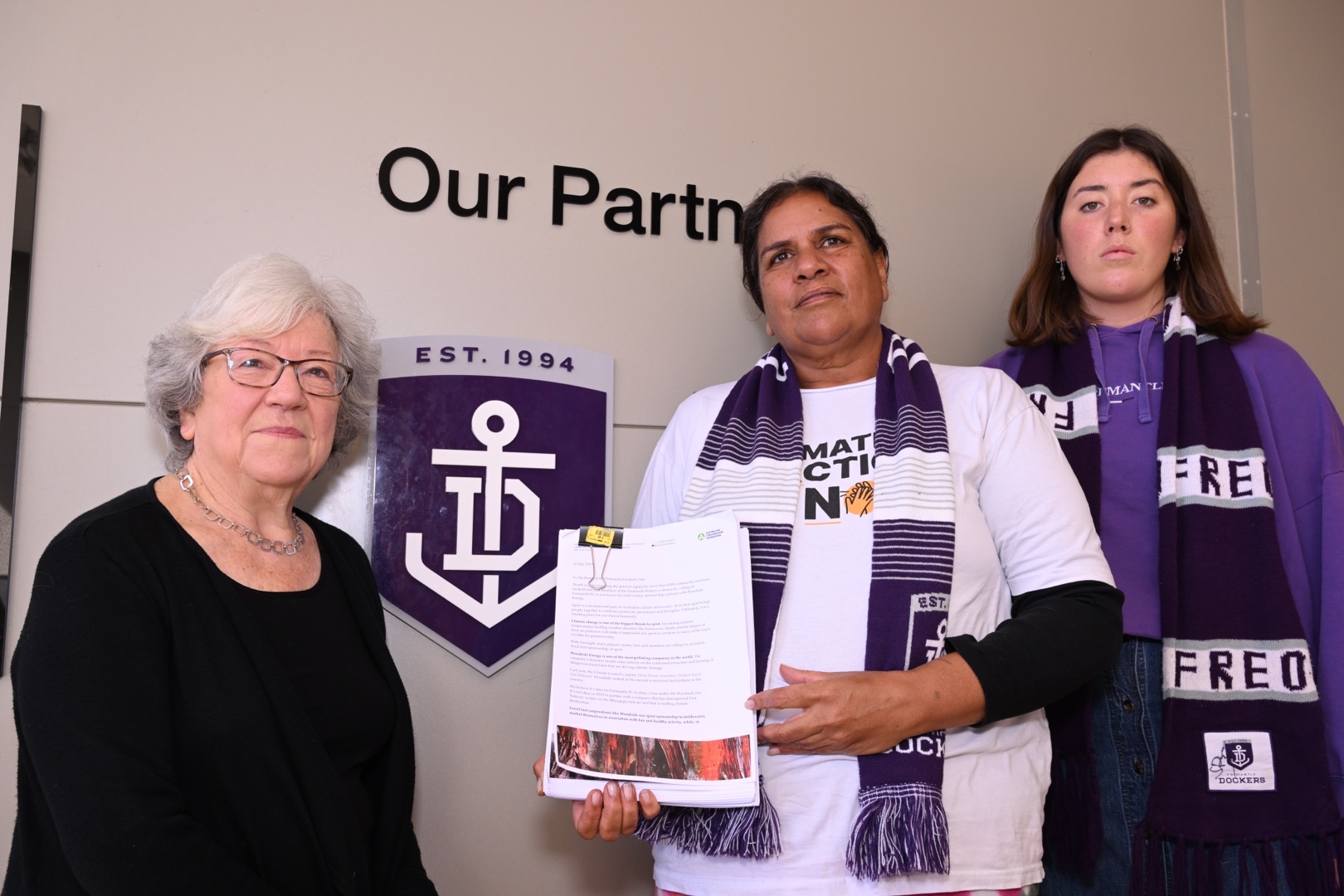 Former Western Australian Premier Carmen Lawrence and Australian Conservation Foundation First Nations Lead Josie Alec have delivered a petition with 8,000 signatures to the Fremantle Football Club, with footy fans and nature lovers calling on the Dockers to ditch fossil fuel giant Woodside as its major sponsor.
The current $2 million a year sponsorship deal between Woodside and the Fremantle Dockers expires in October this year and the football club is under intense pressure to drop the oil and gas giant.
Fremantle fan and Australian Conservation Foundation First Nations Lead Josie Alec said:
"It's time for the Fremantle footy club to draw a line under the Woodside era. It's not okay in 2023 to partner with a company that has disrespected First Nations' wishes on the Murujuga rock art and that is fuelling climate destruction. Woodside has shown it's not interested in getting out of fossil fuels. The company has new oil projects in the Gulf of Mexico, off the coast of West Africa and massive new gas fields planned in Western Australia. All at a time when climate scientists warn we cannot afford any new coal, oil or gas projects if we are to have a safe climate. Woodside is using Freo to greenwash its image."
Former Western Australian Premier and inaugural Dockers Number One ticket holder Carmen Lawrence said:
"Fremantle have been briefed on the terrible climate impacts of Woodside's new fossil fuel projects. They know what is at stake here. It is not acceptable that in the hottest year ever recorded, Freo would think it is acceptable to keep one of the world's largest fossil fuel companies as a major sponsor. We are urging Fremantle to make the right choice and be on the right side of history. This is about showing leadership and sending a strong message to young Australians increasingly worried about the state of the climate."
WA State coordinator for the Australia Youth Climate Coalition, Jemima Williamson-Wong (aged 21) said:
"Having grown up in Fremantle, I've always looked up to the leadership that the Dockers have taken on social issues. A Welcome to Country at games, being early supporters of AFLW and using Fremantle's Noongar name 'Walyalup' during Indigenous Round are all actions that demonstrate the Docker's leadership in standing up for what they believe in.
"Which makes the club's partnership with Woodside, one of the largest fossil fuel companies, confusing and conflicting with its aim to take climate action seriously as a club. This sponsorship has to end. Why would young people want to become a Fremantle member when it means partnering with a company blatantly fuelling climate destruction? I urge the Fremantle Dockers to take their claim of climate action seriously and end their partnership with Woodside."
Some quotes from other signatories to the petition:
"I want my team to be part of the solution – not make us feel fine about the problem. It's upsetting to see the Woodside logo on the players" – Val
"As a big time Dockers' supporter, it breaks my heart big time seeing Woodside on the guernsey" – Jane
"Time to prioritise the climate. Love my team but not our sponsor"– Phil "Could no longer justify membership while Woodside sponsors the team. Would love to get back on board next year when woodside is off the jumpers" – Paul
"We don't want to be associated with Woodside, I have removed the logo from any Dockers merchandise I have bought in recent years" – Denyse
Media contact: Josh Meadows, 0439 342 992