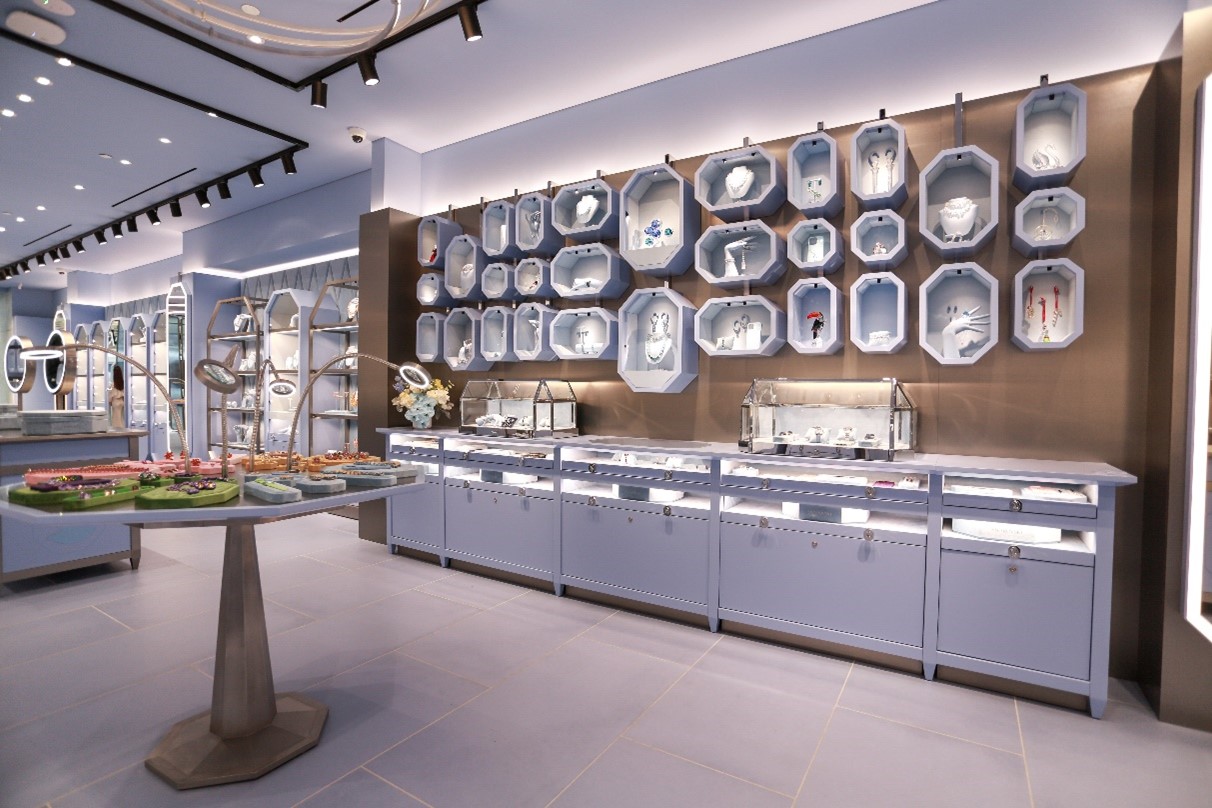 For over a year, Swarovski has been on a spellbinding journey with the reimagining of the brand and their retail stores. Commencing with the rollout of 27 Instant Wonder stores around the globe in 2021, the magical transformation has evolved into the culmination of an exciting new retail concept, with the newest addition store to be unveiled in Blacktown, early in August.
"Our new store concept is an incredible ode to the creativity, and the result of Swarovski's strong new vision, a realm where science and magic meet. Playful, aware, and always boldly chic, our aim is to reflect desires and dreams in the physical space of our stores, and to underline our new age of crystal living," says Giovanna Engelbert, Creative Director at Swarovski.
Designed to ignite imaginations, each entrancing store pays homage to the shimmering beauty of crystal, reflecting the uniquely captivating charm of the city itself. Mesmerising metallic finishes and fluted glass combine with chrome and silk touches throughout.
To reflect the brand's new visual identity, overseen by the beloved Swarovski Swan, guests will be welcomed into a sensorial retail space to discover an array of tempting and tantalising crystal treasures.
Encouraging exploration and self-expression, different areas in the stores are colour-blocked in Swarovski's signature new brand hues. With myriad octagons adorning the walls in a breathtaking display of product and pattern, the entire concept is a tribute to the wonder of crystal itself.
For the final flourish, packages wrapped up with signature gross-grain silks and velvets add to the entire spellbinding experience.
An absolute feast for the senses, our sumptuous new concept beckons you in; promising a world filled with magic and special moments.
STEP INTO BRILLIANCE AT BLACKTOWN
The new store is set to enter a recently renovated Westpoint Blacktown shopping centre and will be amongst other new brands entering the precinct including Uniqlo, Adidas and Sunglass Hut. The spellbinding crystal oasis will be 70sqm and themed in the new Swarovski blue. The colour represents water as a life force, an integral element in the production of crystal and the inspiration behind Waterschool, Swarovski's global water education program. Emotionally, blue evokes a sense of calm, tranquility, and power−qualities, which are embodied within the store concept and customer experience.
Discover the Blacktown assets here.
Masters of Light Since 1895
Swarovski creates beautiful crystals-based products of impeccable quality and craftsmanship that bring joy and celebrate individuality.
Founded in 1895 in Austria, the company designs, manufactures and sells the world's finest crystals, gemstones, Swarovski Created Diamonds and zirconia, jewellery, and accessories, as well as objects and home accessories. Swarovski Crystal Business has a global reach with approximately 2,400 stores and 6,700 points of sales in over 150 countries and employs more than 18,000 people. Together with its sister companies Swarovski Optik (optical devices) and Tyrolit (abrasives), Swarovski Crystal Business forms the Swarovski Group. A responsible relationship with people and the planet is part of Swarovski's heritage. Today this legacy is rooted in sustainability measures across the value chain, with an emphasis on circular innovation, championing diversity, inclusion and self-expression, and in the philanthropic work of the Swarovski Foundation, which supports charitable organisations bringing positive environmental and social impact.
For any requests, please reach out to: