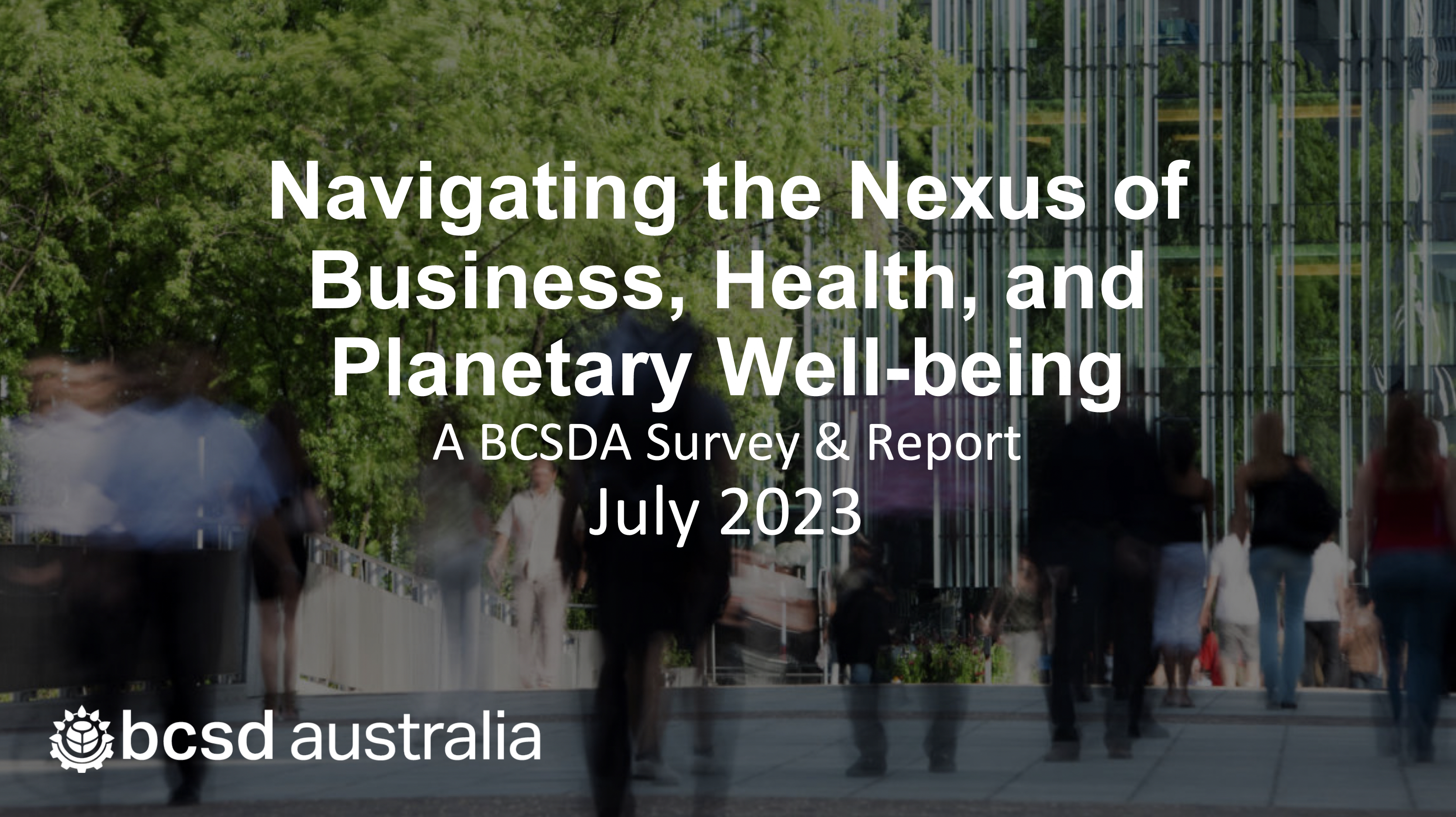 SYDNEY, 26 July 2023 - The Business Council for Sustainable Development Australia (BCSDA) today unveiled a comprehensive report and survey results that provide critical insights into the post-pandemic business landscape and sustainability trends. The findings were presented at a BCSDA webinar, offering Australian business leaders a roadmap for navigating the new normal.
The global landscape of work, consumption, and health is undergoing significant shifts, driven by technology, globalization, demographic changes, emergencies, and climate change. The COVID-19 pandemic has accelerated these changes, leading to a deterioration of social determinants of health and worsening health inequities. These changes present both challenges and opportunities for businesses.
The BCSDA survey, conducted between 11 July – 24 July 2023, delved into these trends within the Australian context. The survey garnered 97 responses, offering valuable insights into the impact of significant events on various aspects of society, with a focus on the COVID-19 pandemic's influence on Australian consumers' and employees' environmental attitudes.
Key findings from the survey include:
Mental Health

: A top concern for businesses, indicating a need for businesses to integrate mental health support into their workplace policies.

Consumer Priorities

: Business considers that Australian consumers are beginning to prioritize eco-friendly practices, indicating a market opportunity for businesses that align with these values.

Trust in Institutions

: The National Government is trusted the most by Australian consumers to drive progress towards a sustainable future, suggesting a need for businesses to align with government initiatives and regulations.

Employee Productivity

: Business is seeing factors driving productivity include work-life balance, employee well-being initiatives, and opportunities for skill development, suggesting areas of focus for businesses seeking to enhance productivity.

Barriers to Productivity

: Barriers include inadequate training and development opportunities, mental health issues, and poor work-life balance, indicating areas that businesses need to address to enhance productivity.
"The findings from our survey provide a roadmap for Australian businesses to navigate the new normal," said BCSDA CEO, Andrew Petersen. "Businesses have a pivotal role in achieving sustainable health outcomes and aligning with evolving consumer preferences. We hope these insights will guide businesses in developing strategies that drive resilience and success in the post-pandemic world."
BCSDA invites business leaders to delve deeper into the full report and survey findings to understand how these trends and insights can inform their business strategies.
About BCSDA The Business Council for Sustainable Development Australia (BCSDA) is a leading non-governmental organization driving ambition, action, and accountability by businesses on the sustainable development agenda.
For further information contact: Andrew Petersen, CEO, Business Council for Sustainable Development Australia, +61 412 545 994; andrew.petersen@bcsda.org.au
About us:
About BCSD Australia
The Business Council for Sustainable Development Australia (BCSD Australia) established in Australia in 1991is the national peak body representing forward-thinking companies and organisations that are working towards the transition to a sustainable Australia. BCSD Australia's mission is to accelerate this transition by making sustainable business more successful.
In 2014 the organization was appointed Australia's Network Partner for World Business Council for Sustainable Development (WBCSD).
BCSD Australia's members believe that by integrating social and environmental impacts with financial results, business lowers its risk profile, makes better decisions and creates the solutions needed to meet the Sustainable Development Goals.
BCSD Australia's members include leading Australian businesses, from all sectors, who share a commitment to economic, environmental and social development. It represents member companies, public sector enterprises and institutions, BINGOs and community organisations, which in turn represent 120,000 + Australian employees. www.bcsda.org.au.
t: +61 (0)2 8005 0780
m: +61 (0)412 545 994
w: www.bcsda.org.au
About WBCSD
WBCSD is a global, CEO-led organization of over 200 leading businesses working together to accelerate the transition to a sustainable world. We help make our member companies more successful and sustainable by focusing on the maximum positive impact for shareholders, the environment and societies.
Our member companies come from all business sectors and all major economies, representing a combined revenue of more than $8.5 trillion and 19 million employees. Our global network of almost 70 national business councils gives our members unparalleled reach across the globe. WBCSD is uniquely positioned to work with member companies along and across value chains to deliver impactful business solutions to the most challenging sustainability issues.
Together, we are the leading voice of business for sustainability: united by our vision of a world where more than 9 billion people are all living well and within the boundaries of our planet, by 2050. http://www.wbcsd.org (http://www.wbcsd.org)