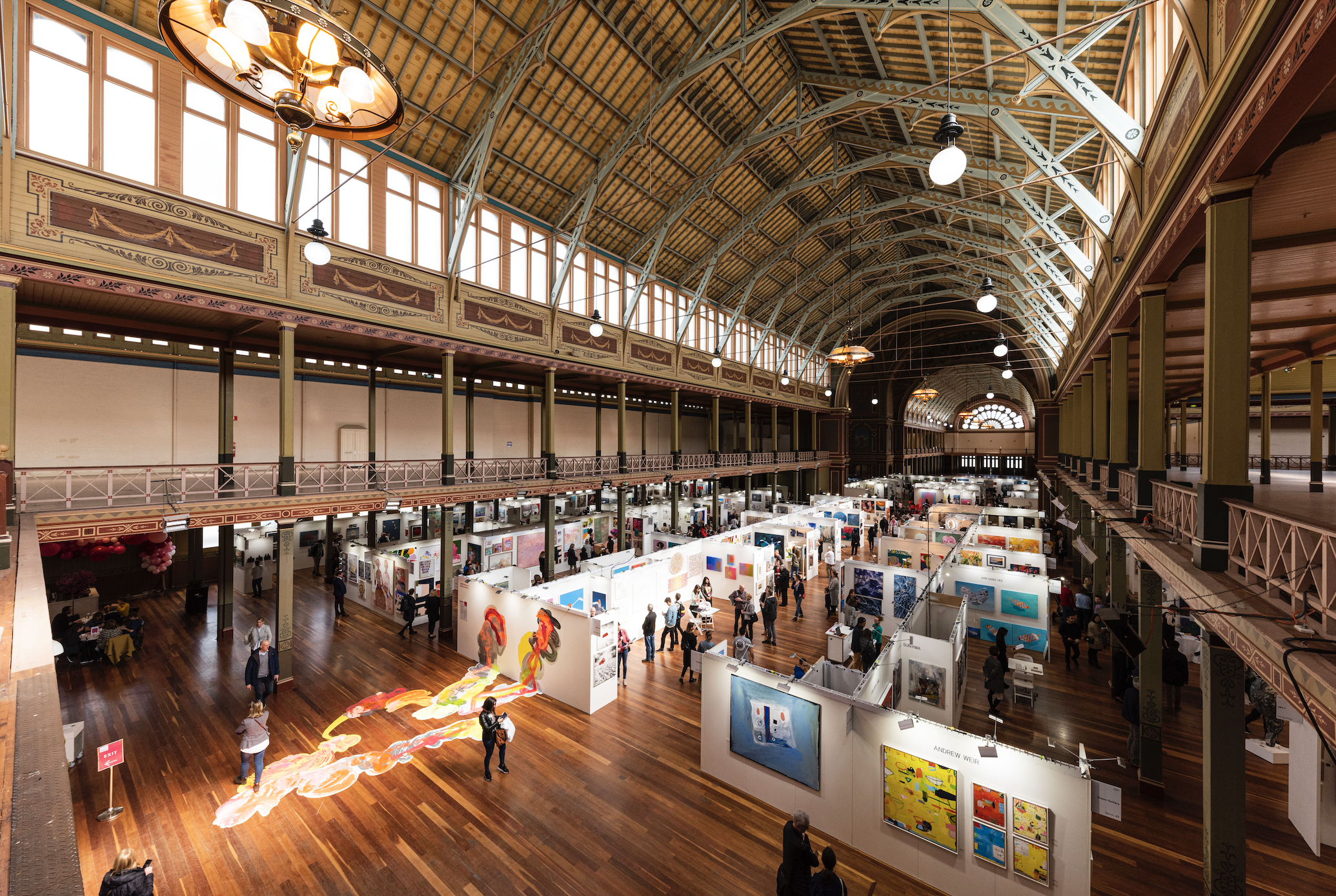 Affordable Art Fair, the world's largest art fair organiser, will make a triumphant return to Australia's cultural capital this winter with a bigger and brighter program set to engage and inspire art-loving locals. From Thursday, 31 August until Sunday, 3 September, the world-heritage-listed and newly restored Royal Exhibition Building will come alive with thousands of original works from over 50 of Australia's best boutique galleries alongside live painting sessions and vibrant installations.
Making its Australian debut in Melbourne four years ago, Affordable Art Fair has become a cornerstone event in the city's vibrant arts and culture scene. The eagerly anticipated creative fair will once again open its doors to thousands of art enthusiasts to browse and buy an extensive selection of contemporary designs, all priced under $10,000 and available to take home the same day.
The perfect day out for those seeking a fresh and fun art-buying experience, the 2023 Melbourne Fair will provide a unique opportunity for collectors and art enthusiasts to engage directly with featured artists and gallery owners, fostering a collaborative and approachable atmosphere. This year's headlining galleries will include Fair favourites Salt Contemporary from Queenscliff, leading Australian online gallery Bluethumb, SOL Gallery in Collingwood, and all-female collective Tits & Co. International gallery Diverso from Peru will also join the program alongside eleven first-time exhibitors debuting never-before-seen pieces. The full gallery line-up will be revealed later this year.
With over a decade of experience producing, managing and curating galleries and art events around the world, including Affordable Art Fair's Australian launch in Melbourne in 2019, Georgia Huestis is thrilled to step into her new role as Melbourne Fair Director for the event's 2023 return to her home city.
"What a delight it is to announce the Affordable Art Fair's return to the city where it all began and as the new local Director. Back under the grandeur of the Royal Exhibition Building and its newly restored heritage dome, the Melbourne Fair promises to be a dynamic four-day event with show- stopping installations and thousands of bespoke artworks from established and emerging artists. Our gallerists, artists and team adore helping fairgoers fall in love with original and affordable contemporary art. Whether visitors are an experienced collector or a first-time art buyer, we look forward to helping everyone find their perfect piece when the doors open in August," Huestis said.
In addition to a kaleidoscope of artworks, the Fair will host an engaging program of interactive workshops and guided tours, providing visitors with a deeper understanding and appreciation of the artistic process. Those inspired to put their creative capabilities to the test can get involved in a series of hands-on creative sessions hosted by TAFE Victoria. The crowd-favourite 'Discover: Young Talent' program will also return, offering five new emerging artists under the age of 35 the opportunity to showcase and sell their artworks to new audiences.
Whether visitors are seasoned collectors, art enthusiasts, or first-time buyers, Affordable Art Fair ensures an inclusive and enjoyable experience for all. The relaxed and welcoming atmosphere, coupled with tasty treats and its commitment to affordability, truly marks it as an 'affair of the he- arts'. Tickets are on sale from 1 June 2023.
EVENT INFORMATION
Affordable Art Fair Melbourne
Thursday, 31 August until Sunday, 3 September 2023
Royal Exhibition Building, Carlton
Website and tickets: affordableartfair.com/fairs/melbourne
Tickets on sale from 1 June 2023
Key Facts:
Link to imagery here
About us:
ABOUT AFFORDABLE ART FAIR
Affordable Art Fair was founded 24 years ago and has revolutionised the art market with its fun and accessible approach to art appreciation. It is a global brand with 14 fairs operating in 10 cities around the world including London, Brussels, New York, Stockholm, Amsterdam, Hamburg, Singapore, Hong Kong and Melbourne. Demonstrating a growing demand for quality, affordable and contemporary art, over 3.1 million people have visited an Affordable Art Fair since its launch in London in 1999 with a staggering 568,000 artworks sold valued at more than AU$820m. Affordable Art Fair focuses on the fun side of viewing and buying art, and seeks to put art into every home, no matter the size or buyer's budget. Affordable Art Fair is owned by Ramsay Fairs UK under the direction of Founder, Will Ramsay.
Contact details:
Aislinn Powell, Account Manager, aislinnpowell@tidepr.co