HelloFresh meals generate 72% fewer food scraps than other meals –
good news for humans and the environment, bad news for Bin Chickens.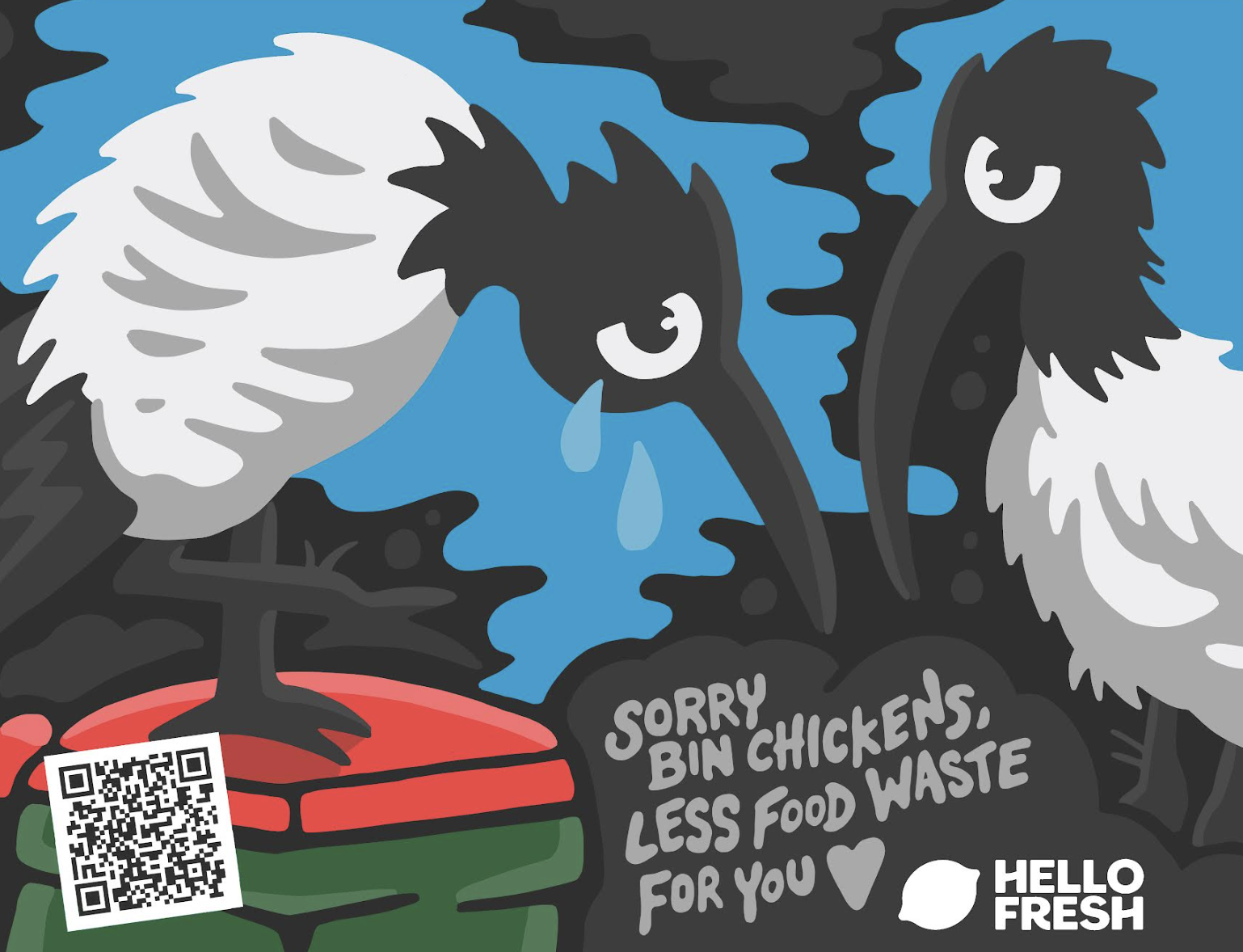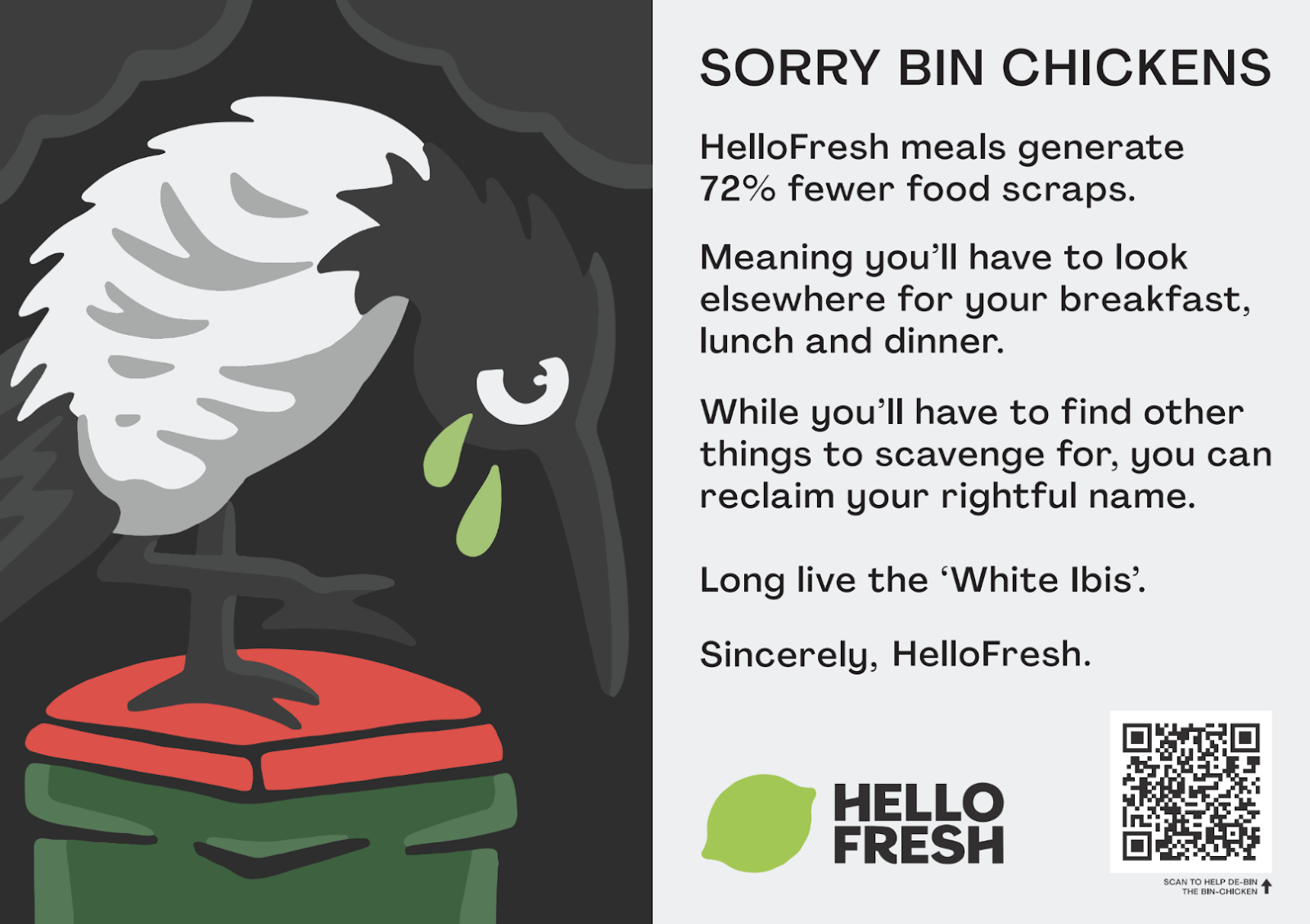 Australia, June, 2023: Australia's leading meal kit delivery service, HelloFresh, has issued an open letter to the unofficial bird of the nation, the White Ibis, about reducing one of their go-to food sources: food waste.
After all, HelloFresh meals generate 72% fewer food scraps during meal preparation than non-HelloFresh meals*, which is great news for humans, our wallets and the planet – but not for our notorious Bin Chickens.
To make sure our country's garbage-loving tip turkeys get the message loud and clear, HelloFresh has teamed up with artist, Sindy Sinn, to design 'The Great Bin Chicken Apology' mural on the side of Chippendale's Lord Gladstone pub.
A series of apologies have also been posted in Bin Chicken hotspots across Sydney, Melbourne, Brisbane and Adelaide. As Bin Chickens hit up their favourite back alley or local wheelie bin, they will quickly learn that as more Aussies choose HelloFresh, they will be increasingly out of luck.
HelloFresh Australia CEO, Tom Rutledge, addresses Australia's Bin Chickens: "For too long you've been roaming our streets like you own the place, raiding our bins for crumbs and leftovers. It's not okay. We know you think you need those delicious, carb-loaded snacks for your breakfast, lunch and dinner, but you don't.
"On behalf of all of us at HelloFresh, I want to express my sincerest apologies to Australia's Bin Chicken population. Because our meals generate fewer food scraps, it means less dumpster diving for you. It's time for you to reclaim your natural diet and your rightful name. Long live the White Ibis!"
The apology follows new research revealing 72% of Australians are worried about this national avian treasure and want to take a stand to make sure that the Bin Chicken enjoys a more palatable diet than our food scraps. Sadly, at the moment, one in five Australians (20%) believe that food scraps, food waste and garbage is the natural diet of the Ibis.
Bin Chicken expert, Dr. Grainne Cleary, reveals the ideal diet for these beloved birds:
"The Ibis did not always lend itself to the moniker of 'Bin Chicken'. In fact, the bird's typical diet is one of both land and water-based invertebrates, with particular favourites being crayfish, mussels and insects."
"Due to environmental degradation, recent decades have seen the Ibis move towards cities in search of the carb-dense nutrition of our food scraps. Though the birds have taken on a reputation in urbanised areas as pests, it is important to remember that bins are not their dining tables of choice - it's a result of being pushed out of their natural habitat."
Head to https://www.hellofresh.com.au/meal-kits/food-waste to find out how you can help 'de-bin' the Bin Chicken and reduce your food waste with HelloFresh.
ENDS
About us:
HelloFresh SE is a global food solutions group and the world's leading meal kit company. The HelloFresh Group consists of six brands that provide customers with high quality food and recipes for different meal occasions. The Company was founded in Berlin in November 2011 and operates in the USA, the UK, Germany, the Netherlands, Belgium, Luxembourg, Australia, Austria, Switzerland, Canada, New Zealand, Sweden, France, Denmark, Norway, Italy, Ireland and Spain. In 2022 HelloFresh delivered over one billion meals and reached 7.11 million active customers in Q4 2022. HelloFresh went public on the Frankfurt Stock Exchange in November 2017 and is currently traded on the MDAX (Mid-Cap German Stock Market Index). HelloFresh has offices in Berlin, Saarbrücken, New York, Chicago, Boulder, London, Amsterdam, Sydney, Toronto, Auckland, Paris, Copenhagen, Milan, Dublin and Barcelona.
Contact details:
Tayla Davie