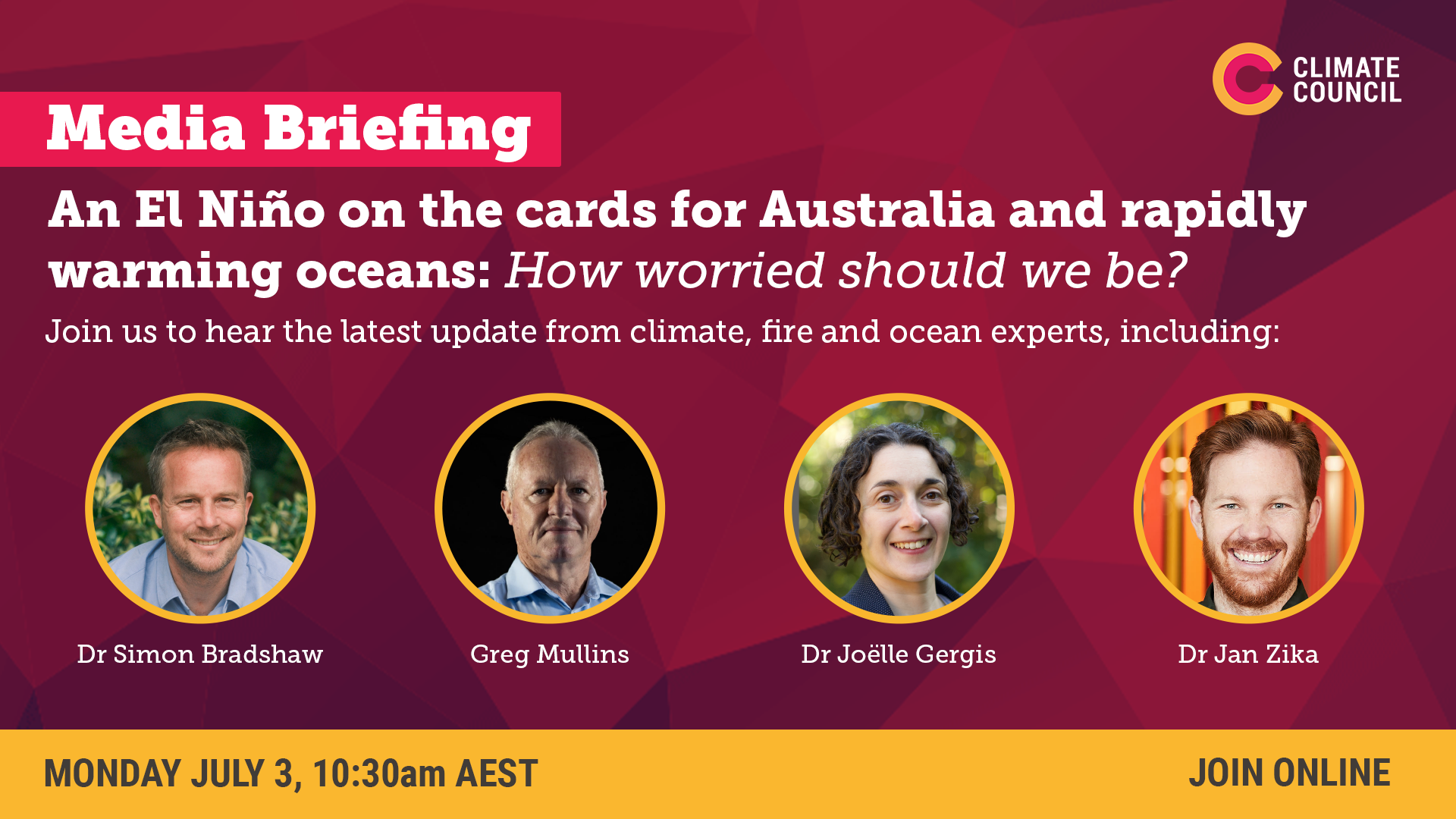 Good morning,
This week, the Bureau of Meteorology will release its next climate update. As we await declaration of an official El Niño event for Australia - an event that scientists are tipping could be 'the strongest El Niño ever measured, by far' - the Climate Council invites journalists to join a half-hour online media briefing via Zoom at 10.30 (AEST) today.
The briefing is accompanied by a science backgrounder for media professionals, please find this attached.
Learn what the pending super El Niño might look like for Australia, and the science behind what's driving it. We will also cover how our emergency services personnel are grappling with the prospect of the return of fires and drought and concerns we may be in for another Black Summer-level fire event in the near future.
Finally, we will unpack the latest scientific data on rapidly warming oceans and answer the question: how worried should we be?
Experts include:
Greg Mullins - with an update on projected fire seasons in 2023 and 2024 - Mr Mullins is an internationally recognised expert in responding to major bushfires and natural disasters, with more than 50 years' experience as a firefighter and is the former Commissioner of Fire & Rescue New South Wales. Mr Mullins is the founder of the Emergency Leaders for Climate Action group.

Dr Joëlle Gergis - on the conditions and climate drivers behind a pending 'super El Nino'. Dr Gergis is a Climate Council expert, author and award-winning climate scientist with the Australian National University. Dr Gergis is an internationally recognised expert in Australian and Southern Hemisphere climate variability and change.

Associate Professor Jan Zika - on rapid ocean warming in recent months and implications for Australia and globally. A/Prof Zika is a leading oceans, water and changing climate expert at the University of New South Wales. He leads a team of researchers who use ocean observations to demonstrate that as the climate warms, wet parts of the globe are getting wetter and dry parts are getting dryer. A/Prof Zika was a co-author on a recent Nature Reviews paper into rapidly warming oceans worldwide.

Dr Simon Bradshaw, Director of Research at the Climate Council (facilitator)
Journalists are encouraged to join, ask questions and include commentary from our scientists in their reporting on these issues. A recording will be shared post-event. Join via this Zoom link.
Kind regards,
Jane Gardner
Director of Communications
Climate Council
Contact details:
Jane Gardner
Director of Communications, Climate Council
0438 130 905
jane.gardner@climatecouncil.org.au