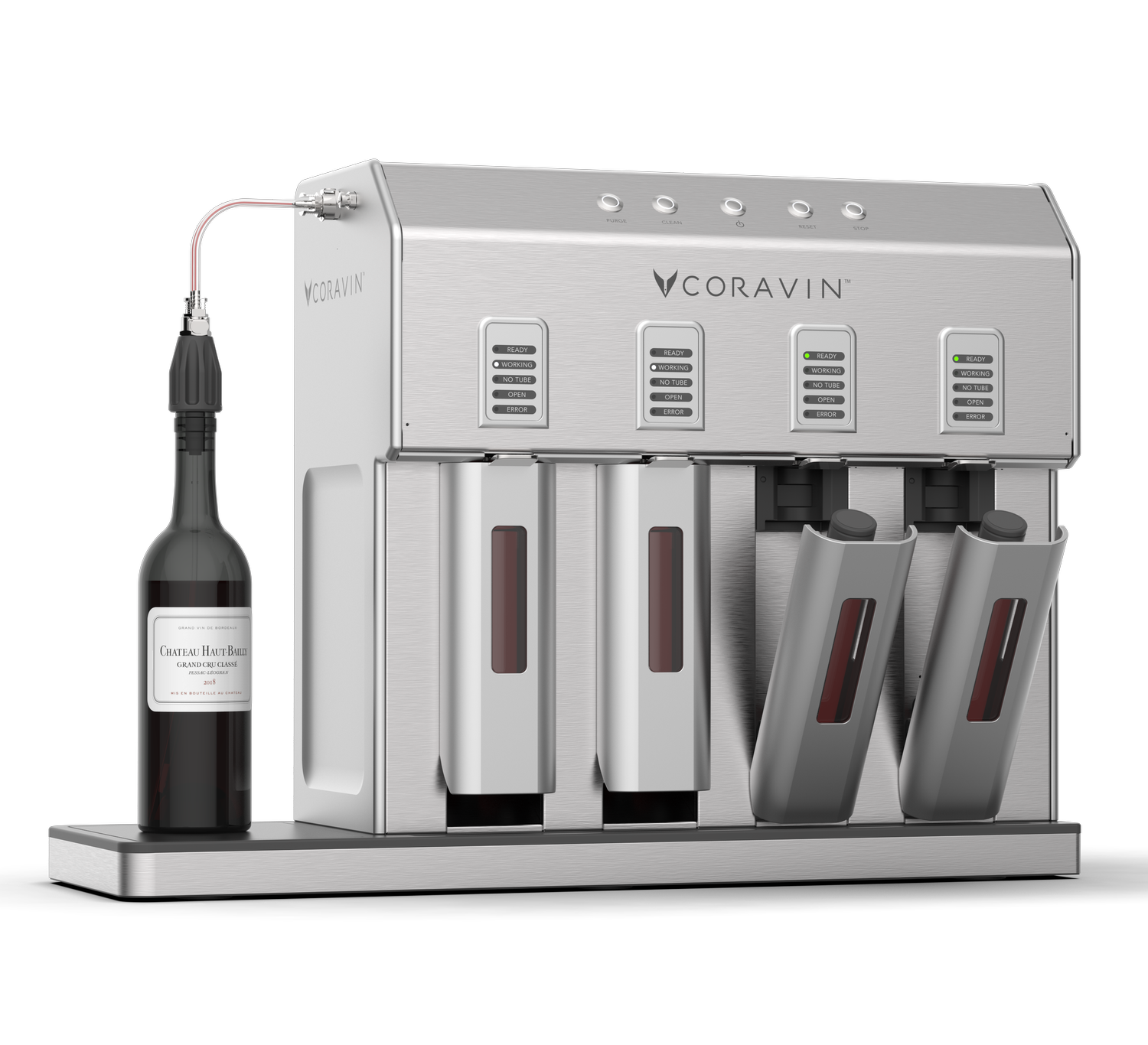 The industry-changing device is designed to help businesses share preserved sample bottles of wine with wider audiences, meeting the younger consumer demand of "try before you buy".
Disrupting the wine category yet again, Coravin Vinitas™ is a revolutionary small footprint device that transfers wine into smaller consumables with up to 12 months of preservation, as tested in-house by Coravin's engineering team and sommelier advisor, as well as third-party labs.
Coravin Vinitas™ allows businesses an easier and more sustainable method to meet the growing consumer demand to sample before making a purchase – an on-site operation that negates the need for fast consumption, maintains, quality control, reduces sample and shipping budgets as well as transport to distant re-bottling facilities.
"Until now, there has not been a scalable automated product that creates single-serve formats and maintains the quality of the wine inside for months, as opposed to weeks," said Greg Lambrecht, Coravin founder and inventor.
"With Coravin Vinitas™, companies, hospitality services and trade can sample and fractionalize any bottle, any time, on-site, ensuring the highest quality for businesses and consumers, no more needlessly shipping full-size bottles where only a taster is needed," he continued.
Coravin CEO, Chris Ladd said, "during the early days of the pandemic, we spotted a gap in the market for this type of self-use fractionalization device that would allow our customers to send samples, preserved for months to their trade customers and consumers."
"Since then, we have continued to see the wine industry struggle to connect with a younger consumer audience who have far more options to choose from than previous generation. Coravin Vinitas™ addresses this need and is primed to change the way the world consumes wine."
The premier global wine technology revolutionised the way wine was consumed 10 years ago with the launch of its preservation system that pours wine without removing the cork and has spent eighteen months building and testing its biggest invention to date, Coravin Vinitas™.
The Coravin Vinitas™ is devised for wineries, distributors, retailers and wine schools and the brand has partnered with Alkina Winery and Langton's, Australia's home of wine.
For further information and to learn more about Coravin Vinitas™ or schedule a live demonstration, visit www.coravinvinitas.com. A sample demonstration can also be found here.
Key Facts:
Hi-res images can be accessed HERE
About us:
ABOUT CORAVIN INC.
Coravin, Inc. is the first and only global wine technology on a mission to change the way the world experiences wine. Through our innovations, we empower wine enthusiasts, connoisseurs and trade professionals alike to re-imagine the way they taste, serve, drink, sell and market wine.
Its award-winning Coravin wine preservation systems enable wine lovers to pour any wine, in any amount, and preserve the life of their bottles for weeks, months or even years.
With a presence in more than 60 countries, consumers can find Coravin products on the shelves of leading retailers, in the finest wine shops, and powering some of the world's best by-the-glass wine programs in restaurants and social clubs around the world.
Contact details:
Mimi Gibson, Account Director, mimigibson@tidepr.co
Olivia Jacobs, Account Manager, oliviajacobs@tidepr.co