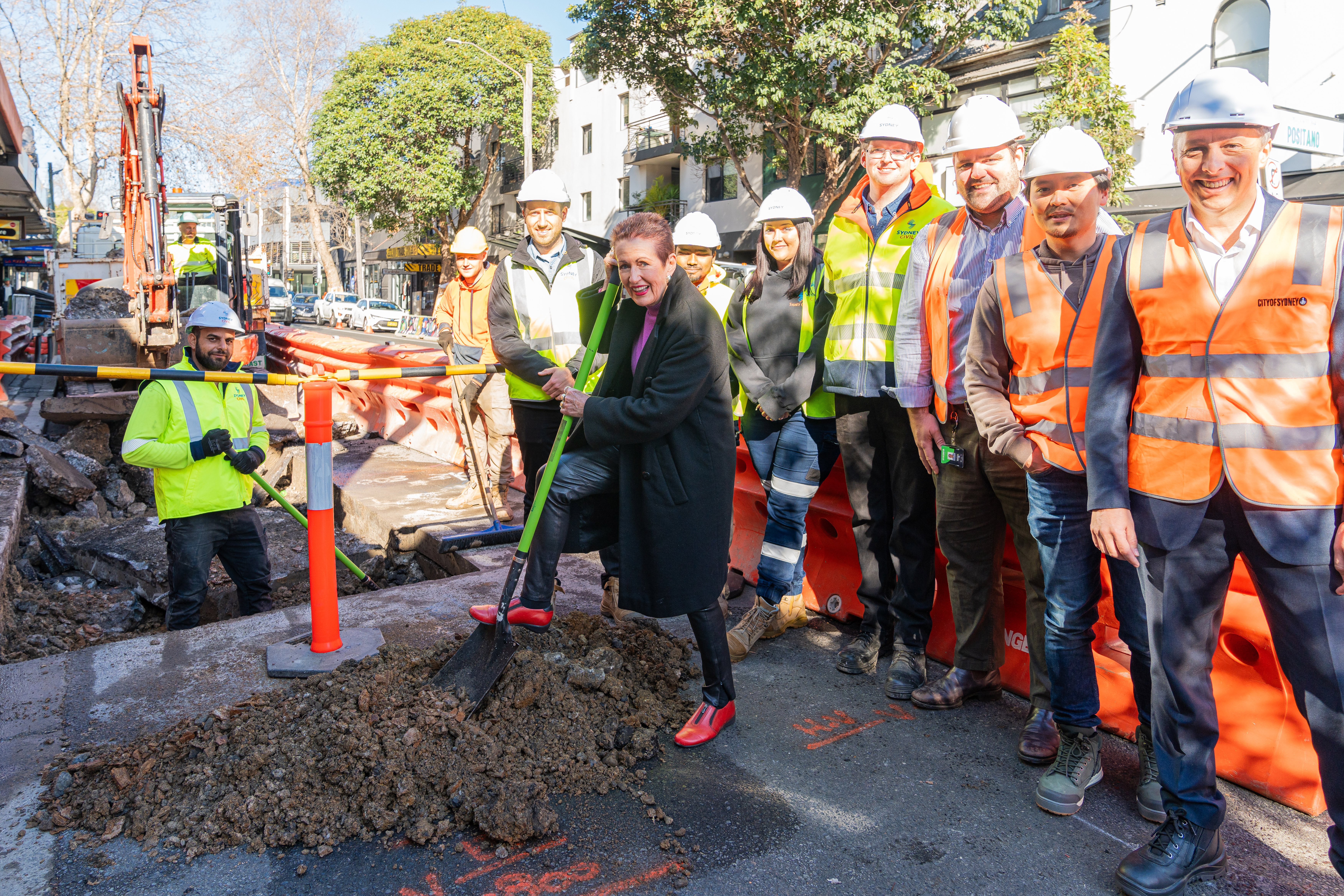 Construction has begun on the City of Sydney's multi-million-dollar revamp of Crown Street in Surry Hills.
Lord Mayor of Sydney, Clover Moore AO turned the first sod to mark the start of works that will include wider footpaths, undergrounded power lines and more plants and tree canopy cover.
"Crown Street is the heart of Surry Hills, and this upgrade will make it greener, safer and more attractive," the Lord Mayor said.
"By improving main streets and providing more space outdoors there is both extra room for businesses and residents. This encourages customers to linger, increasing trade in a pleasant environment.
"You only have to look at the work we've done on George Street, creating a fantastic, fully pedestrianised boulevard, or the recent upgrade to Macleay Street in Potts Point, to see what a difference our street upgrades make.
The Lord Mayor said Council unanimously endorsed final designs for the project after six months of community consultation and responding to local business needs.
"After we released the initial draft design, we spent six months listening to businesses and residents, responding to concerns and feedback. The City undertook an independent peer review of the original design to ensure the upgrade works for the whole community. Construction will be carefully staged to limit disruption to businesses and residents."
The $34 million upgrade will improve the space between Devonshire and Oxford streets and will include:
• wider footpaths, new paving and intersection enhancements to provide more space for people walking
• efficient and high-quality lighting on multifunction smart poles
• improved street furniture like bubblers, benches, bins and bike racks
• new garden beds along the streets
• more street trees boosting canopy cover by 50 per cent.
"From today, work begins widening footpaths, installing beautiful paving, undergrounding electrical cables, planting new trees and landscaping and installing bubblers, bike racks and seating," the Lord Mayor said.
"Excitingly, the upgrade will also provide a blueprint for how we can make temporary on-street dining spots permanent where appropriate – with open, paved spaces bounded on all sides by trees and plants. This will create inviting, multi-use spaces where people can walk and gather when they are not being used by businesses.
"We are investing in our communities to help them combat our changing climate with more greenery and active transport options, while making our streets more inviting and better-placed to support local businesses."
The design means the street will see an increase of 10 parking spaces and a 50% increase in tree cover when completed.
The section of Crown Street where new restaurant Tongue Thai'd Eatery is located is the first to be improved, and its owner, Paul Gambin, is eager to see the results.
"A more modern dining experience along Crown Street with the European style alfresco will make the whole area more customer friendly," Mr Gambin said.
"As Tongue Thai'd is very new to Crown Street, we're unsure of the impact. But I'm quite excited about the upgrade and hearing about how the City will manage things makes me confident of the outcome."
The first phase of works will improve the area between Oxford and Campbell streets and take around six months to complete, weather and other conditions permitting.
For media enquiries contact Andrew Booth: 0482 530 091 or email abooth@cityofsydney.nsw.gov.au
For interviews with Clover Moore, Lord Mayor of Sydney contact Zoe Delamare. Phone 0477 263 615or email zdelamare@cityofysydney.nsw.gov.au
For more stories from your local area, visit news.cityofsydney.nsw.gov.au