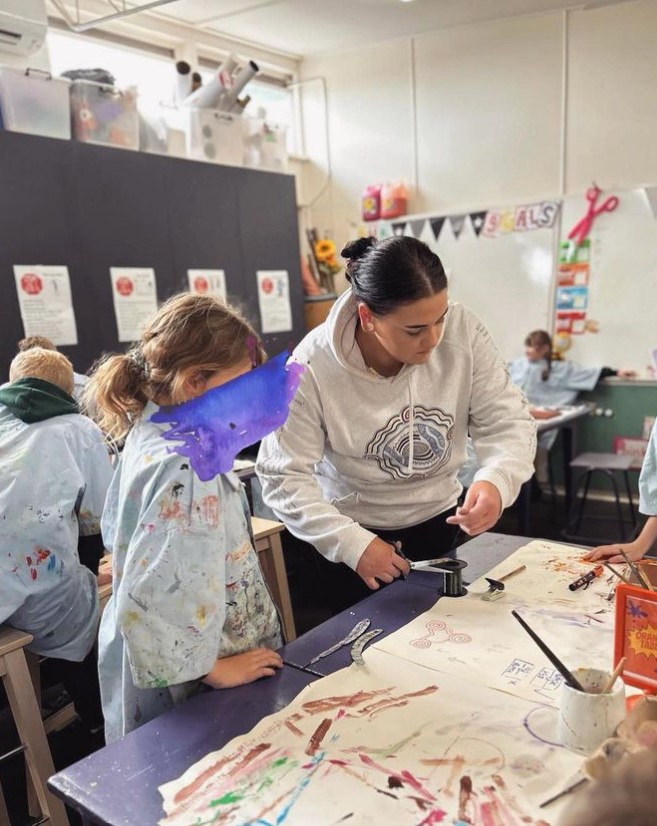 Gunai Kurnai woman and artist Montana McStay is working to keep First Nation's culture, language and history alive in the Gippsland Region, with a new program aimed at educating and engaging the younger generation.
The 25-year-old woman is working with disadvantaged First Nation children in schools and youth centres to help them understand their culture, traditional language and stories behind artwork through her business, Inala Art & Design, "I didn't get the chance to learn about my culture when I was little. My nana kept a lot to herself, which is very common with our Elders. I was sad that I didn't get to ask about everything, which is what has inspired me to go into schools and youth centres and teach First Nation art, and culture," Montana said.
"A lot of language has been lost in the Gippsland region. I've had a few classes at some schools where the kids are so intrigued about the language, and culture and they have a lot of questions about it. It's not their fault as no one is really around to teach them. It's important to teach them what our song, dance and symbols in art means, and how it can be represented in a lot of different ways."
Montana's idea for Inala Art & Design began when she started painting art in Year 12. Inspired by the strong, resilient women in her family, Montana started painting portraits of her mother and grandmother. Her first commissioned piece was for her own high school which inspired her to do more commissioned work for individuals and corporations, "I was doing it as a hobby but I found multiple people were approaching me wanting to learn or have commissioned art and murals done, so that's basically what inspired me to start my business."
Montana used IntoJobs Self Employment Assistance program in Gippsland to help launch her business, "The IntoJobs team were able to put me in the right direction as far as all the legal things for my business – and what to do in terms of copyrighting and insurance as I don't have a gallery and work primarily at home. I was able to develop my business further through the program. They were really good to bounce ideas off and I don't feel that way about a lot of people," she said.
"There's so much that goes into running a business too that you just don't know about. For someone who even has just an idea they're wanting to launch, or even design a basic business guide, it was such a good program to be involved in. You are connected to a lot of people, and it really gives you an idea of what you are getting into and what you need to do in order to have that good reputation as well," Montana said.
The Self Employment Assistance program, delivered by IntoJobs, part of the IntoWork Group, offers practical, and confidential guidance and support on all aspects of starting and running a small business – from coaching, registering business names, website domains, business plan development, health checks, setting up an ABN through to financial, marketing, and strategic advice.
Services are designed to offer maximum flexibility and are tailored to individual business needs, with training delivered by highly qualified and highly experienced business coaches across a range of industry and service-based professions.
IntoJobs Business Navigator Brenda Stobo said it was very inspiring to see Montana grow her passion and purpose into a viable business, "Montana is very passionate about educating people about First Nation culture. She has shown great progress in her business as a young entrepreneur, and is a very inspiring young women who I believe will be a great role model for First Nations youth in Gippsland."
Montana said she is excited to develop her business further and educate more students in the region, "It's really exciting to have the kid's involved – there are some who have come from traumatic pasts and others have intellectual disabilities and autism, so getting them to engage and express their feelings through art has been amazing."
About us:
About IntoWork
Established in 1983, IntoWork Australia is a non-for-profit organisation that has grown to become a leading national provider of employment, skills and support services that promote educational, economic and social participation for Australians from all walks of life. IntoWork employs more than 1600 in over 150 locations, supporting 100,000 individuals in employment and individualised support and working closely with 60,000 businesses nationally.
About IntoJobs
IntoJobs, part of the IntoWork Group, was born out of an identified need to provide the highest quality of advice, support and care to Australians looking to enter or re-enter the workforce. Through its delivery of Workforce Australia employment services, IntoJobs core belief is that there is 'a job for everyone'. Leveraging the collective experience of the IntoWork Group of companies, IntoJobs delivers employment and career transition services across Australia, supporting thousands of clients and businesses into sustainable futures.
Contact details:
Eilish Massie, Media Communications Specialist
0448771045