With the soaring cost of living, there's nothing better than finding that bit of extra cash you didn't know existed. Whether it's forgotten gift cards, lost super or credit card cashback deals, this issue looks at the simple things you can do to score free money without getting a second job. It reveals practical cost-saving tips and investment ideas to help boost your budget. Pick up your copy of the July issue of Money, out now.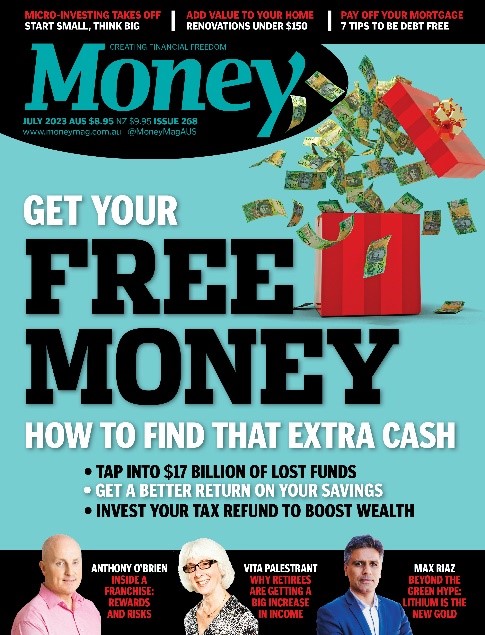 Freebies often go unnoticed, yet they play a crucial role in frugal living. In a time where rate hikes and inflation are making it less affordable for Australians, harnessing the potential of free money can help make or break our financial situation. In this month's cover story, Nicola Field unveils her top 12 strategies to harvest the honey pot of free cash, including what you can do to battle rising living costs.
In this month's cover story, you'll find:
Where to look for forgotten cash that could be yours
The power of loyalty programs

The best places to look for the latest cashback deals

How to invest your tax refund and boost wealth
The June issue also features:
7 tips to be mortgage free
Continued rate rises have homeowners prioritising debt reduction without delay. In these tough financial times, we break down what you can do to pay off your mortgage sooner despite interest rates increasing – including requesting a rate review, optimising your credit score, and living on a credit card.
Rewards and risks of franchising
Franchising can give small enterprises the power of a big brand. With many Australians having a personal goal of self-employment, franchising could be an option. In this article, Anthony O'Brien discusses the key factors to consider when franchising, plus the perks involved.
Budget-friendly renovation ideas
Property maintenance is necessary in retaining the value in your property. Even with a tight budget of $150, Tracie Ellis breaks down what you can do to elevate your home and ensure your living experience is enjoyable – from simple things such as upgrading your lighting, to improving security and DIY projects.
Micro-investing takes off
In the financial year to June 2022, micro-investing accounts grew by 845,000. The growth in its accessibility has opened the world of investing by allowing users to invest in assets with smaller amounts of money, as little as a few dollars. To maximise return, we look at why it's important to align investment strategies with goals and objectives, rather than simply building wealth.
Top stories from moneymag.com.au this month:
About us:
About Money magazine
Money is Australia's longest-running, highest-selling and most-read personal finance magazine. Founded in 1999, Money magazine provides credible, independent and easy-to-understand financial information, helping readers to earn more, save more and make the most of their investments.
Money magazine is a Rainmaker Group company.
About Rainmaker Group

The Rainmaker Group was founded in 1992 and has established a reputation as a leading financial services information company in Australia providing market intelligence, industry research, media and publishing, events and consulting services.
Rainmaker produces strategic, tactical, and analytical information about the financial services industry predominantly for superannuation funds, investment managers, financial planners and consumers.
The Rainmaker Group comprises: Rainmaker Information, Financial Standard, FS Sustainability, FS Aspire CPD, Industry Moves and Money magazine.
Contact details:
Julian Clarkstone
P. 02 8234 7514