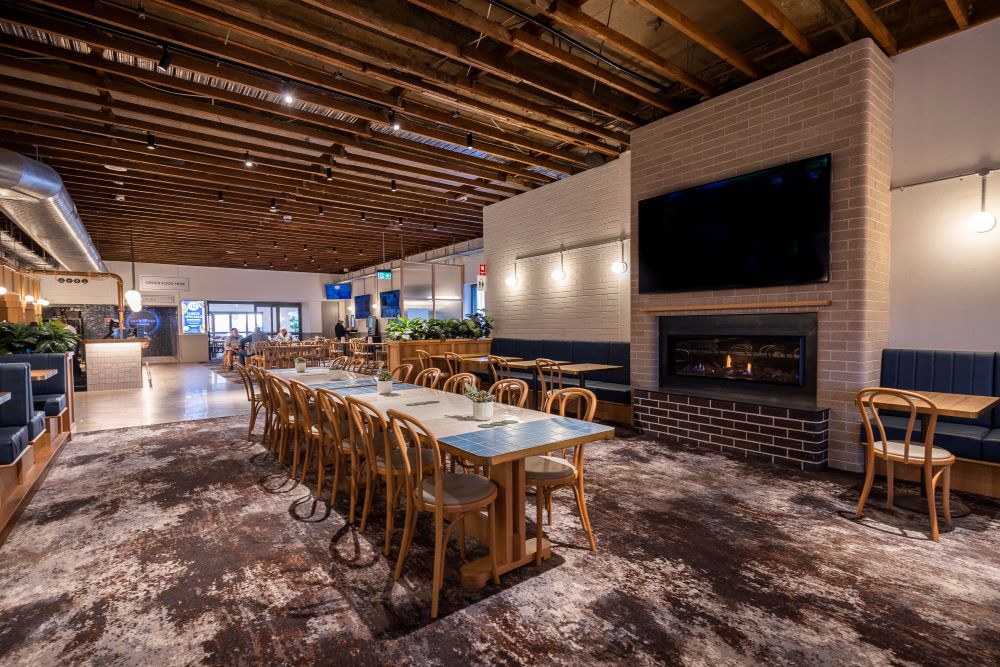 NEWS RELEASE
FOR IMMEDIATE RELEASE
July 13, 2023
Hotel Seven Hills Announces Grand Reopening After an Extensive Redevelopment
Hotel Seven Hills is thrilled to announce its highly anticipated reopening this weekend, following a comprehensive redevelopment and significant upgrades to the beloved pub. The revitalised venue now boasts a remarkable transformation both internally and externally, featuring a brand-new bistro, sports bar, beer garden, kids indoor play area, and an outdoor splash pad.
With the rising popularity of local pub-style venues, Hotel Seven Hills has tapped into the pulse of the community, recognising the growing trend of families seeking value for money and all-encompassing entertainment experiences. This bold redevelopment project, conceived in the wake of the global pandemic, addresses the pressing need for a contemporary haven within the local community, a place where friends can gather, relax, and make lasting memories.
To celebrate the reopening, Hotel Seven Hills has prepared an exciting lineup of events scheduled from Friday through to Sunday, promising an unforgettable experience for the local community.
The festivities will commence on Friday night with an electrifying live show by Western Sydney's well-renowned band, The Hype Boys. Attendees can expect a high-energy performance, setting the stage for an incredible weekend ahead.
On Saturday, Sky Racing's Racing HQ will be broadcast live from the venue from 9am. Patrons can join special guests Dave Stanley and Anthony Manton as they commentate the day's live sporting events. They will also be hosting a Punters Challenge and more for participants on the day.
Former Parramatta Eels player Brett Kenny will also be making a guest appearance to meet the local community on Saturday morning.
Saturday and Sunday's festivities will also be perfect for families, ensuring an enjoyable day out for all. Saturday's itinerary from 12pm includes a captivating petting zoo, talented superhero kids entertainers, face painting, and fairy floss. Additionally, live music by The Dave White Duo will provide the perfect backdrop to Saturday evening's celebrations.
Sunday's lineup is equally thrilling, featuring a reptile show, superhero kids entertainers, skilled balloon artists and a refreshing snow cone station.
The redevelopment has injected new life into the venue, resulting in a versatile space that caters to the entire local community. With its enhanced facilities, the establishment is poised to become the go-to destination for entertainment, dining, and relaxation in Seven Hills and surrounding suburbs.
Hotel Seven Hills invites everyone to join in the celebration and experience the remarkable transformation firsthand.
For more information and event details, please visit Hotel Seven Hills' website at www.hotelsevenhills.com.au or contact Media liaison Alanna Jordison on 0401 392 495 or via info@personacreative.com.au .
About Hotel Seven Hills:
Hotel Seven Hills is a prominent establishment located in Seven Hills, Sydney. With its recent redevelopments and upgrades, it has been transformed into a vibrant and inclusive venue, offering a range of amenities such as a bistro, sports bar, beer garden, kids indoor play area, and outdoor splash pad. The hotel aims to provide exceptional experiences to the local community through its diverse offerings and commitment to quality.
### END ###
Contact details:
Contact Alanna Jordison Media Liasion on 0401 392 495 or via email info@personacreative.com.au