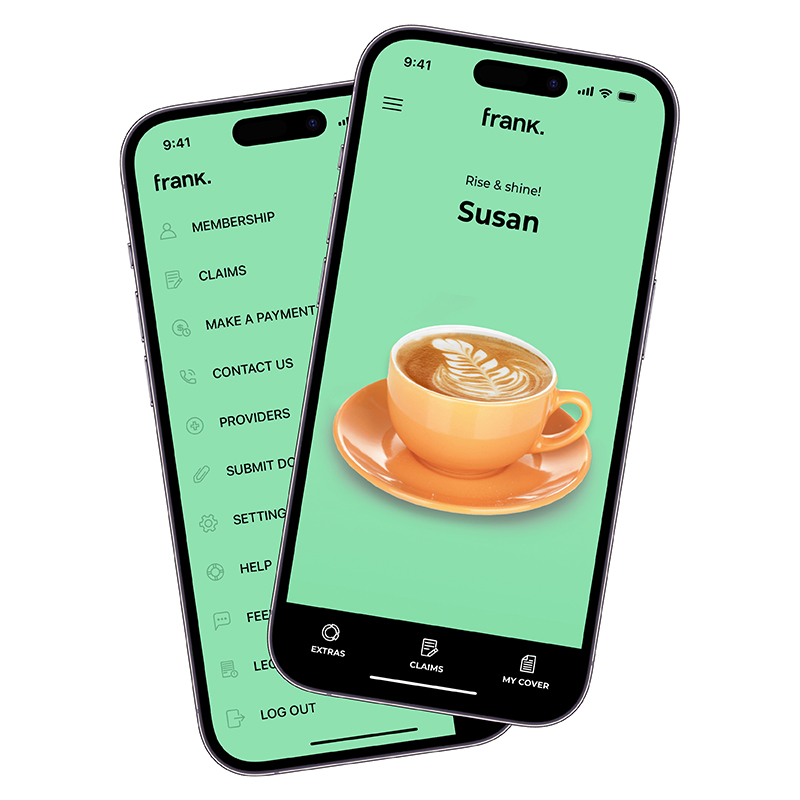 Tuesday 25 July 2023
Managing your health insurance should be as easy as sending a text or liking your fave influencer's latest Instagram photo dump. So, from today, Frank will be available in the palm of your hand, in our new app.
You can log a claim in under 60 seconds with the snap and claim feature, a task that can take up to 10 minutes via the website. You can also use Live Chat* to speak to real people located in Geelong, Victoria, about your policy, which means no awkward phone convos if you have any curly questions about your cover.
The new Frank app has been designed to help members manage their health insurance admin on the go. Secure log-in, using biometric technology, means no more remembering your password and logging into the Frank website any time you need to view your cover or make a payment.
And don't worry android users, we've got you covered too. The app is available for download for all smart phone users.
Top features include:
Make a claim quickly with speedy photo and PDF upload options
Live Chat* for help relating directly to your policy
Access to claims history
Pay your premium by credit card, debit card or direct debit
View your cover and check your benefits and limits
View payment and edit contact details
Submit and store documents such as Lifetime Health Cover Loading and Rebate
Request a new card
David Greig, CEO of Frank Health Insurance underwriter GMHBA, said the app was designed to offer customers a seamless digital experience: "Members choose Frank because it's simple, easy to manage and great value. The app provides members with an intuitive and secure platform to manage their health insurance needs effortlessly."
* Live Chat available 9am to 4.30pm, Monday to Friday.
Key Facts:
Available on Google Play:
Frank Health Insurance - Apps on Google Play
and on the Apple App Store:
Frank Health Insurance on the App Store (apple.com)
About us:
About us
Frank has been providing members with simple, easy to understand health insurance since 2009. As Australia's leading not for profit online health fund (a subsidiary of GMHBA), delivering affordable health cover and great customer service is what Frank does best. Premiums are invested into providing better service and products, rather than shareholders. We offer convenience through our online experience.
Contact details:
Media enquiries
Head of Corporate Communications Meg Rayner: 0458 418 823 or megrayner@gmhba.com.au