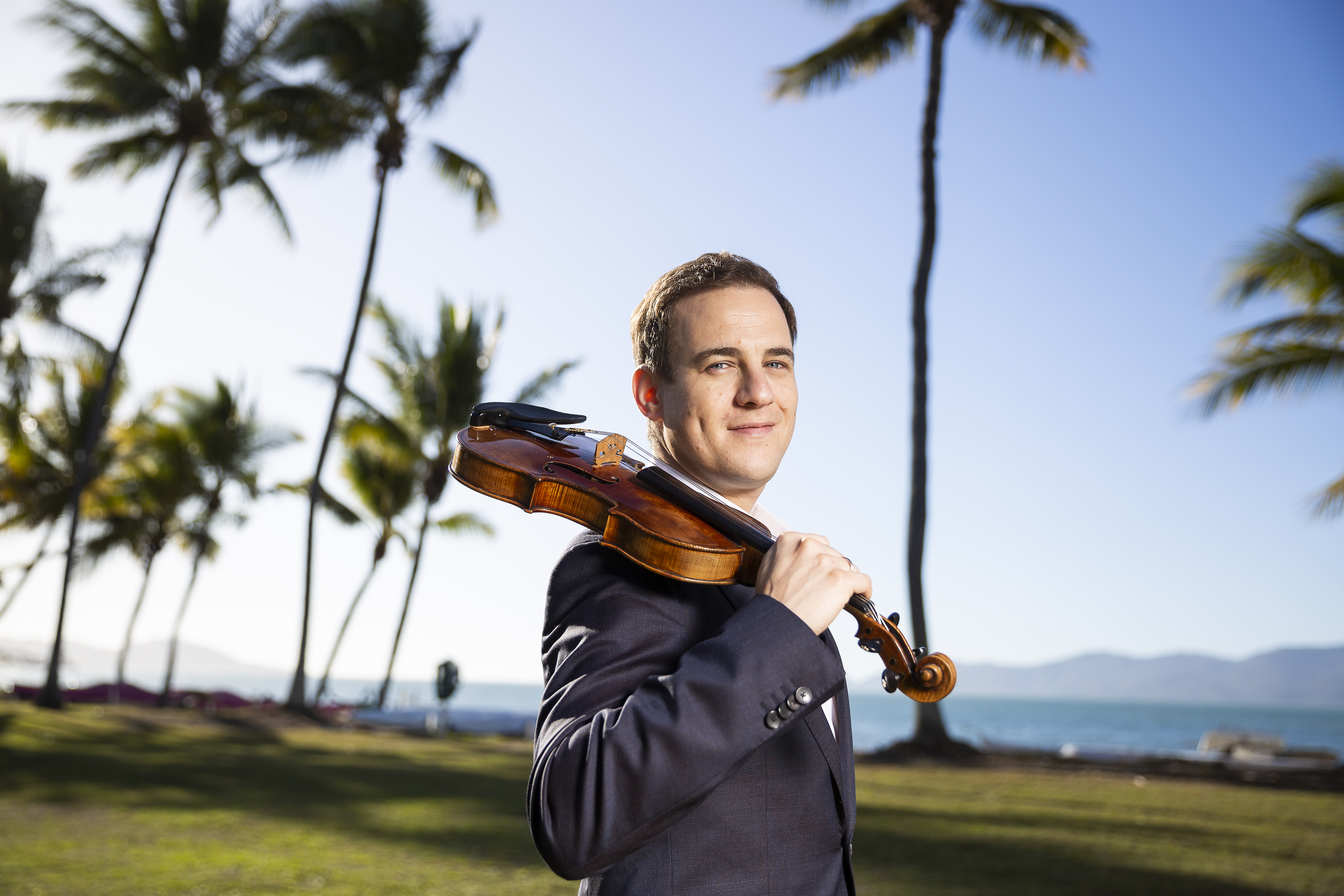 ONE WEEK TO GO until the Australian Festival of Chamber Music kicks off, with five world premieres and more guilty pleasures!
JACK'S BACK and he's bringing the noise!
Australian Festival of Chamber Music (AFCM) Artistic Director Jack Liebeck is back for his second year as Artistic Director and this year he's bringing more musicians, more music and more thinkers with him, as well as staging five world premieres and unveiling some incredible Guilty Pleasures! And it all starts next Friday in Townsville-Gurambilbarra under the glorious North Queensland Wintersun!
This year 39 world-class musicians and artists will fly into the North Queensland capital (they start arriving this weekend), including 13 internationals, five of whom are making their Australian debut, including UK-based Taiwanese violist Ting-Ru Lai, UK narrator and playwright Peter Thompson, fellow Brit and viola player Sally Beamish, who will attend as Composer-in-Residence and international musicologist Stephen Johnson.
Thirteen artists are performing at the AFCM for the very first time, in what will be a joyous 10-day celebration hosted in the glorious tropical winter sun of North Queensland featuring 34 concerts and special events.
Liebeck said, "after talking to audiences last year, it made me realise that our audience doesn't just want to experience music in a passive way, they want to understand it on a deeper level. With that in mind we will welcome brilliant British musicologist, composer, and presenter Stephen Johnson to Townsville."
"Building on the AFCM Illuminates lectures introduced in 2022, Stephen will guide us through the music of Messiaen, the psychological power of Shostakovich, the life of a composer in discussion with our composer-in-residence Sally Beamish, and the power of the critics in the life of a piece of music," he said.
"Our program will show us that Romance Is Not Dead, Yet…, we showcase the winner of the 2023 Sydney International Piano Competition, travel To The Mysterious Forest, and discover some Castigated Classics (trust me you should hear them!)."
Returning in 2023 is the highly successful 2022 debut series, Guilty Pleasures, where Liebeck invites musicians to perform their favourite piece of music – from the eclectic to the unusual.
The Australian artist line-up is led by internationally applauded composer and didgeridoo musician William Barton; the Goldner String Quartet as Quartet-in-Residence; dynamic percussionist Claire Edwardes OAM, and harpsichordist Donald Nicholson. In a wonderful nod to Australia's Symphony Orchestras, the program includes Melbourne Symphony Orchestra Principal Flute Prudence Davis, Sydney Symphony Orchestra Principal Trumpet David Elton, Queensland Symphony Orchestra Principal Bassoon Nicole Tait and Adelaide Symphony Orchestra Artist in Association for 2023 and rising international star Emily Sun (violin).
AFCM principal partners include Queensland Government through Tourism and Events Queensland and Arts Queensland, and Townsville City Council. AFCM is supported by the Queensland Government, through Tourism and Events Queensland, and features on the It's Live! In Queensland events calendar.
Australian Festival of Chamber Music
28 July to 6 August 2023 in Townsville-Gurambilbarra, North Queensland
Concert tickets, Festival passes and holiday packages on sale NOW
www.afcm.com.au | Facebook | Instagram | Twitter | #afcm
ENDS
For media enquiries please contact Kath Rose | 0416 291 493 | kath@kathrose.com
For North Queensland media, contact Heidi Hatherell | 0488 132 636 | heidi@crystalclearpr.com.au