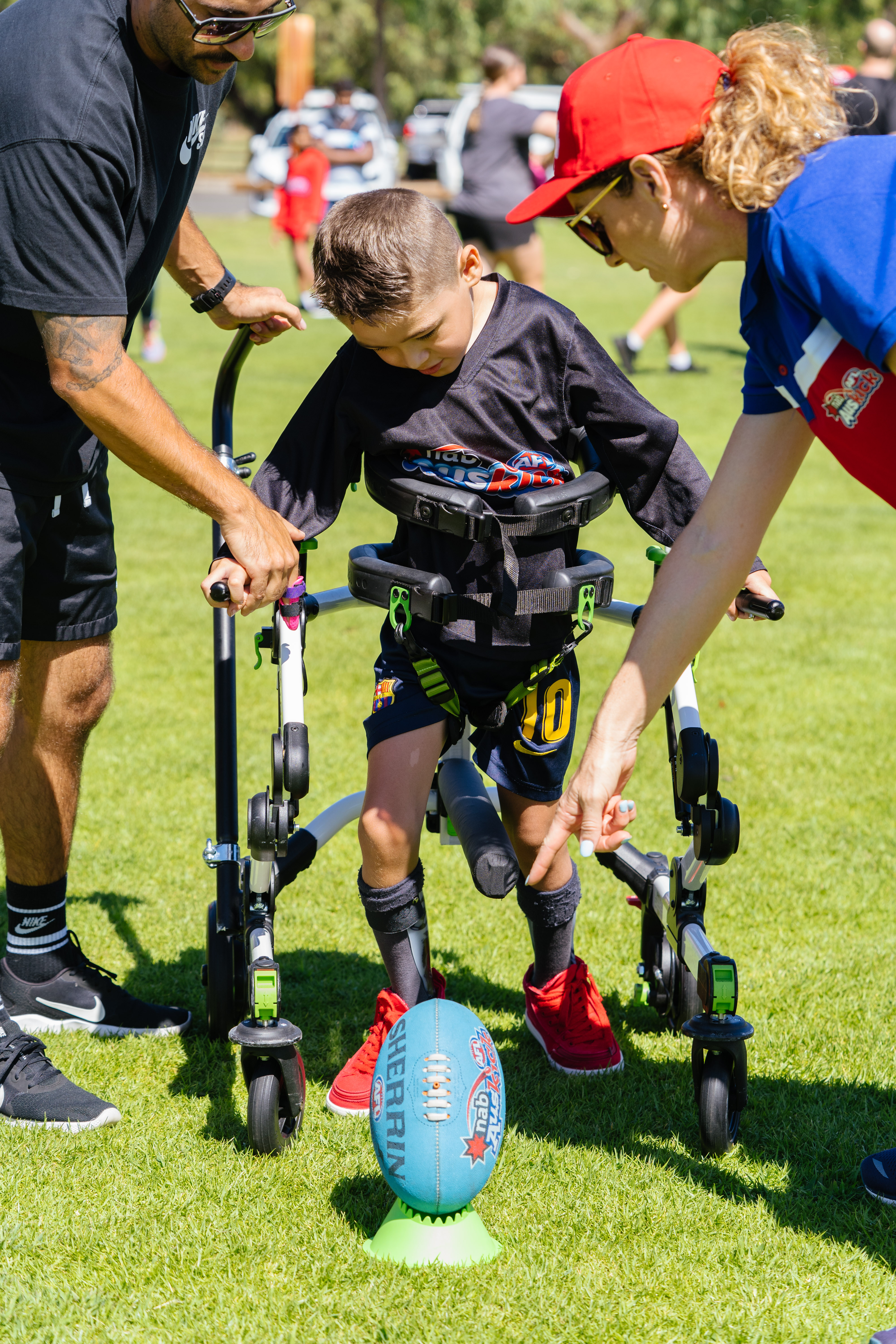 A partnership between Monash University and the Australian Football League (AFL) is helping make community football fit for all children.
Researchers from the Monash Krongold Clinic, in the Faculty of Education, together with the AFL are breaking down the barriers to inclusion in sport and creating opportunities for all children to play football, including the one in five Australian children who experience developmental challenges or disability.
AllPlay Footy offers a suite of purpose-built resources for the football community to help change the communities' attitudes towards participation of children with disability in football.
Players with disability, parents, coaches and club coordinators will have access to over 360 tools, information resources, practical tips and strategies, footy stories, videos and a coaching course that have been developed using research and input from the community, including individuals living with disability, families, coaches and experts.
Professor Nicole Rinehart, AllPlay Founder and Director of the Monash Krongold Clinic, said AllPlay Footy was born out of an observation that young people with neurodevelopmental disorders were not engaging in, or benefitting from, community sports.
"Participating in community sports, like football, is important to many children, and can have important benefits, not only for physical and mental health, but for connecting young people, and developing friendships and life skills," said Professor Rinehart.
Yet, access and participation barriers often mean that children with disability are less likely to be involved.
"In the Monash Krongold Clinic when we identify that a child is struggling at home, school and/or in the community, the weight of this knowledge can be heavy, not because of the struggle but because of knowledge of the great inequities that exist in our community.
"AllPlay Footy is more than sport, it is an opportunity for children with disability to thrive with their peers and to enjoy the downstream benefits of participation at school and at home. This joint initiative between Monash Krongold Clinic researchers and the AFL is a step in the right direction to ensure that community sports are inclusive environments for all children."
With a shared vision to increase participation levels of young people with disability in community football, AllPlay Footy's strengths and evidence-informed disability inclusion resources will now be available to the wider Australian rules football community.
AFL Executive General Manager of Game Development Rob Auld says the AllPlay Footy toolkit will provide an opportunity to improve attitudes towards young people with disability, and to build authentic opportunities for families of young people with disability to participate in community football.
"With the AFL's purpose to progress the game so everyone can share in its heritage and possibilities, one of our primary goals is for football to be accessible to everyone. Our partnership with Monash University via AllPlay Footy was established to provide increased opportunities for all children to play sport. AllPlay Footy to date has enabled us to use an evidence backed approach to developing resources and strategies for coaches, clubs, health professionals and parents to deliver inclusive footy programs," said Mr Auld.
Rob Klemm, President of Williamstown in the Football Integration Development Association (FIDA), said the new AllPlay Footy Disability Inclusion Coaching Course will be a win for local footy.
"I think it is a very powerful tool which can advance inclusion in a methodical and productive manner. I've worked through the two Core Modules and the Intellectual Disability elective, and found them comprehensive. I am very keen to see this resource being used widely."
To view the AllPlay Footy toolkit, please visit: https://www.play.afl/play/disability-inclusion/allplay-footy/resources/
- ENDS -
MEDIA SPOKESPEOPLE
Professor Nicole Rinehart, AllPlay Founder and Director of the Monash Krongold Clinic
Dr Ana Mantilla, AllPlay Research Programs Director and Deputy Director (research) of the Monash Krongold Clinic
Tim Nield​, National Disability Inclusion Manager, AFL
MEDIA ENQUIRIES
Hande Cater, Senior Media and Communications Advisor
T: +61 3 9903 4840
M: +61 466 302 936
E: hande.cater@monash.edu
GENERAL MEDIA ENQUIRIES
Monash Media
T: +61 (0) 3 9903 4840
E: media@monash.edu
For more Monash media stories, visit our news and events site