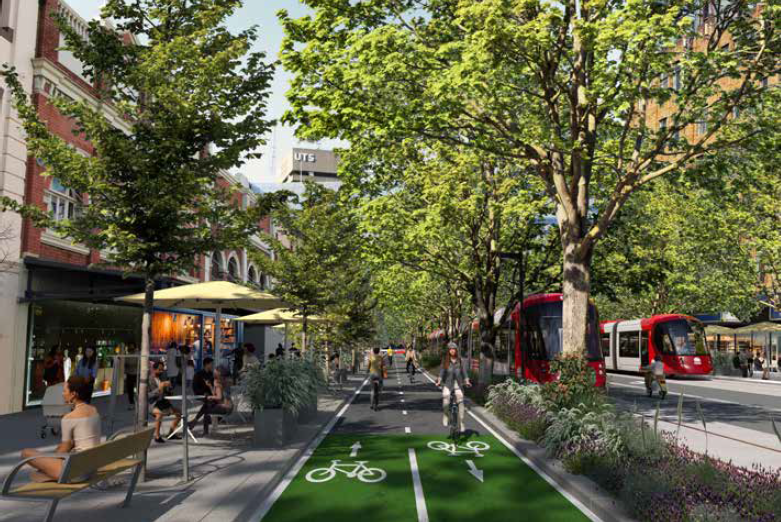 A world class green gateway to the city along Broadway, more space on streets for people walking and better public transport connections for residents in Green Square are among the top priorities for the City of Sydney in its updated access strategy and action plan.
The wide-ranging strategy provides a blueprint for delivering on what our communities have told us – they want Sydney to be a city for walking and cycling with better public transport and fewer cars.
"We've come a long way since 2012 when the last strategy was released. George Street's transformation from a traffic clogged arterial route to a destination in its own right is nothing short of remarkable," Lord Mayor of Sydney, Clover Moore AO said.
"The light rail is more popular than ever, running along a world class boulevard that supports city businesses, and is a destination for locals and tourists to explore. This was made possible in part by the City's $265 million investment in public domain improvements and the extension of pedestrianisation along the whole length of George Street.
"Reducing unnecessary traffic on our streets is paramount. With WestConnex built and the first Metro nearing completion there is a unique opportunity to reshape how we move around the city.
"Sydney needs to be a leader as we all adapt to our changing climate. Transport currently makes up around 20 per cent of total emissions so electrifying the buses that service our area, and getting more people onto trains and light rail, will help the City reach its goal of net zero emissions in our area by 2035."
Among the key priorities for the City of Sydney to work on with the NSW Government:
Transform Broadway into a green gateway, complete with a cycleway and light rail (feasibility to be confirmed)

A light rail connection between Green Square and the city, with electric buses servicing the area now

Accelerate the Metro West extension to give Green Square residents a station at Zetland by 2030

Calm traffic on Park Street and widen footpaths to make space for trees and people

Green Oxford and Flinders streets with more space for people, entertainment, dining, and light rail (feasibility to be confirmed)

Continue building more bike and pedestrian friendly infrastructure

Widen footpaths in areas where many people are walking – including the city centre, village centres and high streets

Lower speed limits on our streets, with 30km/h maximum in the city centre and high activity areas.
"We continue to expand our network of separated cycleways and give more space back to people, creating world class streets that support business and economic activity", the Lord Mayor said.
"We've long advocated for many of the transformative ideas in this strategy and now we have a new State Government we will reiterate our position so we can work together towards net zero."
The state government's Metro project presents opportunities for the City to improve public spaces around the five stations opening in our area next year and support the expected growth in people working in the city in the future. Metro West provides the same opportunities around the Pyrmont and Hunter Street stations opening in 2030.
Green Square is currently underserviced by public transport. As well as calling for Metro West to extend there, we have reserved the Eastern Transit Corridor for a 4km light rail route to the city, connecting the 63,000 people expected to live in Green Square by 2036. More electric bus services also need to be rolled out now to support Australia's most densely populated precinct.
To help fund capital works projects the City is advocating for changes to parking space levies to make them fairer and allow a greater proportion of funds to be spent where they are collected. We will also expand the number of spaces allocated to car share providers.
The City will also seek to make the maximum speed limit 40km/h on our streets as soon as possible, to help us achieve 'vision zero' – a city where there are no deaths or serious injuries on our streets. The strategy calls for a 30km/h speed limit in the city centre and areas of high people activity.
As part of our electrification strategy we will commit $350,000 to upgrade our depots so they can support our future fleet of green vehicles.
The Access Strategy and Action Plan – Continuing the Vision is now on public exhibition for the community to have its say, and when endorsed the City will continue working with the NSW Government to deliver the best for our communities.
For media enquiries contact Andrew Booth: 0482 530 091 or email abooth@cityofsydney.nsw.gov.au
For interviews with Clover Moore AO, Lord Mayor of Sydney contact Zoe Delamare. Phone 0477 263 615 or email zdelamare@cityofsydney.nsw.gov.au
For more stories from your local area, visit news.cityofsydney.nsw.gov.au
Restrictions: The City of Sydney provides access to this publicly distributed image for editorial purposes only and remains the copyright owner. No archiving, commercial use or third party distribution is permitted without prior written consent. When using content for editorial purposes, you must include the following image credit adjacent to the content: "Photographer's Name / City of Sydney"